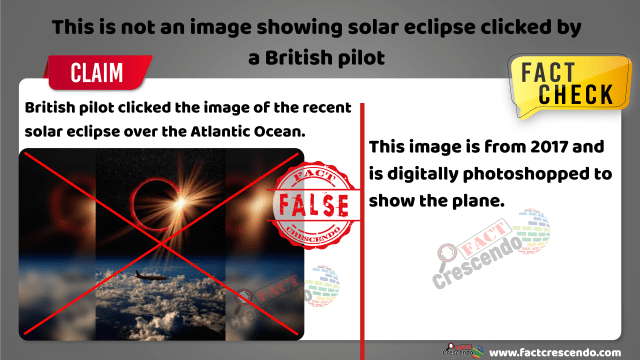 An image of a solar eclipse is being circulated after a solar eclipse was visible in India on June 21st between 9.15 am to 3.04 pm. NASA defined this solar eclipse as a phenomenon that happens when the moon is farthest from Earth and doesn't block the entire view of the sun, leaving a 'ring of fire' (annulus) visible. This photo has been circulating on social media with the claim that it was shot by a British Airways pilot while flying across the Atlantic Ocean. Fact Crescendo received a fact check request on our WhatsApp number 9049053770. The post mentioned that "A British Airway pilot clicked this photo of the solar eclipse when his plane was crossing the Atlantic Ocean, one can see another plane on the same flight path." This image is also doing rounds on Twitter.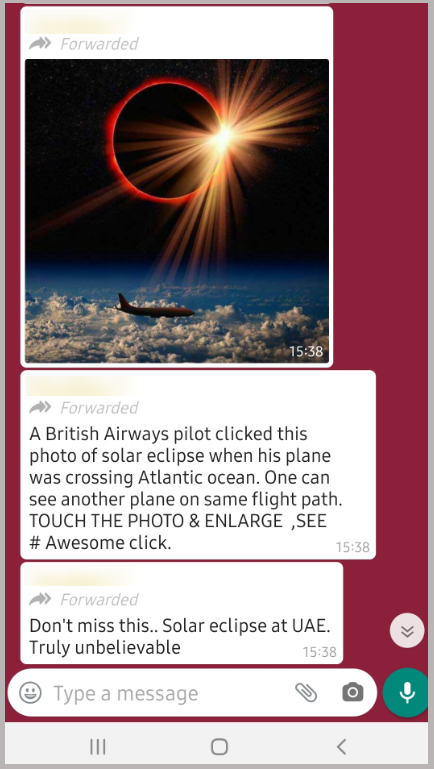 Fact Check-

We started our investigation by conducting a Google Reverse Image search on the image which led us to the same image published on Pinterest which the claim that this image shows the total solar eclipse on 21st August 2017.
We also found another similar image on the website of Shutter Stock with the headline "Solar Eclipse "Elements of this image furnished by NASA " by Muratart. We can see that the image of the plane is missing which makes it clear that the plane has been digitally edited and added to the original image. The vague caption implies that the original image is a work of digital art and not an original photograph of a solar eclipse. We also observed that the artist Muratart has a whole gallery with artworks about the solar eclipse.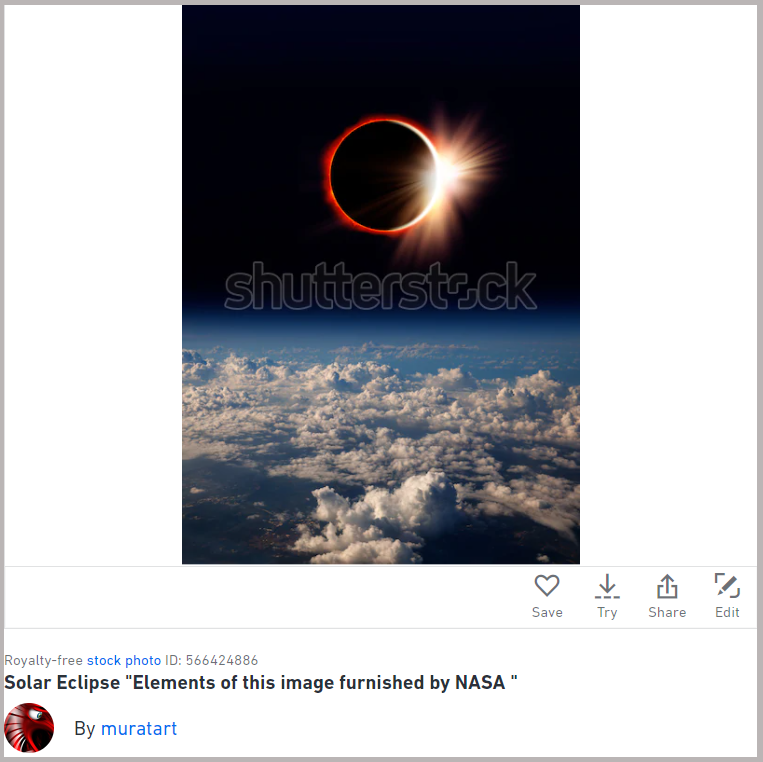 Conclusion– Fact Crescendo found the above mentioned post to be False. A digital artwork of a solar eclipse is being shared as a photo showing the recent solar eclipse that occurred on the 21st of June. This digital artwork which has existed online since 2017 has been further photoshopped to add an aircraft flying against the backdrop of the eclipse and is now being shared with a false claim that it was taken by a British Airways pilot while crossing the Atlantic Ocean.

Title:This is not an image showing solar eclipse clicked by a British pilot
Fact Check By: Aavya Ray
Result: False