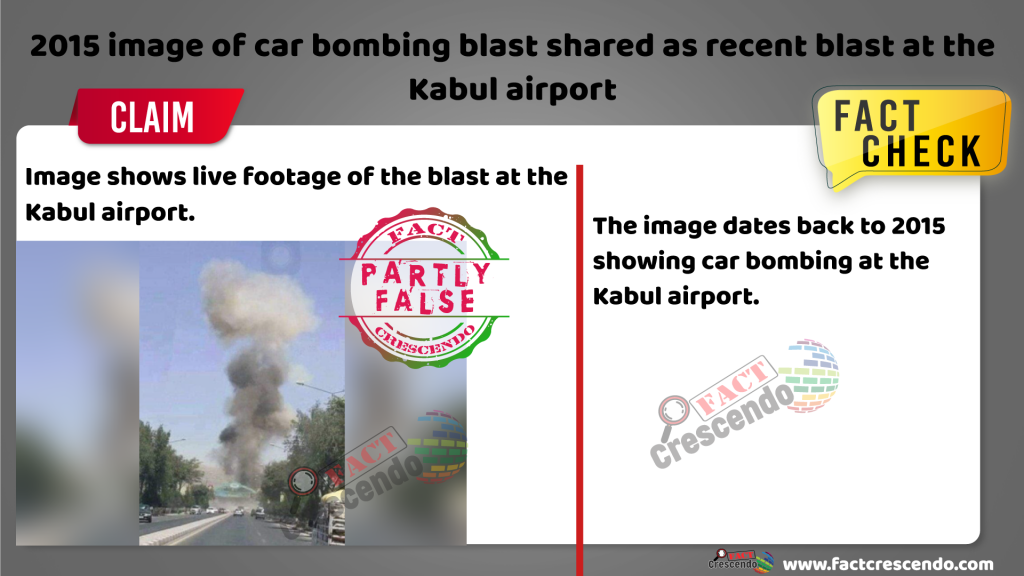 With the recent unrest on social media after the Taliban took over the country of Afghanistan, reporters report a terrifying news of a twin blast that took place near Kabul Airport claiming lives of at least 160 people including 13 US troop on 26th August 2021. Amidst this, an image showing smoke after a blast is doing rounds on social media claims to show live images of the blast outside the Kabul Airport in Afghanistan.
The caption of the image states "Live picture of Kabul blast outside Kabul Airport."
This image was posted by the Editor in Chief and CEO of Zee News, Sudhir Choudhary on his verified Twitter handle. However, he later issued a correction through another tweet stating that the image is old.
Social media is flooded with misinformation related to the ongoing unrest in Afghanistan post the Taliban take over. You can read more fact checks related to this incident below-
Fact Check-
We started our investigation by running a Google reverse image search on the same whose results led us to this image published by the verified Twitter handle of 1TVNewsAF on 10 August,2015. 1TVNewsAF is a news organisation in Afghanistan. We can see the uncropped version of the image posted in 2015. The caption of the tweet in Persian mentions that the blast was powerful and the suicide bomber had targeted two vehicles carrying government officials.
The IBTimes posted this image on 10 August, 2015 stating that the blast was reported at the entrance of the Hamid Karzai International Airport in Kabul in 2015.
We also found that Reuters had reported this incident on 10 August 2015 mentioning that a car bomb exploded near the entrance to Kabul airport and casualties were feared. This incident took place days after series of suicide attacks in the Afghan capital killed dozens and wounded hundreds. We found several other images on Reuters website after the bombing. You see a comparison image showing the similarities between the viral image and the images posted by Reuters in 2015.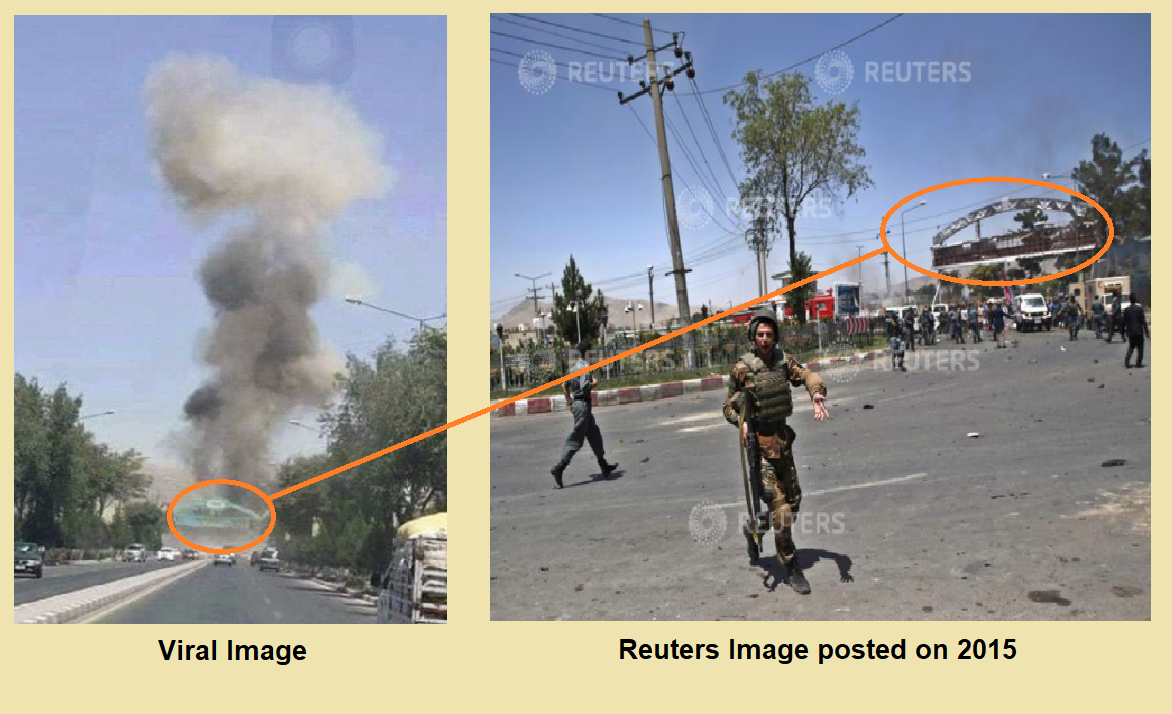 Conclusion- Fact Crescendo found that the claim made along with the above-mentioned image is Partly False. Even though there was a blast at the Kabul airport but the image does not show the recent blasts but it dates back to 2015 showing a car bombing incident.
Title:2015 image of car bombing blast shared as recent blast at the Kabul airport
Fact Check By: Aavya Ray
Result: Partly False