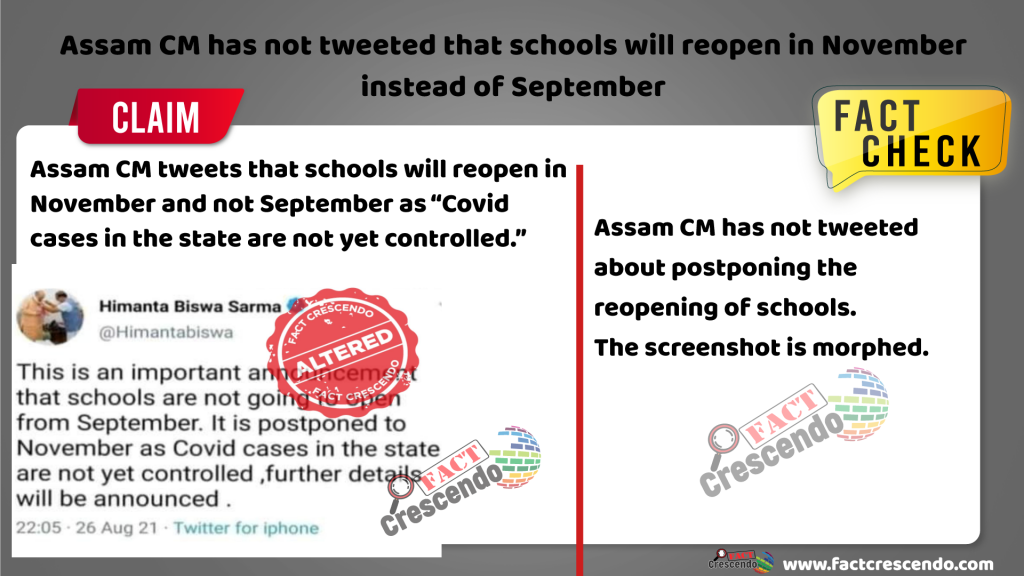 Assam is going through a gradual unlock phase with the number of Covid-19 positive cases steadily coming down in the state. After being put on hold for many months now, classes are to resume from the Higher Secondary to the PG level in the state from September 1, 2021 as per a recent government announcement. But a supposed screenshot of a tweet of Assam CM Himanta Biswa Sharma has gone viral now, leading to a state of confusion among the students and their guardians. According to the tweet in the screenshot, the CM has stated that schools are not going to open from September and has been "postponed to November as Covid cases in the state are not yet controlled." Archived Link
We, at Fact Crescendo, decided to do a fact check on the claim because the viral screenshot looked suspicious as it seemed unlikely that such conflicting statements will be issued by the Govt within such a short span. We found out that the viral screenshot is actually morphed..
Fact Check Methodology
At first we checked the official twitter handle of Assam Chief Minister Himanta Biswa Sarma to find out whether he had tweeted any such thing regarding postponing of opening of schools. We found that the CM has tweeted recently about the viral screenshot. Here's the tweet:
A fake announcement, purportedly issued from my Twitter account, about non opening of schools is being circulated on WhatsApp.

This is a fake message and should not be given heed to.@assampolice please file an FIR.#FakeNews pic.twitter.com/2asKBXtGxV

— Himanta Biswa Sarma (@himantabiswa) August 28, 2021
In the tweet, he has clarified that he had not tweeted any such thing about postponing of opening of schools and it is a fake announcement. He also asked everyone that this fake message should not be given heed to. He further asked Assam Police to file an FIR regarding the fake announcement.
Assam Police retweeted it and replied to the CM's tweet stating "Sir. As directed, a case is being taken up at Crime Branch, Guwahati."
Sir. As directed, a case is being taken up at Crime Branch, Guwahati.

— Guwahati Police (@GuwahatiPol) August 28, 2021
The state government has decided to resume classes for the students of higher secondary to postgraduate level from September first week.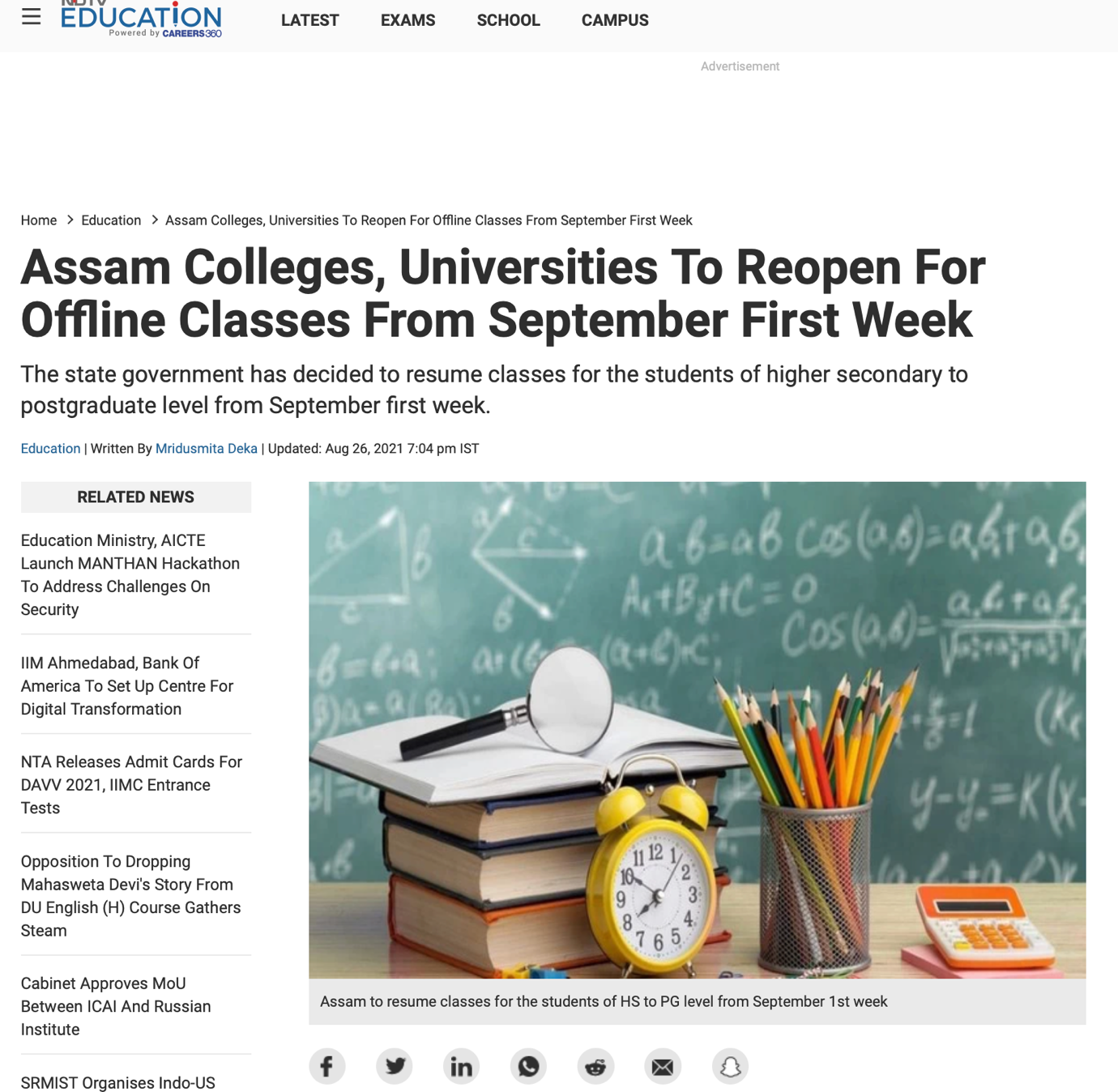 Original Link- NDTV Education | Archived Link
Conclusion
The viral screenshot is fake and has been morphed. The CM has not tweeted anything about postponing of opening of schools, colleges or universities to November and it is clear that someone has created this fake announcement with ill-intent to create confusion among the people.
Title:Assam CM has not tweeted that schools will reopen in November instead of September
Fact Check By: Manjori Borkotoky
Result: Altered