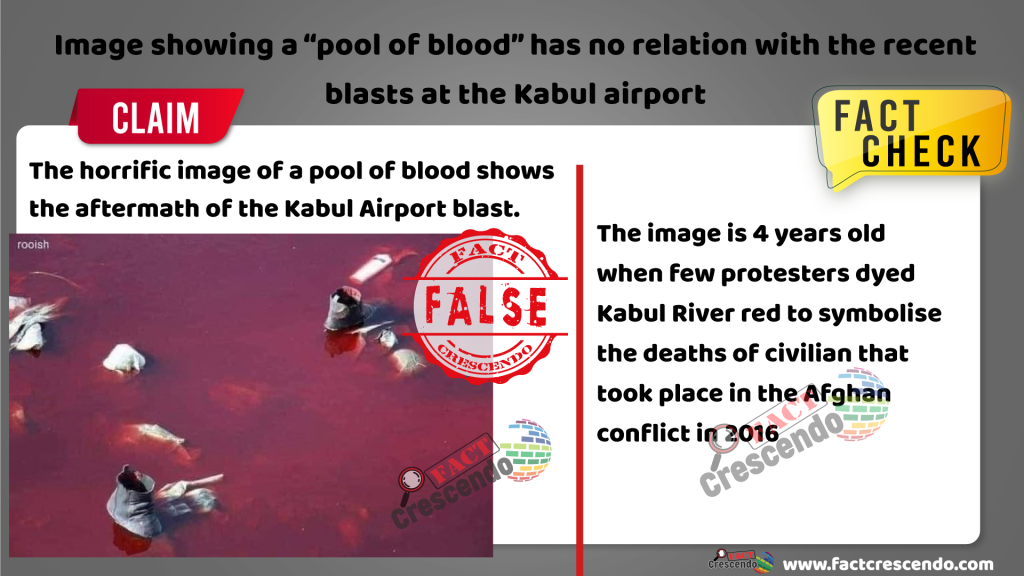 Social media is flooded with misinformation related to the ongoing unrest in Afghanistan post the Taliban take over. Amidst this a terrifying news of a twin blast that took place near Kabul airport claiming lives of at least 170 people including 13 US troop on 26 August 2021 was reported. The Islamic State (IS) -Khorasan, the Afghan unit of IS and an arch rival of the Islamist Taliban, has claimed responsibility for the attacks.
Amidst this, an image showing shoes floating in a pool of blood is circulating on social media claiming to show the aftermath of the explosion that took place in Kabul.
The caption of the post mentions "The Pic of bloody water after the explosions in #Kabul."
Fact Crescendo has debunked several content on social media related to the ongoing unrest in Afghanistan post the Taliban take over. You can read more fact checks related to this incident below-
Fact Check-
We started our investigation by running a Google revere image search on the viral image which led us to this image published by a blog in 2017. Further we found an article published by an Afghan media outlet Etilaatroz, which carried the same image. According to the website the image is a from of a symbolic protest movement that took place in Kabul against the mass casualties of civilians after the United Nations Assistance Mission in Afghanistan (UNAMA) submitted its annual report on civilian casualties.
We found this image on a Portuguese website named "exame.com" posted on 10 February 2017, The report mentioned that the protesters used 200 kilos of paint to turn a part of the Kabul River red.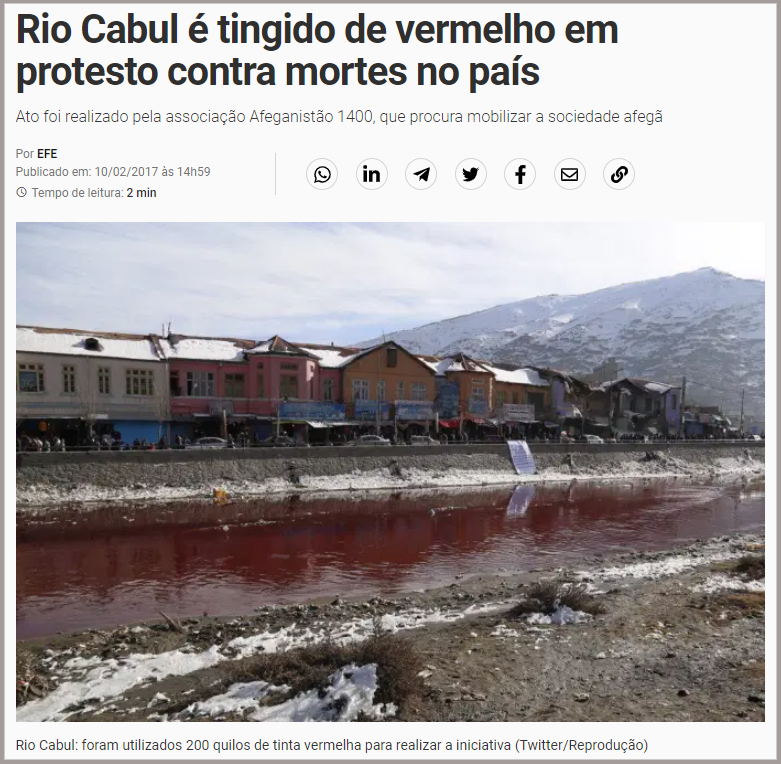 A report published by TOLO news on 10 February 2017 mentioned that Afghanistan 1400 was a political movement started by the new generation in Afghanistan. The organizers held a public event to highlight the record numbers of civilians killed in 2016. They poured red dye into the Kabul River to depict a river of blood to show the horrors of war.
A report by CTGN posted on 11 February 2017 mentioned that the movement "Afghanistan 1400" was led by the activist Shaharzad Akbar. She is currently the chairperson of the Afghanistan Independent Human Rights Commission.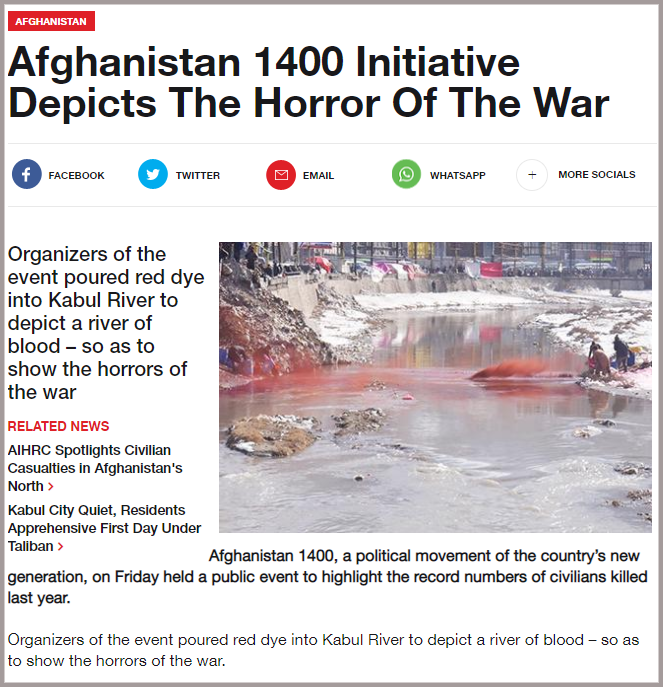 Conclusion-
Fact Crescendo found that the claim made along with the image is False. The image is 4 years old when few protesters dyed the Kabul River red to symbolise the deaths of civilian that took place during the Afghan conflict in 2016. The image has no relation with the recent blasts at the Kabul airport.
Title:Image showing a "pool of blood" has no relation with the recent blasts at the Kabul airport
Fact Check By: Aavya Ray
Result: False