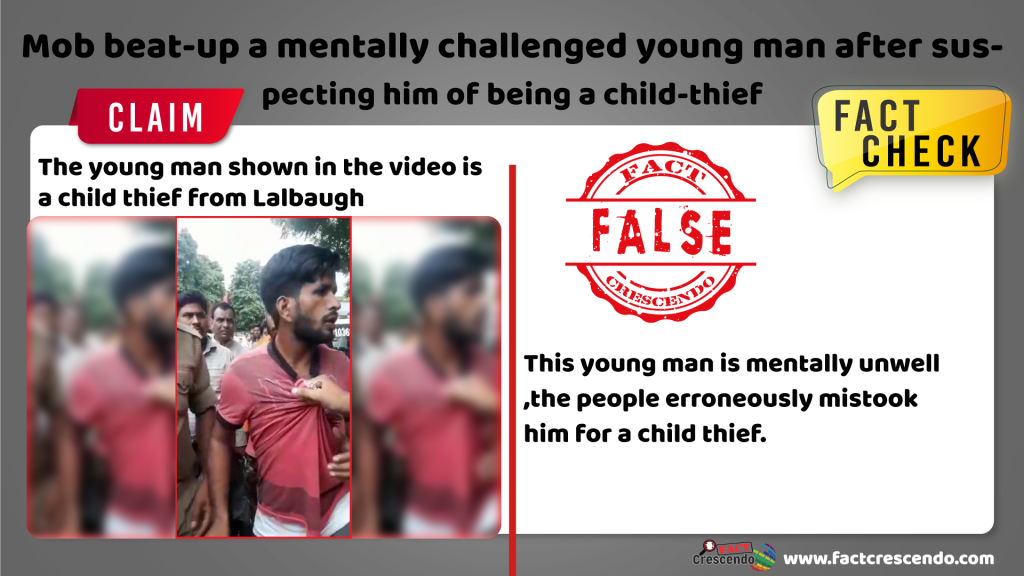 On 9th September 2019, a Facebook user named 'Shoaib Zafar' has shared a video on Facebook, in which a policeman is seen taking away a young man and crowd around them is calling the young man a 'Bachcha Chor'. It is written in the description along with the video "7 September 2019 Aaj Subah Lal bagh Emma thompson School ke pass baccha Chor Pakda Gaya school ke driver ne uska Picha Karke usko Pakda Ek bacche se Kah RahaTha gadi Mein Baitho mobile Tumko Denge. kripya yah message Jyada Se Jyada share Karen". In this video it is being claimed that the young man shown in the video is a child kidnapper from Lal Bagh. Is it true? Let us find out the truth behind this claim.
In the context of child theft, many claims are now becoming viral on social media. Often in such cases people fall prey to misconceptions. There have been instances when old, poor or mentally unwell people were mistaken for child-thieves and were beaten-up and taken to the police station. We have recently uncovered many such false claims. Continuing this sequence, we checked for information about this post.
We contacted SP Vikrant Veer of Ranchi. After seeing this video, he told us, "This person is not a child thief and no child thief has been caught in our area."
After that we contacted SHO Ajay Kumar Singh at Kaiserbagh Police Station.After watching this video, he said, "This incident happened 5-7 days ago. The young man seen in the video is mentally unwell. A person who came to drop off his child at the school got suspicious owing to his peculiar behavior and since there were rumors of child kidnappers going around; he presumed that this young man is a child thief. Therefore, he filed a complaint with the police, but when the family members of this youth were also called, it was found that this young man is mentally unwell, further to which the person who filed the complaint also withdrew his complaint."
From this research it is clear that the young man shown in the post is not a kidnapper or child thief and this incident is from Kaiserbaugh area in Lalbaugh, Lucknow. This young man is mentally unwell and due to circulating rumours he was suspected of being a child thief. Based on the official statements and evidence provided by the family about this young man, the whole matter was settled.
Result of the investigation: The claim in the above post, 'The young man shown in the video is a child thief from Lalbaugh', is false.

Title:Mob beat-up a mentally challenged young man after suspecting him of being a child-thief
Fact Check By: Rahul Namboori
Result: False