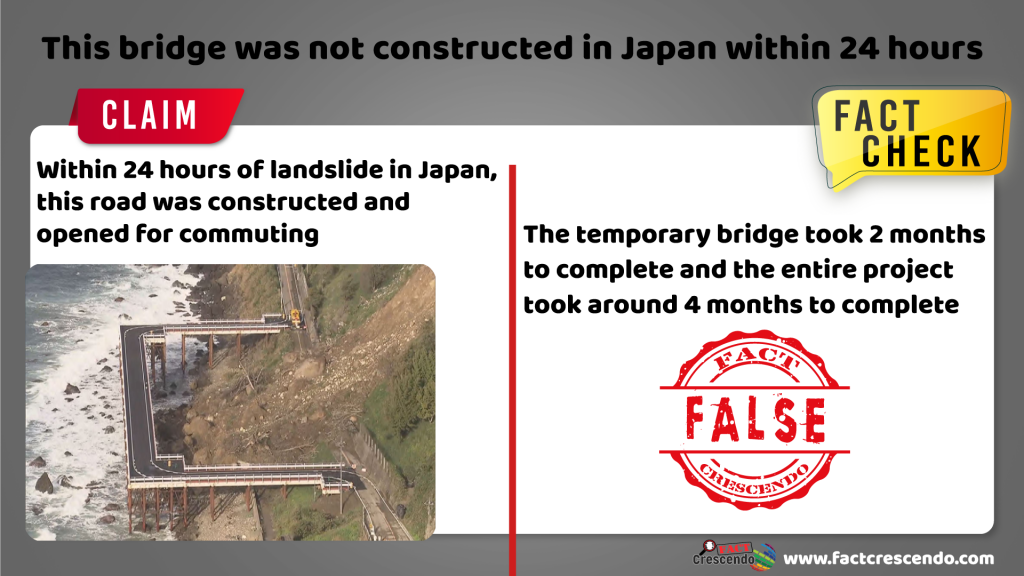 A picture of U-shaped road is being shared with the claim that an emergency road has been constructed in Japan to maintain the flow of traffic after a landslide within 24 hours.
On 13 October 2019, a Facebook page called "Dontgetserious" uploaded a photo captioned "Emergency road was constructed within 24 hours after a disastrous landslide in Japan so that the flow of traffic could be maintained." By the time the fact check was done, this picture received 239 responses.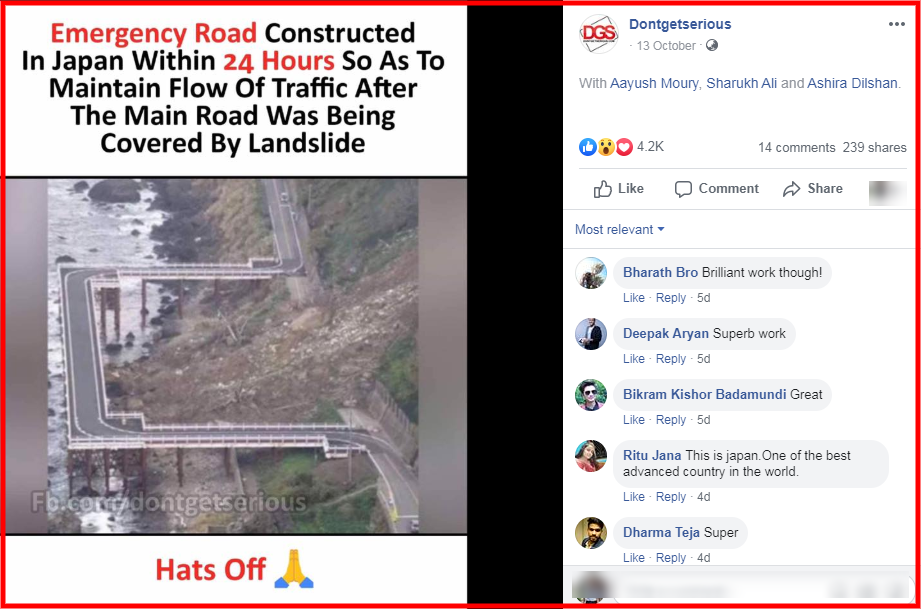 In the beginning of the investigation, we took a screenshot of this picture and did a Google Reverse Image Search. As a result, we found a tweet by a Twitter user named Effy Sahrudin on 13th October 2019. He uploaded this picture and wrote, "Wrong title – In 2018, this road was constructed in 2 months after a landslide in the Fukui city, Fukui Province. The 208 meter bridge is temporary and will be removed after the reconstruction of road this year."
The source of the information given in this tweet- a link of the website named Fukuim has also been shared.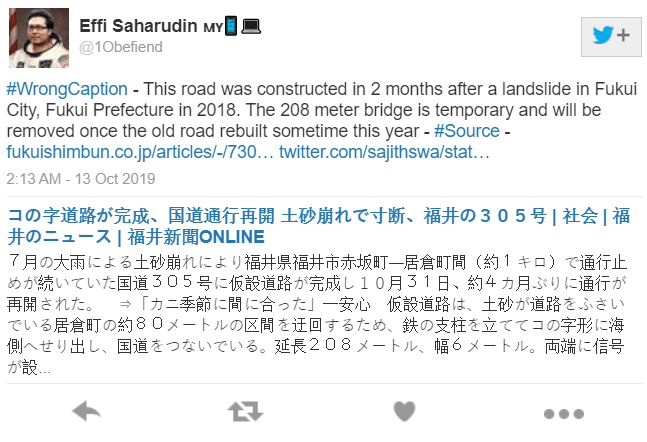 An article published on Fukuishimbun website on 1st November 2018 stated that the temporary road located in Fukui City, Japan, was opened to traffic four months after a landslide occurred on the main road due to heavy rains. Between 5th and 6th July 2018, traffic was stopped due to landslides on several highways and roads in Fukui Province.
According to the article published on 1st November 2018, on 31st October 2018, this temporary road has been opened for transportation.  This is the same picture that we can see in the viral post.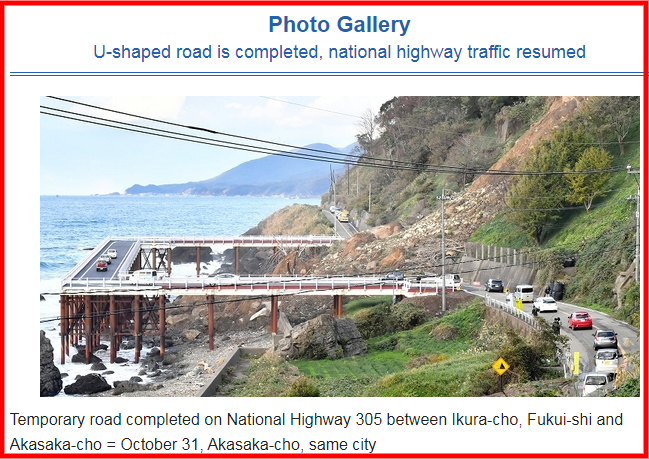 Japanese Media Organization Fbc Ojama published this news from its official Twitter handle "[Today's News] In Ko Shitsu area, Fukui city, a 75 meter long U-shaped temporary road along the sea side of National Highway No. 305. This road was closed due to landslides in July. Click here for the video. "
You can see the comparative analysis of the viral picture with the photo uploaded in this tweet.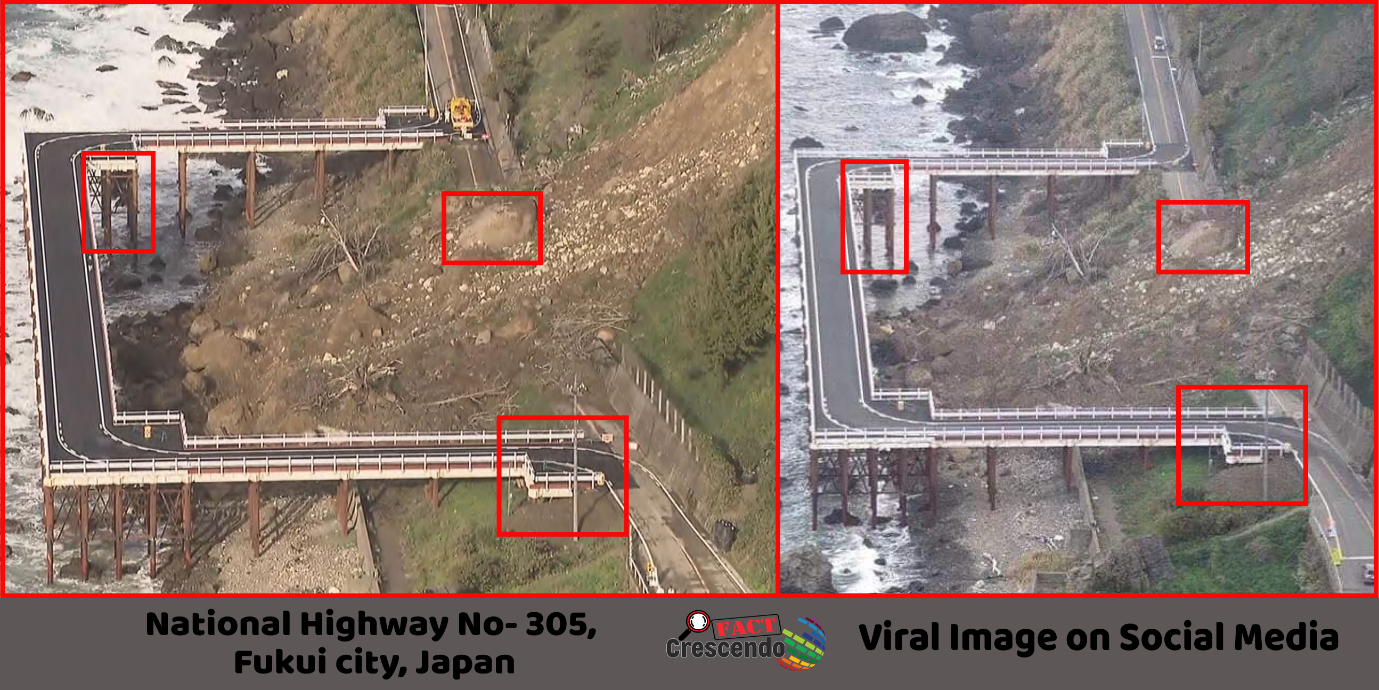 In a tweet by another Japanese news agency Fukuishimbun on 30th October 2018, it is mentioned that the National Highway-305 was blocked due to landslides in July. It was opened to traffic on 31st October 2018 after the construction of a new 'U' shaped bridge. The tweet also had aerial view photos of that newly constructed bridge.
The article, published by 'Fukuishimbun', published on August 9th, 2018, has information on how officials in Fukui province are considering plans to build a bridge on Highway-305 that was blocked due to landslide sediment.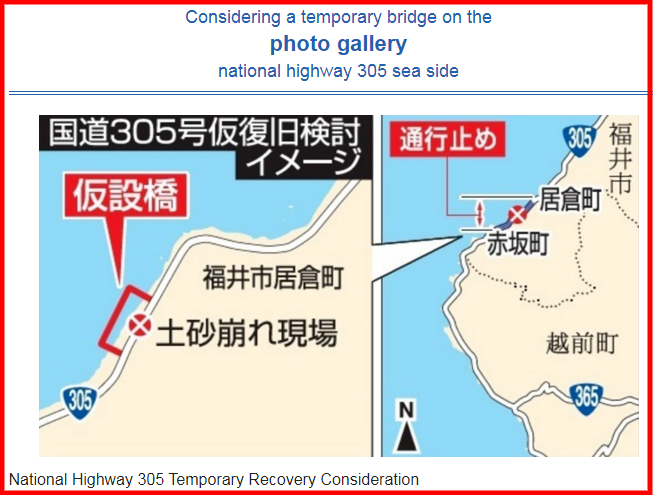 Fukuishimbun also uploaded a video of this landslide on 2nd August 2018. The description of the video states that "National Highway number 305 in Fukui Province where a landslide occurred due to heavy rains in western Japan".
Watch the video of this road below. The description of the video uploaded on 5th November 2018 reads that "National Highway number 305 in Fukui Province, in West Japan suffered heavy rains and it was temporarily closed due to heavy rains.  In the end of October a temporary road was made." 
Conclusion: We found the above post wrong after checking the facts. Although the time period for construction of the temporary road is not clear, according to reports, the construction was completed in weeks and months after the landslide, which clearly indicates that it was not constructed overnight. The entire project took about 4 months to complete and the bridge took about 2 months. We found that this temporary road was opened to traffic after four months, not in 24 hours as claimed on social media.

Title:This bridge was not constructed in Japan within 24 hours
Fact Check By: Ruchika M
Result: False