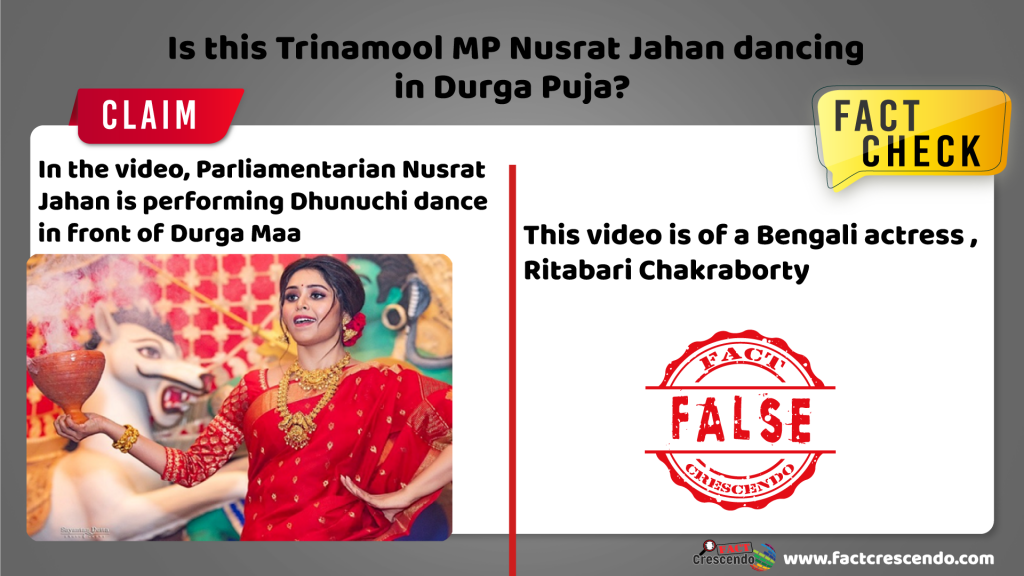 On 23rd October 2019 a Facebook user named "Subhash Sharma Rampal" posted a video on Facebook. The title of the video was "Nusarat Jahaan ka durga pooja nritya, jis se mullaon ke pichvade mirchee lag gae the aur islaam khatare mein pad gaya tha, atyant sundar. Yahe sundarata is sanskrti ke hai, jaha kaale burke kee qaid aur jahaan gulaal se udate alhad svatantr rang".
West Bengal MP Nusrat Jahan has always been in the news. In this viral video we can see a woman performing a traditional dance in front of Durga Maa in a Durga pavilion. While sharing this video on social media, it is being claimed that the lady shown in the video is Lok Sabha Parliament Nusrat Jahan. Fact Crescendo tried to verify the authenticity of this video.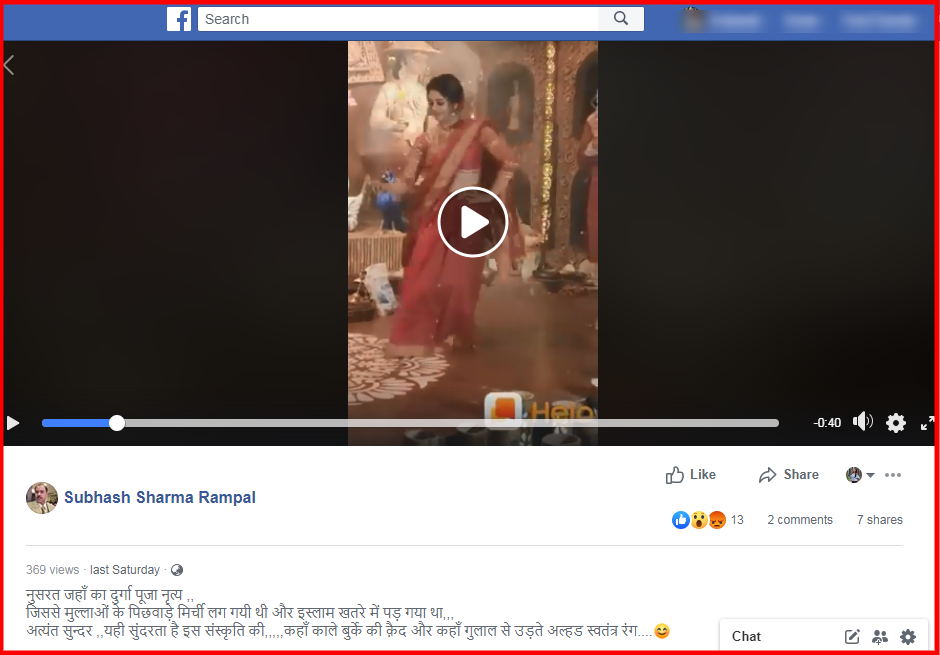 At the beginning of the investigation, we searched for the dance video of Parliamentarian Nusrat Jahan, but we could not find any such video on the internet. So we sent this video to some people from West Bengal to find out who is the dancing woman in this video. They told Fact Crescendo that this woman is the famous Bengali actress Ritabari Chakraborty. After that we searched for Ritabari Chakraborty. She shared some pictures on her Facebook account, we found similar costumes in this photo and the costume in viral videos. The photo shown below is from the beauty pageant "Ponds Pujor Nandini 2019".
Then we checked out the Ponds Pujor Nondini competition. On this contest's Instagram account, we found a picture of Ritabari, whose caption says that Ritabhari came to the stall of Baliganj Cultural Association. She is wearing the same red saree in the photograph as we can see in the video.
Balliganj Cultural Association is a prestigious club in Kolkata. Established in 1951, this club organizes Durga Puja every year. This year's Durga Puja was performed by the Bengali actress Ritabhari Chakraborty. A video of the dance of that time has been shared on the official Facebook page of the Balliganj Cultural Association on 9th October. In this you can clearly see that the clip which is going viral is from the same program.
Conclusion: After fact-checking, we have found the above post to be incorrect. This video that is going viral on social media is not about the Parliamentarian Nusrat Jahan's dance in front of Durga Maa. The video is of a Bengali actress , Ritabari Chakraborty. She performed this dhunuchi dance during Durga Puja of Balliganj Cultural Association of Kolkata.

Title:Fact Check: Is this Trinamool MP Nusrat Jahan dancing in Durga Puja?
Fact Check By: Ruchika M
Result: False