UP Police has called out the viral post to be Fake. One arrest has been made so far for spreading misinformation on social media.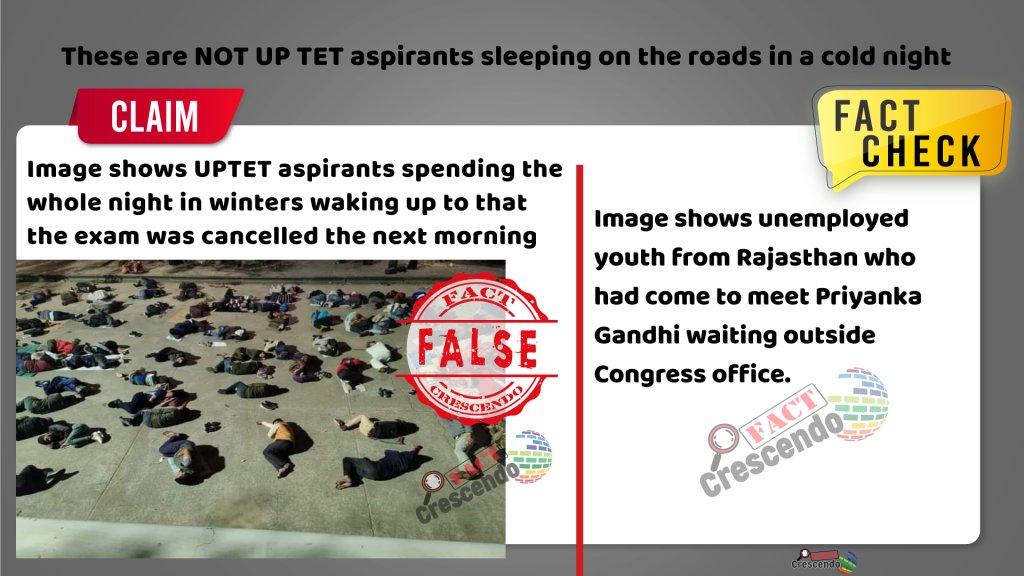 Uttar Pradesh cancelled their Teacher Eligibility Test (TET) due to alleged leaking of their examination paper, which triggered politics in the state bound for elections next year.
Amidst this, an image showing some people sleeping on a road is circulating on social media. Some users sharing the image claim that the image shows TET candidates waiting outside the examination center in the cold winter nights only to wake up to the news that the examination has been cancelled due to alleged leakage of the question paper.
The caption of the post mentions, "Ever think that you had to spend a winter night in such a way that you find out in the morning that the exam was cancelled. UP TET paper leaked, exam cancelled. #UPTET #exam #uptetpaperleak"
The caption in Hindi states that "कभी सोचिएगा कि आपको जाड़े की रात ऐसे गुजारनी पड़ी हो और सुबह पता चले कि परीक्षा ही रद्द हो गयी। UP TET का पेपर हुआ लीक, परीक्षा रद्द | #UPTET #exam #uptetpaperleak"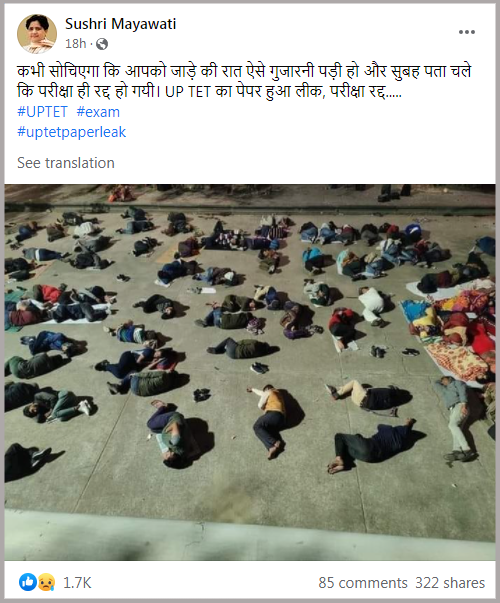 Fact Check-
We started our investigation by running a Google reverse image search, whose results led us a report published by perform India on 28 November 2021. According to the report, the image shows unemployed men from Rajasthan waiting office Priyanka Gandhi's office in Lucknow.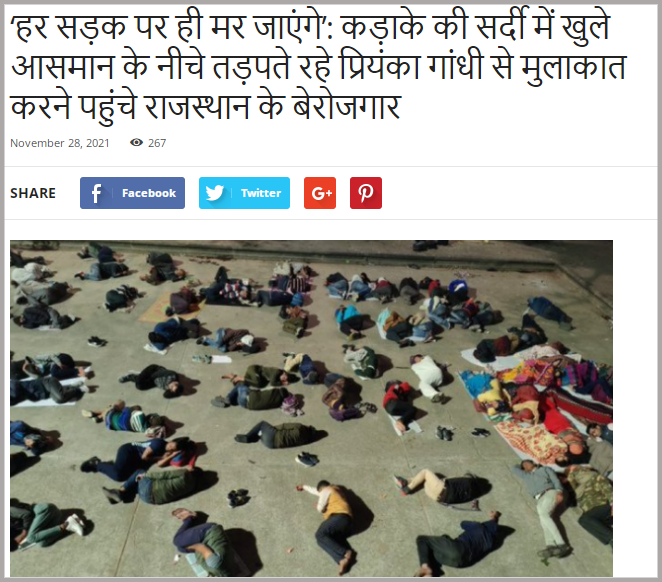 Moving further, we found a tweet by UP Police Fact Check on their verified Twitter handle. UP Police calling out the viral post as "Fake" mentions, "The viral photo is not of the candidates of UPTET but of the youth of Rajasthan. Based on the admit card, the candidates of UPTET are being sent home by UPSRTC buses conveniently and this examination will be conducted again in a month at state expense. Please don't spread misleading news."
We found that the social media account named "Aapan Deoria" had initially posted the misleading post on social media. Deoria Police has arrested the user for spreading misinformation on social media. A tweet by UP Police Fact Check mentions that in relation to the #UPTET examination, the accused Prince Yadav has been arrested and legal action as per rules for posting misleading photos/facts from his Facebook account named 'Aapan Deoria' by Deoria police. Please do not spread rumours by posting misleading.
The official Twitter handle of Info Uttar Pradesh Fact Check posted the viral image calling it out as fake and misleading. The caption of the tweet mentions, "#Fact Check: Fake photos of UPTET candidates are being viral on social media platforms. This photo is not of UPTET candidates. Avoid spreading such misleading information on social media platforms. Appropriate action will be taken against those spreading false information."
We came across a similar image showing these protesters on a news report published by "Dainik Bhaskar". The caption of the report states that unemployed youths from Rajasthan reach Priyanka Gandhi's house in Uttar Pradesh, women were also a part of this dharna.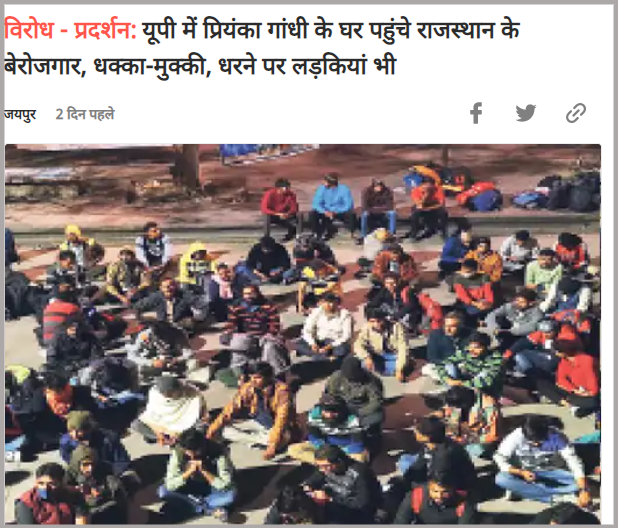 Conclusion-
Fact Crescendo found the claim made along with the viral image is False. The image does not show UP TET aspirants waiting outside examination centers at night. Image shows unemployed youth from Rajasthan who had come to meet Priyanka Gandhi waiting over night outside the Congress office.
Title:Viral Image of People Sleeping on Road on a Chilly Night is not of UP TET Aspirants…
Fact Check By: Aavya Ray
Result: False