The viral video is a scripted drama created for education and awareness purpose.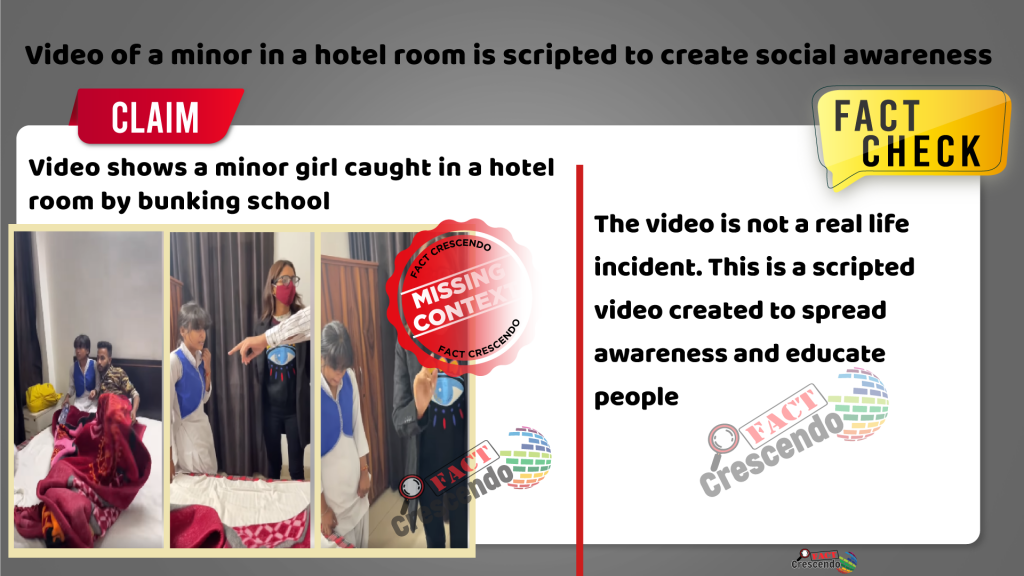 A video showing a schoolgirl being reprimanded by her school teacher for bunking her school and meeting a boy at a hotel room is widely circulating on social media. Users claim that this video is a real incident where a girl was caught bunking her school to meet another boy at a hotel.
Fact Crescendo has previously debunked several scripted videos, which has been shared as a real incident.
The caption of the video mentions, "This girl used to go to a hotel room with a boy instead of going to the school. See what happened when their teacher caught them red handed."
---
ALSO READ: Another Scripted Video Goes Viral As Man Caught On Camera Trying To Kidnap a Schoolgirl
---
Fact Check-
We started our investigation by breaking the video into small key frames with the help of InVid We Verify tool and ran a Google reverse image search on the same.
The results led us to the same video posted by a Facebook user named Deepika Shah who posted the same video on 20 December. The video has been shared with the same caption as the viral video. The user Deepika Shah is known to share and create videos for social awareness and education purposes.
After watching the video, at the end we can see the actors themselves ask the parents to be more careful of their children's activities when they are not at home. In the video, the actors themselves say that the video is scripted and has been made for awareness.
Previously Fact Crescendo debunked a similar video that went viral with a communal claim where we can see the same actors in the viral video. We can see that same girl in a school uniform wearing the similar clothes in the viral video. Below you can see the similarity between both the actors.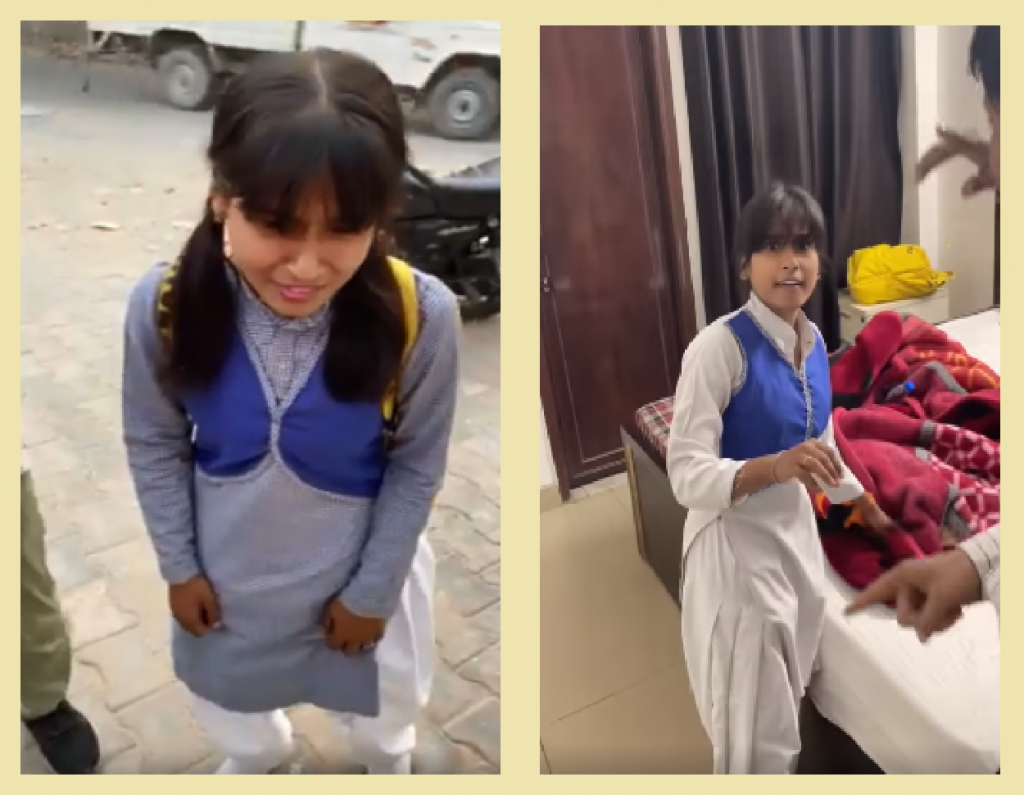 We found another scripted video on Deepika Shah's profile featuring the same girl wearing the school uniform as seen in the viral video on 18 December.
---
ALSO READ: Scripted Video showing Group of Boys Taking Advantage of Girls by Spiking Their Food Shared with a Communal Claim
---
Conclusion-
Fact Crescendo found the claim made along with the viral video on social media to be shared out of context. The viral video is being shared with misleading claims; the video is not a real incident. The video is a scripted drama shared as a true incident without realizing that the video is just for raising awareness.
(If you also have any suspicious messages, posts, photos, videos or news, send them to our WhatsApp Fact line Number (9049053770) for Fact Check. Follow Fact Crescendo on Facebook, Instagram and Twitter to read the latest Fact Check.)
Title:Video purportedly shared as School Girl Caught in Hotel Room by her teacher is Scripted; Read the Truth here…
Fact Check By: Aavya Ray
Result: Missing Context