The video does not have any relation with the Covid restrictions in Saudi Arab. It shows footages from the Baloot championship in Riyadh in 2018.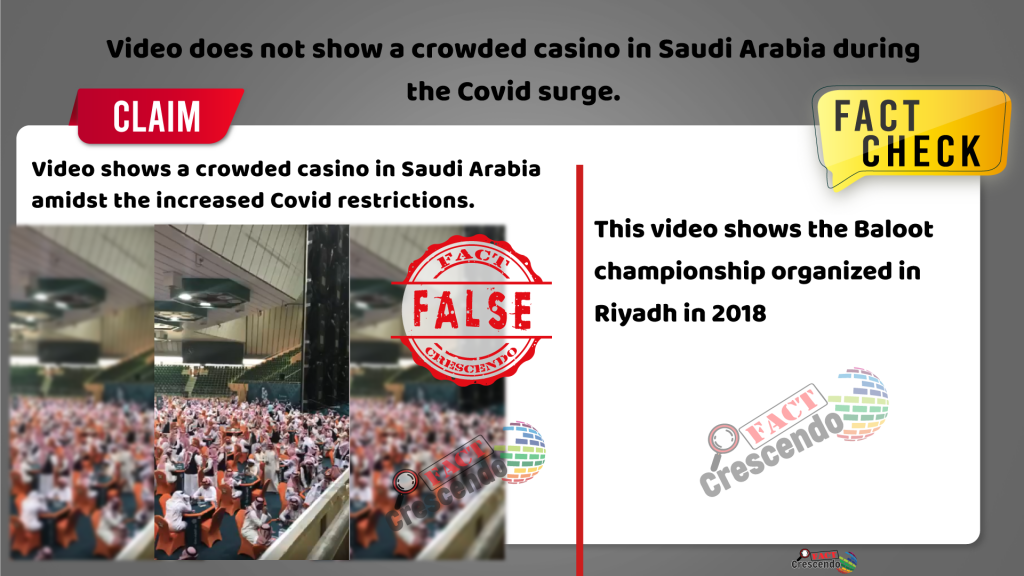 With the rise in the cases of the Omicron, latest variant of the deadly novel coronavirus in the world, a video showing a huge crowd dressed in white sitting in a large hall playing cards is circulating on social media. Users are claiming that the video is from a casino in Saudi Arabia, which is functioning at its full capacity in spite of the Covid restrictions. Users further claim that the Covid restriction pertain in Mecca as well but the casinos in the Saudi is still open.
The caption of the video states "These Saudi's have Covid restrictions on Mecca but casino is still opened."
Fact Check-
We started our investigation by breaking the video into small key frames and running a Google reverse image search for the same. We found that the same video was posted on Twitter in 2018.
Next, we ran a keyword search on Youtube that led us to a YouTube video posted by the official channel of Al Arabiya English. According to the caption and description of the video, it shows the beginning of Baloot championship in Riyadh. The General Sports Authority in Saudi Arabia recently kicked off Baloot Championship in Riyadh where more than 12,000 people participated in the tournament. This video was posted in April 2018.
A local channel on Facebook named Life in Saudi Arabia posted this video on April 2018 stating that it shows the Baloot championship in Riyadh, Saudi Arabia.
"Baloot" is a popular card game among the Gulf youth, particularly the Saudis. According to The News, Saudi Arabia hosted a popular card game Baloot–playing tournament in its capital Riyadh. Over 12,000 people participated in the tournament.

According to Saudi Gazette, the first ever Baloot card tournament was held at the King Abdullah Petroleum Studies and Research Center in Riyadh in April 2018.
Thus, it is clear that the viral video is not from a casino in Saudi Arab in the present pandemic times.
Conclusion-
Fact Crescendo found the claim made along with the viral video on social media to be False. The viral video does not show a casino in Saudi Arab during the strict Covid restrictions. The video dates back to April 2018 when the Baloot Championship was organized in Riyadh.
(If you also have any suspicious messages, posts, photos, videos or news, send them to our WhatsApp Fact line Number (9049053770) for Fact Check. Follow Fact Crescendo on Facebook, Instagram and Twitter to read the latest Fact Check.)
Title:Video does not show a crowded casino in Saudi Arabia during the Covid surge.
Fact Check By: Aavya Ray
Result: False