Image of a PM Modi's rally is being shared as a recent rally for the upcoming elections in UP amidst Omicron scare. The image dates back to 2019 during the Lok Sabha election campaign.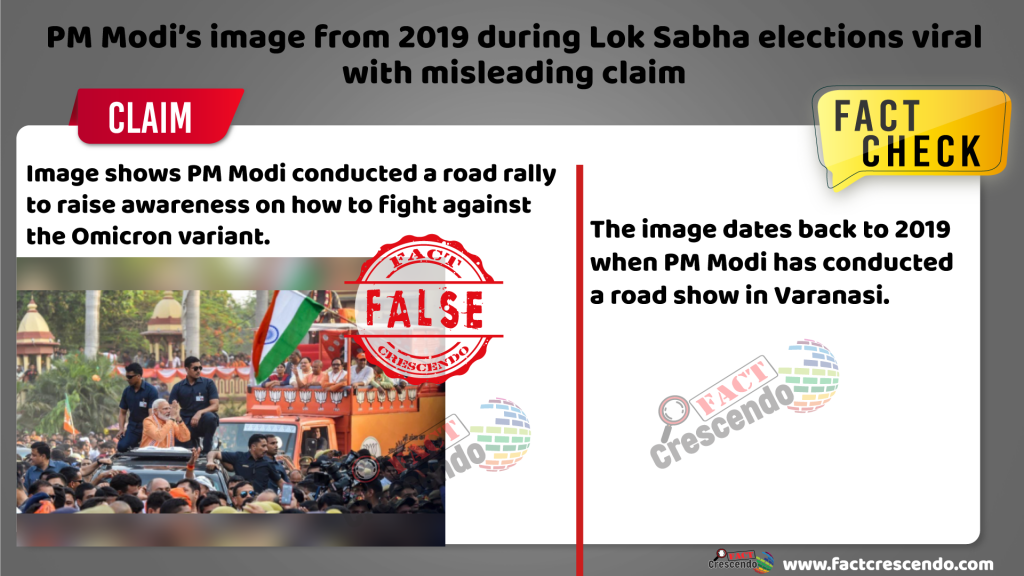 An image showing PM Modi taking part in a huge road rally surrounded by a huge crowd is widely circulating on social media. As COVID-19 cases continue to surge in the country with the dreadful Omicron variant spreading its tentacles, this image has caused quite a stir on social media. Social media users are criticizing PM Modi for flouting COVID restrictions and abetting the spread of the fatal disease that has killed lakhs of Indians in the two subsequent waves.
Some users have shared the photo as a satire and posted sarcastic captions claiming 'PM Modi is conducting a massive rally to create awareness against Omicron variant'. However, several users have misunderstood this and are sharing this image as a real awareness rally conducted by PM Modi to fight against Omicron variant.
The caption of the image states, "Modiji conducting awareness rally to fight Omicron."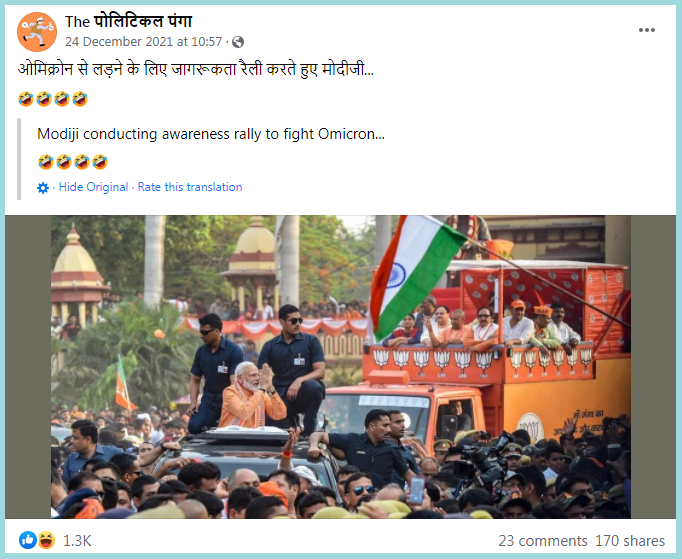 This image is widely circulating on Facebook.
Fact Check-
We started our investigation by running a Google reverse image search on the image that is going viral on social media.
The results led us to a news report published by News 18 in April 2019 where we can see several images of PM Modi wearing the same attire and conducting a road show. The report states that PM Modi can be seen conducting a road show in Varanasi during the election campaign for Lok Sabha in 2019. This road show was conducted a day before PM Modi was going to file his nomination papers.
India TV News published the viral image in a news report published on 26 April 2019, which mentioned that the image was taken in Varanasi during his roadshow.
With a keyword search, we found that PM Modi announced the first lockdown in the nation due to the ongoing pandemic in March 2020. Hence, the image has no relation with COVID-19 or restrictions imposed to prevent its spread. Thus, the image is being misleadingly shared to claim the irony of PM Modi addressing a dense crowd to create awareness regarding Omicron variant of the novel coronavirus.
Conclusion-
Fact Crescendo found the viral image on social media to be shared misleadingly. The image does not show a recent roadshow or rally conducted by PM Modi. The image dates back before the pandemic in 2019 when PM Modi conducted a road show in Varanasi before the Lok Sabha elections in 2019.
Title:PM Modi's image from 2019 during Lok Sabha elections viral with misleading claim
Fact Check By: Aavya Ray
Result: False