The viral video is edited. Priyanka Gandhi is not singing songs in the video.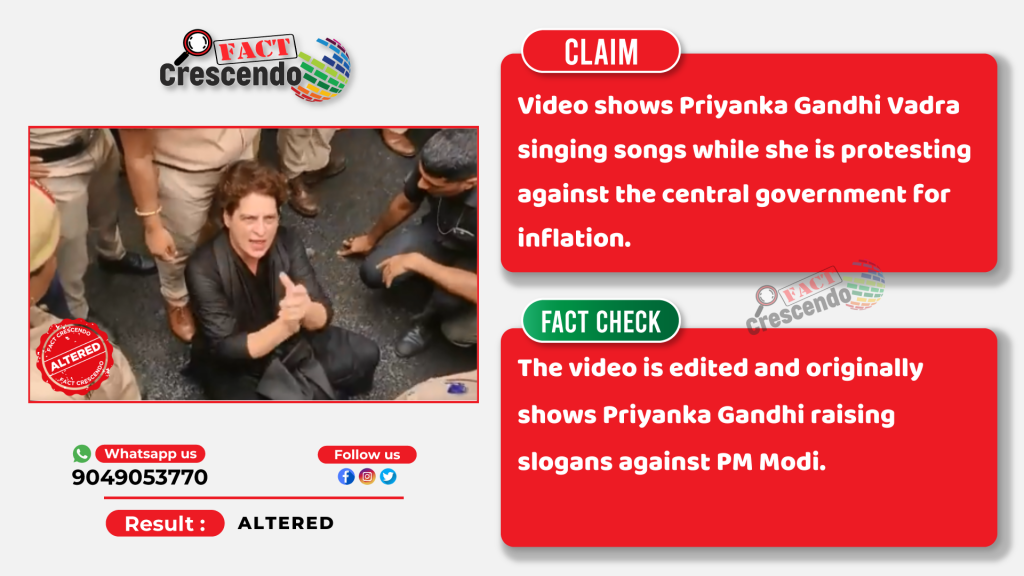 A few days after the Congress leaders staged a protest against the issue of unemployment and the inflation (price rise protest) in the country, a video showing the Congress General Secretary, Priyanka Gandhi Vadra is widely circulating on social media. In the video, we can see Priyanka Gandhi Vadra surrounded by police officials and a song can be heard which appears as if she was the one singing the song. Though many users have shared it as satire, many have actually believed the video to be real.
The viral video has gained over 27 thousand shares and millions of views.
Facebook Post | Facebook Post | Archive Link
Fact Check-
We started our investigation by running a keyword search on several social media platforms. We found a tweet by INC on 5th August where we can see Priyanka Gandhi wearing the same black outfit as seen in the viral video. This makes it clear that the viral video is from the Congress's price rise protest in Delhi. The police detained several Congress leaders including Priyanka Gandhi Vadra and Rahul Gandhi.
Going through the other Twitter handles of Congress, we came across the original video posted by Indian Youth Congress on 5th August. The caption of the video states, "Whenever Modi is afraid, he puts the police forward."

(Hindi: जब जब मोदी डरता है पुलिस को आगे करता है..!)
The original video makes it evident that the viral video is edited and the song has been added to the video externally.
Jharkhand Youth Congress have also posted the same video on 5th August.
Below you can see a comparison between the viral video and the original video. The original video shows Priyanka Gandhi Vadra raising slogans against PM Modi.
Conclusion-
Fact Crescendo found the viral video to be Edited. The viral video does not show Priyanka Gandhi Vadra singing songs during the price rise protest against the current government in Delhi. The video originally shows Priyanka Vadra raising slogans against PM Modi.
Title:Video of Priyanka Gandhi Vadra Singing Songs during Protest is Edited; Here's the truth…
Fact Check By: Drabanti Ghosh
Result: Altered