Akhilesh Yadav did not wear shoes while praying to an idol of Lord Parshuram. The black accessory that is visible on Akhilesh Yadav's feet in the picture are his socks.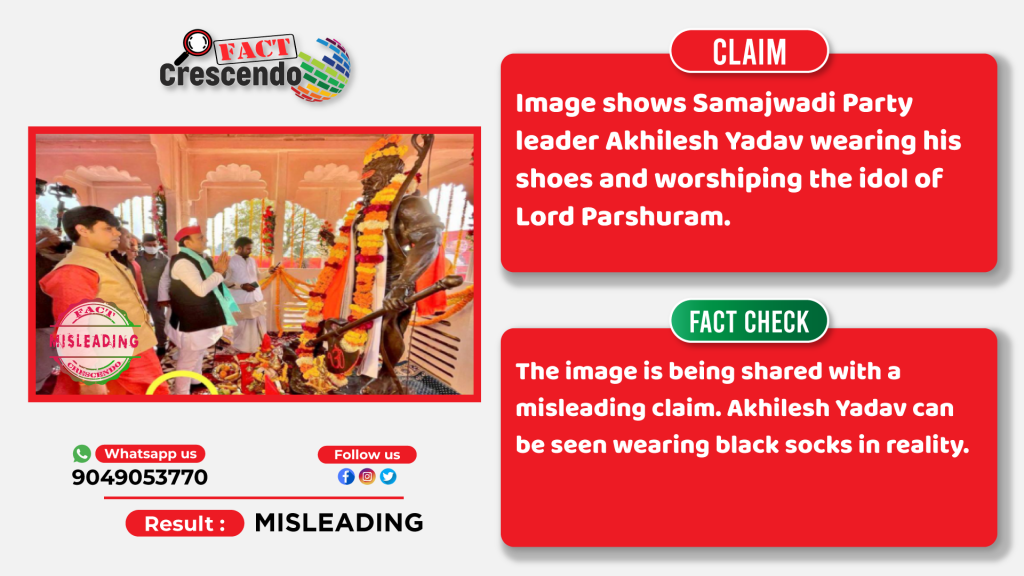 Samajwadi Party President Akhilesh Yadav unveiled the statue of Lord Parshuram in Gosaiganj area of ​​Lucknow on 2 January. Social media users shared several images and videos of this event on the social media platforms.
One such image showing Akhilesh Yadav standing with folded hands and praying to the idol of lord Parshuram is circulating on social media claiming that Akhilesh Yadav was praying in front of the idol of Lord Parshuram wearing shoes. One can see that the users have encircled the part of the image of Akhilesh Yadav claiming that he is wearing black shoes.
Several users have claimed that Akhilesh Yadav disrespected their religious beliefs by worshipping idol by wearing his shoes. This image is being widely circulated in the backdrop of the upcoming state assembly elections in Uttar Pradesh.
Fact Crescendo received this image for verification on our WhatsApp Fact line number 9049053770.
The caption of the post mentions, "See the picture, went to show off but he forgot that shoes are also to be removed. Does Akhilesh Yadav have any intelligence? This is an insult to God Parshuram and Brahmins of Uttar Pradesh, they will definitely perform shradh of his party."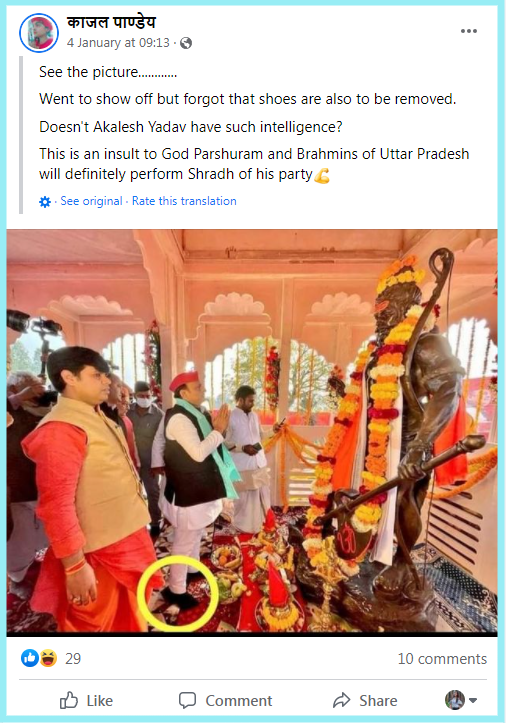 Fact Check-
We started our investigation by conducting a keyword search on Youtube, the results led us to a video published by Samajwadi Party on their channel. The video was streamed live on 2 January 2022. The caption of the video states, Samajwadi Vijay Yatra – Worship program in the temple of Lord Parshuram ji in Gosaiganj.
This video shows that entire program of unveiling of the idol of Lord Parashuram.
In this live video, we can see that Akhilesh Yadav gets down from his Samajwadi Vijay Yatra vehicle and proceeds towards the temple with his supporters. At the timestamp of 6 minutes 42 seconds, we can see that Akhilesh Yadav is taking off his shoes outside the temple. However, we cannot clearly see Akhilesh Yadav's feet but only the upper part of the body can be seen.
We also found several images posted by Samajwadi Party on their Facebook page on 2 January. Upon observing the images, we found that Akhilesh Yadav is not wearing his shoes but he is wearing black socks instead.
Below you can see Akhilesh Yadav wearing black socks in the entire program.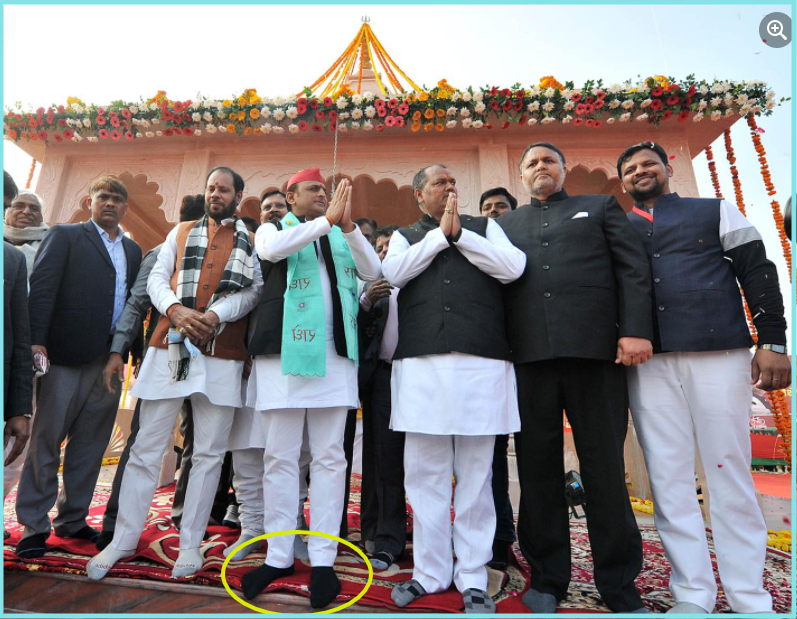 Fact Crescendo contacted Samajwadi Party's spokesperson Ghanshyam Tiwari who confirmed to us that the viral claim is False. "Akhilesh Yadav was not wearing shoes inside the temple. You can see Akhilesh Yadav take off his shoes before entering the temple in the video that was streamed live. The rival parties are sharing the image deliberately to defame Mr. Akhilesh Yadav's image ahead of elections."
Conclusion-
Fact Crescendo found that the claim made along with the viral image on social media to be False and misleading. The viral image is being shared with misleading claim that Akhilesh Yadav is wearing shoes and worshipping the idol of Lord Parshuram but in reality, he can be seen wearing his socks. In the live stream of the video, we can watch Akhilesh Yadav take off his shoes before entering the temple.
(If you also have any suspicious messages, posts, photos, videos or news, send them to our WhatsApp Fact line Number (9049053770) for Fact Check. Follow Fact Crescendo on Facebook, Instagram and Twitter to read the latest Fact Check.)

Title:No, Akhilesh Yadav did not wear shoes inside Parshuram temple. Here's the Truth…
Fact Check By: Aavya Ray
Result: Misleading