The viral video is a scripted drama created for education and awareness purpose.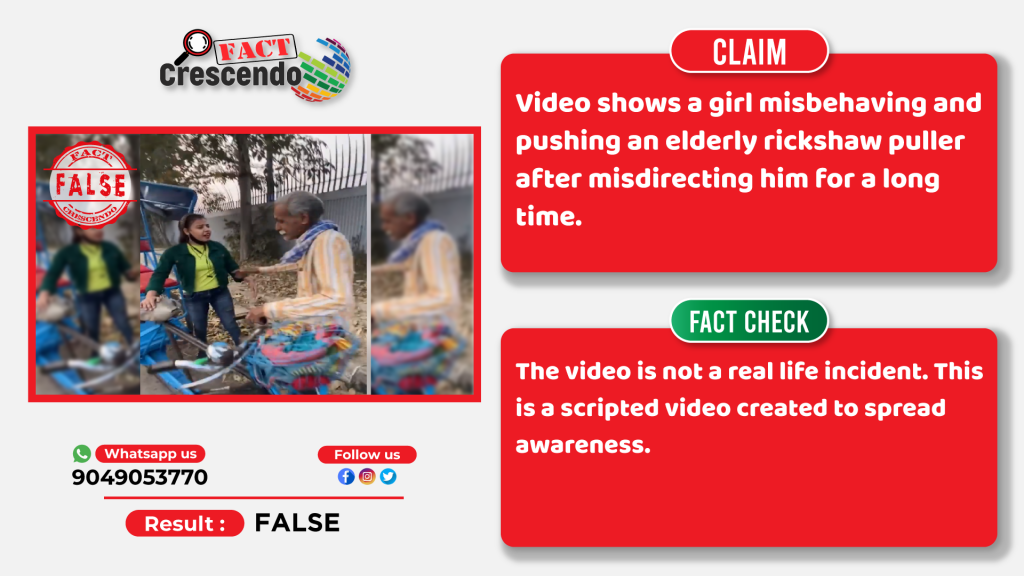 A video showing a girl pushing an old rickshaw puller on the road and misbehaving with him is widely circulating on social media. We can see that the rickshaw puller complains of pulling his rickshaw for 4 kilometres and refuses to go further since the girl is not giving him proper directions. After which the girl says angrily, "You will have to leave me at my location."
Users claim that the video shows a girl disrespecting an old rickshaw puller by pushing him aside and misbehaving with me. Many social media users believed it to be a true incident and started abusing the girl for her impolite and outrageous behaviour.
Fact Crescendo received this video for verification of our WhatsApp Fact Line number 9049053770.
You can see one such post given below. Please note such posts do not carry any disclaimer to let people know that the incident is not real and the people seen are mere actors. This misleads people into believing that the incident is true and react.
ALSO READ: Another Scripted Video Goes Viral As Man Caught On Camera Trying To Kidnap a Schoolgirl
Fact Check-
We started our investigation by breaking the video into small key-frames with the help of Invid We Verify tool and ran a reverse image search on Google for the same. The results led us to the same video posted by a Facebook user named "Raju Bharti" on 15 December 2021. This video is 6 minutes long.
The description of the video states that the video is a fictional work that is scripted. The video was made to spread social awareness.
The description mentions, "This page features fictional videos; All characters appearing in the video are fictitious. The videos made are inspired by true events and are made with a motto to spread social awareness. We anyhow don't mean to defame, disrespect any religion, caste, nationality, sex, gender or any individual in any manner."
You can watch the entire video here.

We found that Raju Bharti has posted several other prank videos as well as video intended to spread social awareness. We can see the same boy wearing the red cap in three different videos here, here and here.

ALSO READ: Scripted Video Showing A Child Kidnapping Believed As A Real Life Incident
Conclusion-
Fact Crescendo found the claim made along with the viral video on social media to be False. The viral video is being shared with misleading claims; the video is not a real incident. The video is a scripted drama shared as a true incident without realizing that the video is just for raising awareness.
(If you also have any suspicious messages, posts, photos, videos or news, send them to our WhatsApp Fact line Number (9049053770) for Fact Check. Follow Fact Crescendo on Facebook, Instagram and Twitter to read the latest Fact Check.)

Title:Staged Video showing a Girl assaulting a poor old Rickshaw Puller goes Viral…
Fact Check By: Aavya Ray
Result: False