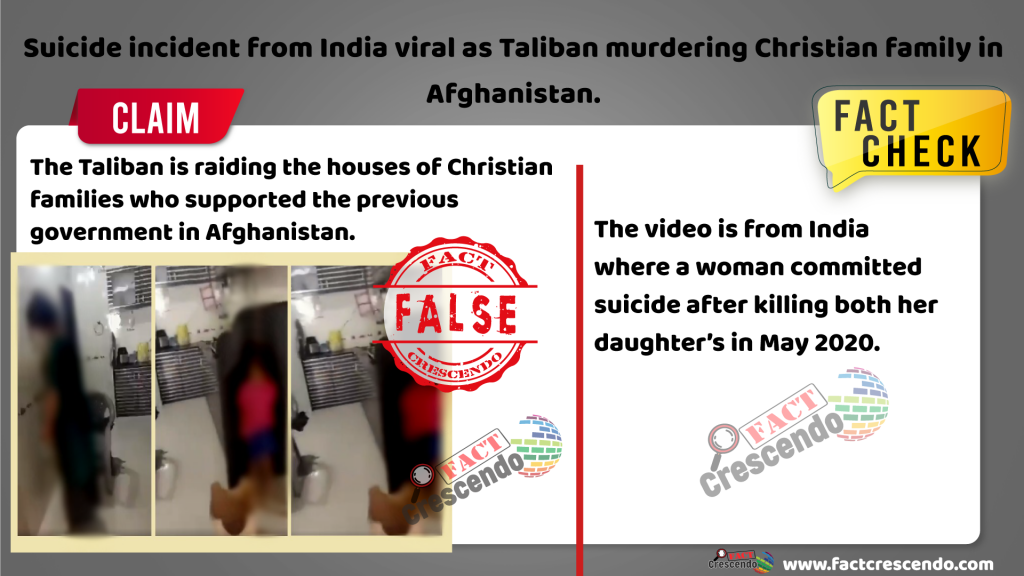 A gruesome video showing three dead bodies hanging from the ceiling is going viral on social media claiming that the Taliban is now entering and raiding houses in Afghanistan and murdering the Christian population who supported the previous government. The video shows a woman and her two children hanging in their home. This video is being shared amidst the huge flood of misinformation related to the Taliban seize in Afghanistan.
The caption of the post mentions, "The Taliban is going from house to house, killing Christians and those who supported the previous government. This is Biden's fault and those who supported the democrats, including the mainstream media which is very quiet now."
Social media is flooded with misinformation related to the ongoing unrest in Afghanistan post the Taliban take over. You can read more fact checks related to this incident below-
Fact Check-
We started our investigation by breaking the video into small key frames using the InVid We Verify tool and ran a reverse image search on the frames, which led us to a news report published by News 18 Gujarati which shows the screenshot of a women and two children hanging from the ceiling. The report was published on 2 May 2020 stated that a woman living in Morbi, Gujarat had strangled both her daughters and then committed suicide.
A further keyword search on this incident led us to a news report published by the Times of India on 3 May 2021stating that the incident took place in Ravi Park Society on Vavdi Road in Morbi. The victim was identified as Tulsi Nepali who has killed her daughters before committing suicide. According to the report, she had taken this drastic step because she suspected her husband, Vishnu of having an extra marital affair. On 2 May 2020, Vishnu who was gym instructor went up to the terrace for a workout who then returned to his family hanging from the ceiling.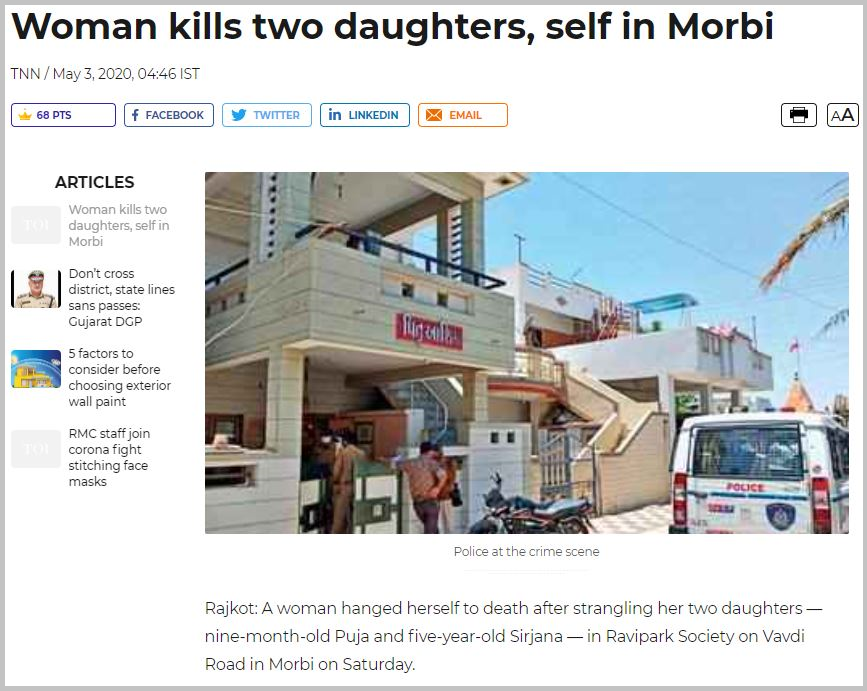 Fact Crescendo contacted S.R Odedra, SP of Morbi who confirmed to us that the video is more than a year old and had taken place near Vavdi in Morbi. This was a suicide incident. It has no relation with any kind of violent act done due to communal hatred.
We found that the verified channel of ABP Asmita had also reported this incident in May 2020.
Conclusion-
Fact Crescendo found the claim made along with the video to be False. The viral video in circulation has no relation with the current unrest in Afghanistan. The video does not show the Taliban murdering Christians who supported the previous government. The original incident is from Gujarat in India where a mother had committed suicide after killing her daughters.
Title:Suicide incident from India viral as Taliban murdering Christian family in Afghanistan.
Fact Check By: Aavya Ray
Result: False