Video is of a Lahore based choreographer named Shoaib Shakoor dancing on a Bollywood song. The video does not show a Pakistani Member of Parliament.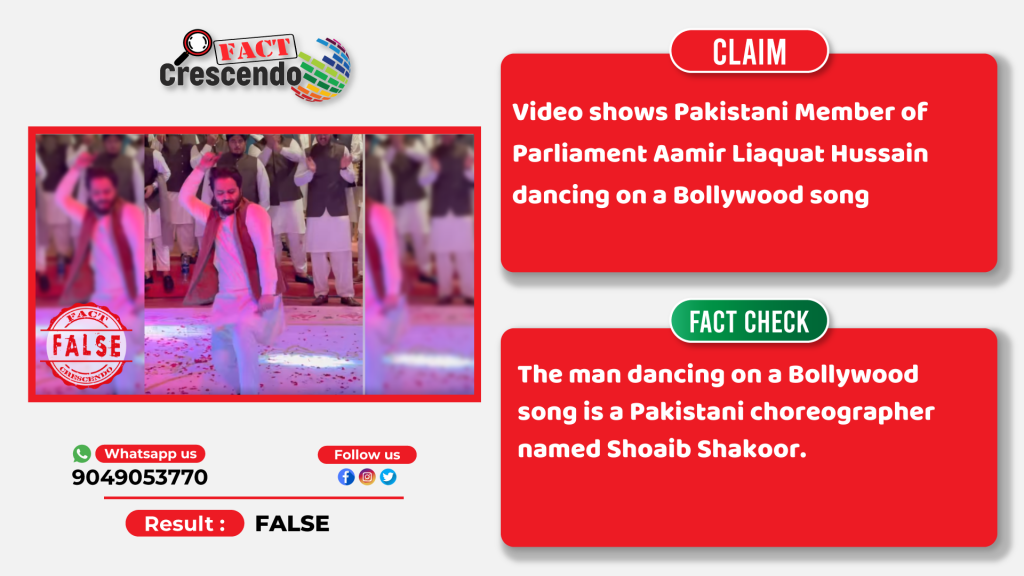 A video showing a man dancing at a wedding to the Bollywood song "Tip Tip barsa Paani" is being widely circulated on social media. Several media organizations such as ANI, Live Hindustan, Dainik Jagran, News 18 Hindi and others reported that a Pakistani MP was seen dancing to yesteryear's hit Bollywood Song Tip Tip Barsa Pani from the movie Mohra (1994). The song was also used recently in the movie Suryavanshi released last year, starring Akshay Kumar, Ranveer Singh, Ajay Devgn and Katrina Kaif.
The media reports claim that the video shows a Pakistani Member of National Assembly Aamir Liaquat Husain dancing at the beats of a Bollywood song. The video racked up thousands of views on social media claiming to show Pakistan's MP grooving to a Bollywood song. Aamir Liaquat Husain is a member of Pakistan's ruling Pakistan Tehreek-e-Insaaf party (PTI) led by Pak PM Imran Khan.
The verified Facebook page of Zee Punjab Haryana Himachal posted this video stating, "Pakistani MP Dances on Bollywood song, watch video"
Facebook Post | Archive Link | Live Hindustan | Archive Link | Jagran Archive | ANI | Archive
Who is Pakistan's MP Aamir Liaquat Husain?
Aamir Liaquat Hussain is a Pakistani television host and politician who has been member of the National Assembly of Pakistan since August 2018. Currently he is a member of Pakistan Tehreek-e-Insaf.
Fact Check-
We started our investigation by going through the comments of the tweets that is going viral; we found that a user named Safia on Twitter has commented that the man seen in the video is Shoaib who is professional choreographer.
Following this comment thread, we found that the user has also posted a link of a Pakistani Facebook page named HS Studio by Bilal Saeed who has posted the same video tagging Shaoib Shakoor on 3 January 2022.
We found several other performances by Shoaib Shakoor on this page that can be viewed here. We searched Shoaib on social media platforms that led us to his Instagram account, where he states that he is choreographer and a performer. We also found the viral video on his profile where he can be seen performing on tip tip barsa paani.
Below you can see a comparison between faces of Shoaib Shakoor and Pakistani MP Aamir Liaquat Husain. This makes it clear that the viral video shows the performance of the choreographer and not Pakistan's MP.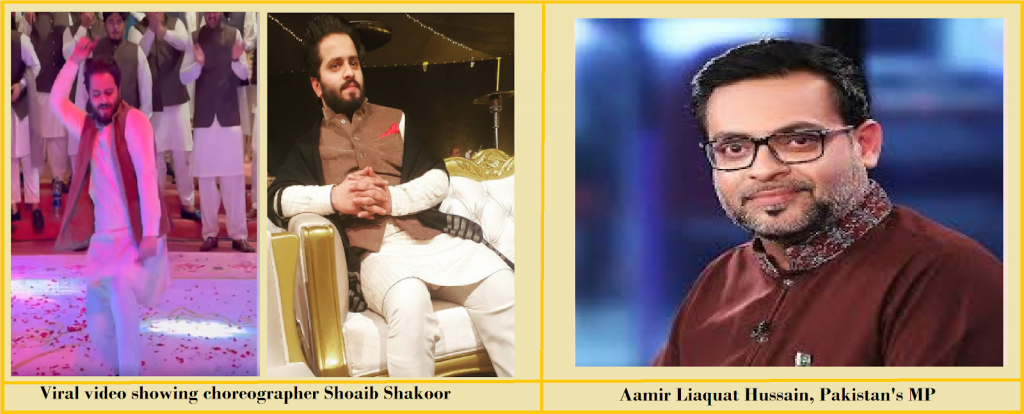 Conclusion-
Fact Crescendo found the claim made along with the viral video on social media to be False. The video of a man grooving to a Bollywood song is not Pakistan's MP Aamir Liaquat Hussain but a choreographer named Shoaib Shakoor who performed at a wedding.
(If you also have any suspicious messages, posts, photos, videos or news, send them to our WhatsApp Fact line Number (9049053770) for Fact Check. Follow Fact Crescendo on Facebook, Instagram and Twitter to read the latest Fact Check.)
Title:No, the viral video is not of a Pak MP dancing to Bollywood Number 'tip tip barsa paani'…
Fact Check By: Aavya Ray
Result: False