The viral image is three years old showing Sachin Tendulkar offering his help to his childhood cricket coach and mentor Ramakant Achrekar at his funeral in 2019.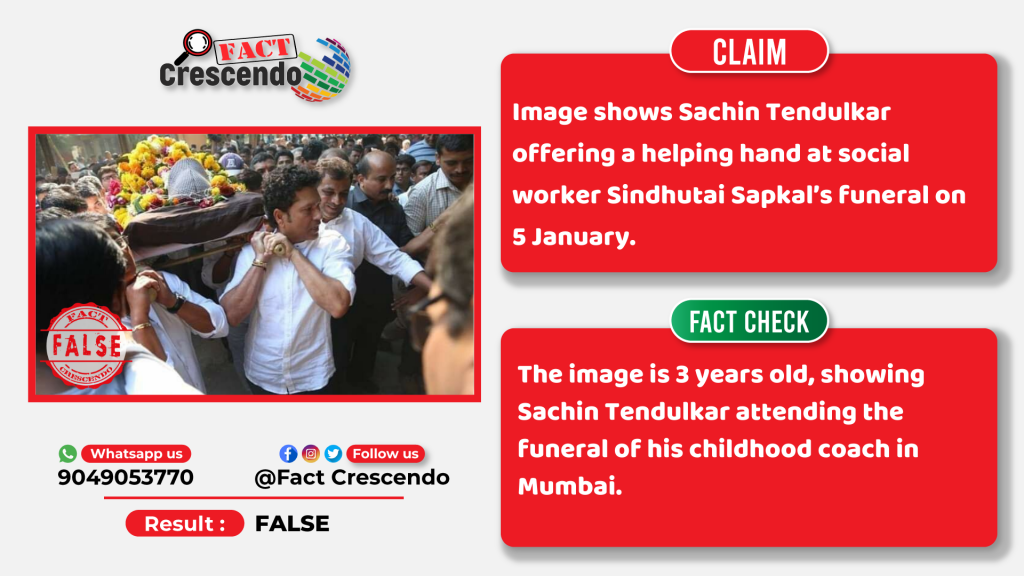 Senior social activist Sindhutai Sapkal passed away at the age of 74 due to a heart attack on Tuesday (January 4). Her body was cremated on Wednesday (January 5) at Thosarpaga.
Social media users shared several photos, videos and stories paying homage to her on social media
Amidst this, an image of cricketer Sachin Tendulkar is widely circulating on social media that claims that Sachin Tendulkar gave a shoulder to Sindhutai Sapkal's body at her funeral.
Readers of Fact Crescendo requested a fact check by sending this photo to our WhatsApp Fact line number (9049053770). This image is also being circulated in Marathi language as well.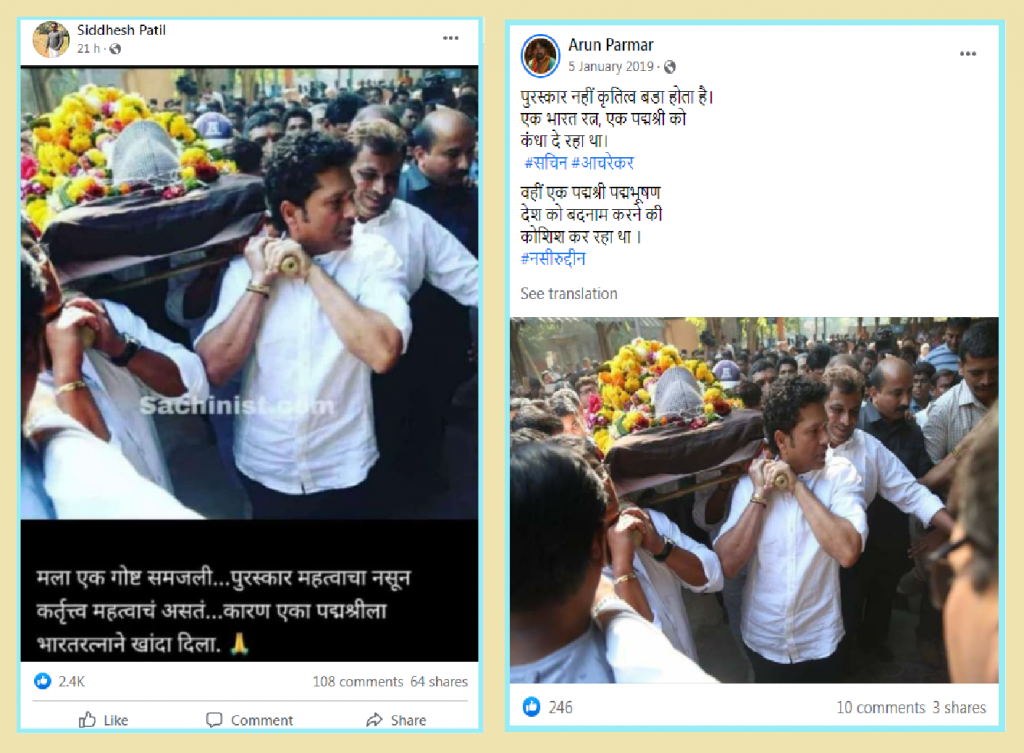 This image is widely circulating on Facebook.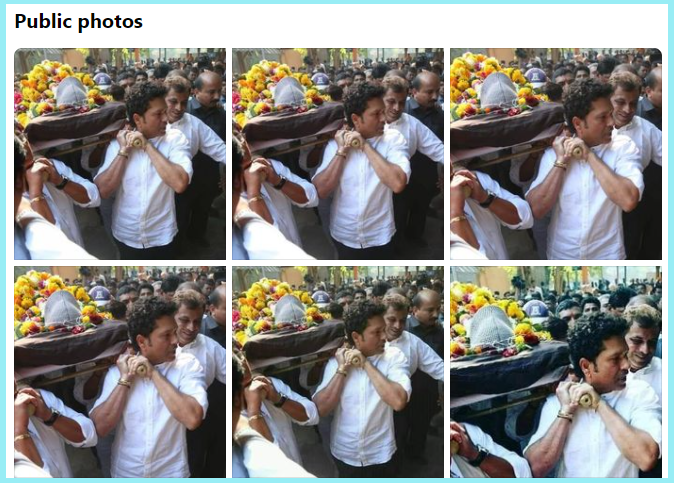 Fact Check-
We started our investigation by running a reverse image search on Google, whose results led us to the image published three years ago.
The Indian Express published this image on 3 January 2019 stating that the image shows Sachin Tendulkar at the funeral of his childhood coach Ramakant Achrekar who passed away due to age-related ailments. Ramakant Achrekar, who was a Dronacharya and Padmi Shri awardee, was 87 years old. At his funeral, Tendulkar had given his shoulder during the cremation process.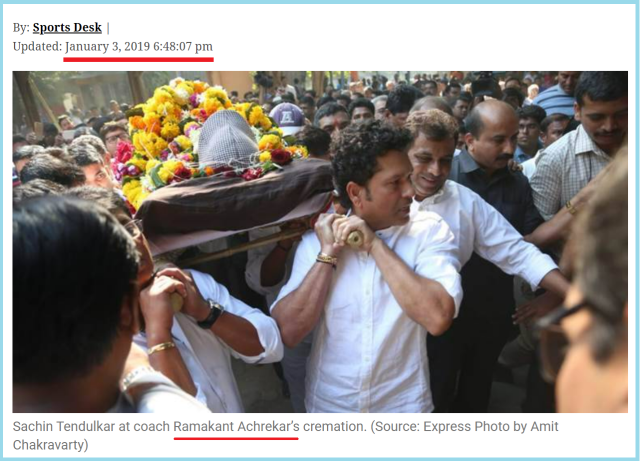 Sindhutai Sapkal's cremation-
Sindhutai Sapkal was cremated at Thosar Paga cemetery on Wednesday (5 January). Minister of State for Agriculture Dr. Vishwajeet Kadam on behalf of the government paid homage to Sindhutai by offering a wreath on her body.
She was known as 'Anathanchi Maye' or the mother of orphans who had adopted more than 100 orphans. She was awarded with the Padma Shri in 2021.
Conclusion-
Fact Crescendo found the claim made along with the viral image on social media to be False. The viral image shows Sachin Tendulkar giving a shoulder to his childhood cricket coach Ramakant Achrekar at his funeral in 2019. The image is three years old. The image has no relation with Sindhutai Sapkal's cremation in Pune.
(If you also have any suspicious messages, posts, photos, videos or news, send them to our WhatsApp Fact line Number (9049053770) for Fact Check. Follow Fact Crescendo on Facebook, Instagram and Twitter to read the latest Fact Check.)
Title:Did Sachin Tendulkar attend social worker Sindhutai Sapkal's funeral?
Fact Check By: Aavya Ray
Result: False