Punjab's Health Ministry confirmed to Fact Crescendo that 125 passengers who landed from Italy to Amritsar came in a chartered flight and not in an Air India flight. Air India has also refuted the viral claim.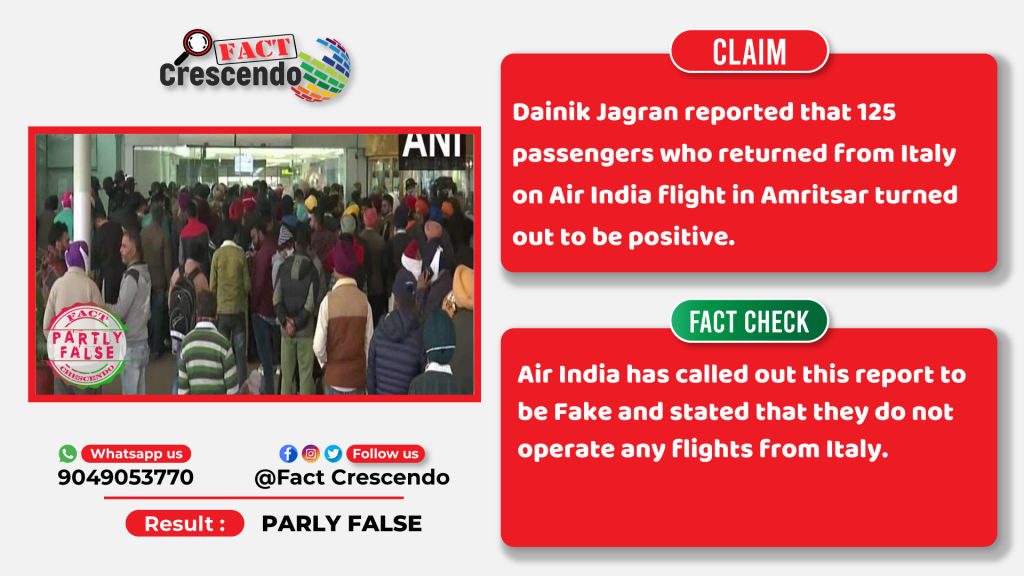 Amidst the rising Covid-19 cases in India and the upcoming third wave in the country, we saw a breaking news that states that 125 passengers who returned from Italy on Air India flight in Amritsar turned out to be positive, which created an uproar at the airport.
This news started creating panic among the social media users as the world is witnessing new variants on Covid-19 frequently. We received several requests to Fact Check this news on our WhatsApp Fact line number 9049053770.
We found that Dainik Jagran has published this news on 6th of January 2022. The report mentioned that a flight carrying 180 passengers from Rome to India via an Air India flight were tested at the Sri Guru Ramdas Jee International Airport in Amritsar. Out of 180 passengers 125 passengers were tested positive for Covid-19 All, the infected passengers have been isolated. However, due to such a large number of positive passengers entering the airport together there was a situation of chaos at the airport for some time.
The caption of the post mentions, "125 passengers who returned from Italy on Air India flight in Amritsar turned out to be positive, uproar at the airport."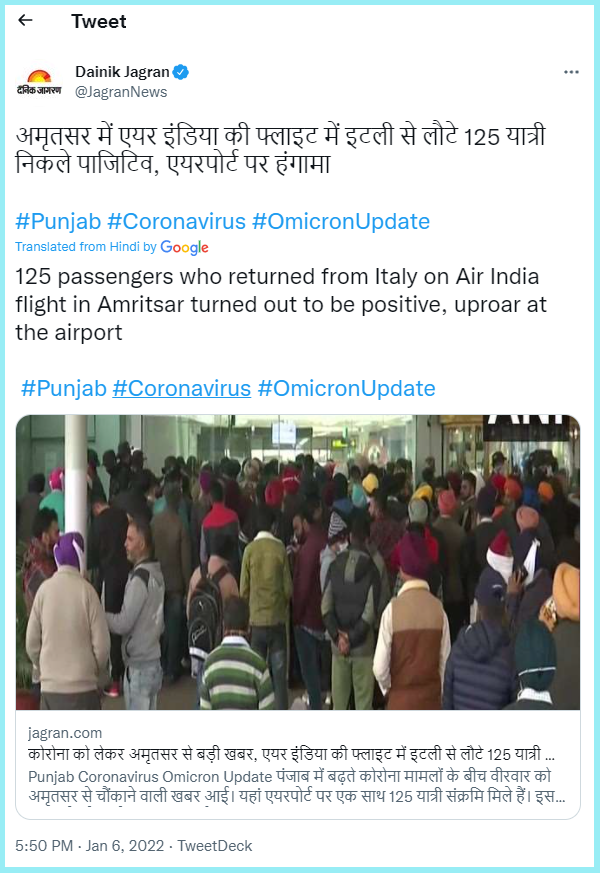 Tweet Link | Dainik Jagran News | Archive Link | Tweet Archive
Fact Check-
We started our investigation by running a keyword search on Google to find similar news reports that corroborated the same. From the results, we were unable to find any relevant news report.
We came across a clarification tweet by Air India on twitter published on 6 January, which mentioned that the news stating that passengers of an Air India flight from Italy to Amritsar is Fake. They have also mentioned that Air India does not operate any flight from Rome.
The tweet mentioned "#FlyAI : Several Media houses has reported that Passengers of Air India flight from Rome to Amritsar have been tested Covid positive. This is wrong and baseless. Air India doesn't operate any flight from Rome currently."
Next, we checked on the website of "flightradar24" which tracks live air traffic and found that Air India currently has no routes to Italy.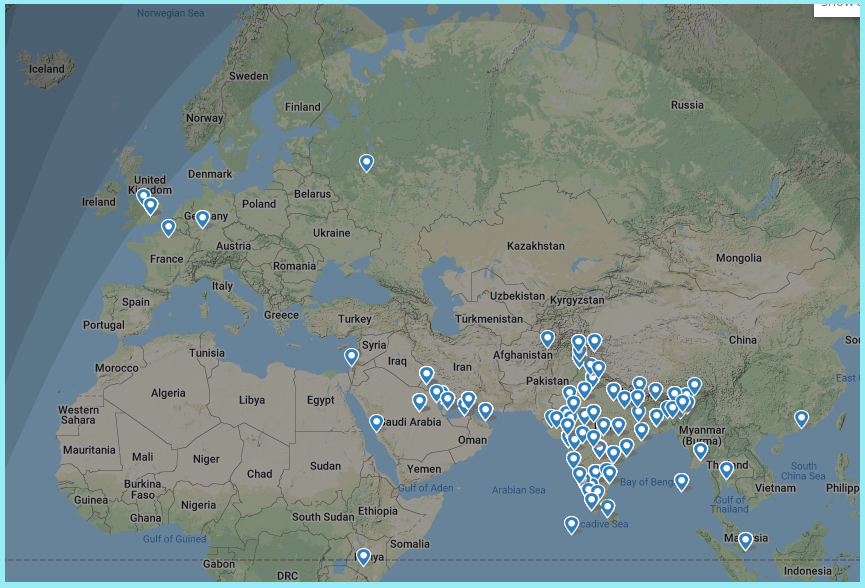 Next, Fact Crescendo contacted Punjab's Deputy Director for Health and Family Welfare, Mr. Lalit Goyal who confirmed to us that the flight that landed in Amritsar is not an Air India flight instead it was a chartered flight where 125 passengers we tested positive. He also mentioned to us that the passenger have now been sent for quarantine. 
An inspector from Amritsar confirmed to Fact Crescendo that the flight was a chartered flight by the Euro Atlantic Airways. Upon searching on Google, we found that Euro Atlantic Airways is a Portuguese company, which is specialized in leasing and air charter.
We found several news reports published by NDTV and Live mint that stated that a chartered flight from Milan that arrived in Amritsar (flight YU-661) around 1.30 pm on 5 January 2022. EuroAtlantic Airways, a Portuguese company, reportedly operated it.
Next, we checked about this flight on the website of flight aware, which is an American company that provides real-time, historical, and predictive flight tracking data and products. We found the details about the chartered flight that took off from Bergamo in Milan on 5 January 2022 and reached the Amritsar International airport on the same day. The flight number was MMZ661 / YU661. You can also view the flight details on flight radar as well.
Conclusion-
Fact Crescendo found the claim made along with the viral news on social media to be Partly False. It is true that a flight has landed at the Amritsar International Airport from Italy in which 125 passenger were tested Covid positive. However, as reported in the viral news the flight was not an Air India flight. Air India has categorically called out this report to be Fake and stated that they do not operate any flights from Italy. The flight that landed in Amritsar is a chartered flight.
(If you also have any suspicious messages, posts, photos, videos or news, send them to our WhatsApp Fact line Number (9049053770) for Fact Check. Follow Fact Crescendo on Facebook, Instagram and Twitter to read the latest Fact Check.)
Title:125 passengers who tested positive for Covid at Amritsar did not travel in an Air India Flight
Fact Check By: Aavya Ray
Result: Partly False