Muskan Khan has confirmed to Fact Crescendo that she has not received any such reward from the Turkish government.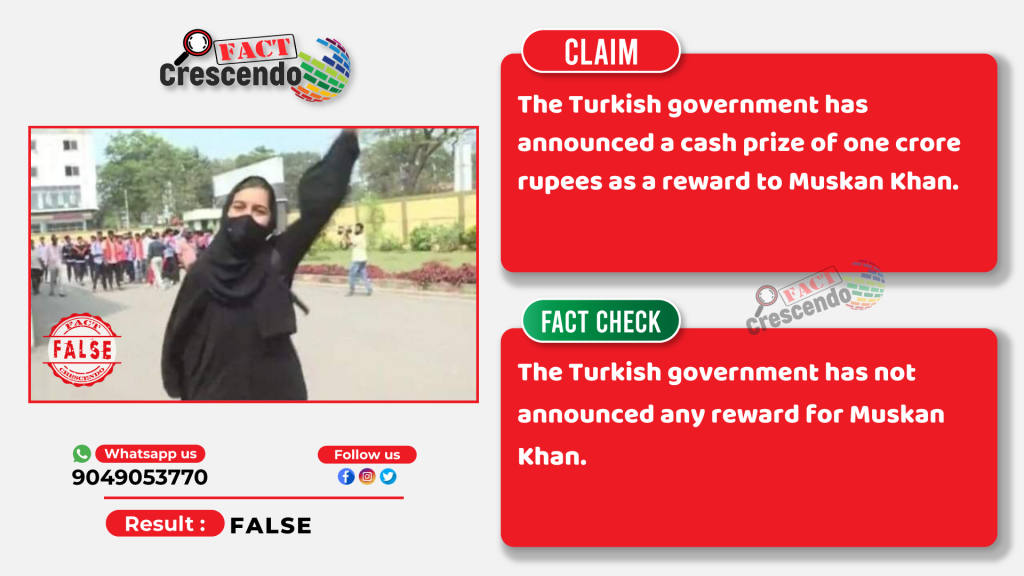 Recently a video of a burqa-clad student named Muskan Khan shouting slogans of 'Allah-hu-Akbar' went viral on the internet amidst the hijab controversy. According to Muskan she shouted slogans of 'Allah-hu-Akbar' in response to the chanting of ''Jai Shri Ram' directed at her by a group of boys wearing saffron shawls who asked her to remove her burqa. This video can be viewed here. Her video was shared widely and thus she gained a lot of praise from many across the world. Many hailed her as the 'face of the Pro-Hijab protests in Karnataka'.
Some social media users claimed that the Turkish government has granted a reward of rupees one crore to Karnataka's hijab girl-Muskan Khan.
The caption of the post states 'Breaking News! Turkey will now give a reward of one crore to Karnataka's hijab Muslim sister Muskan Khan. Allah hu Akbar'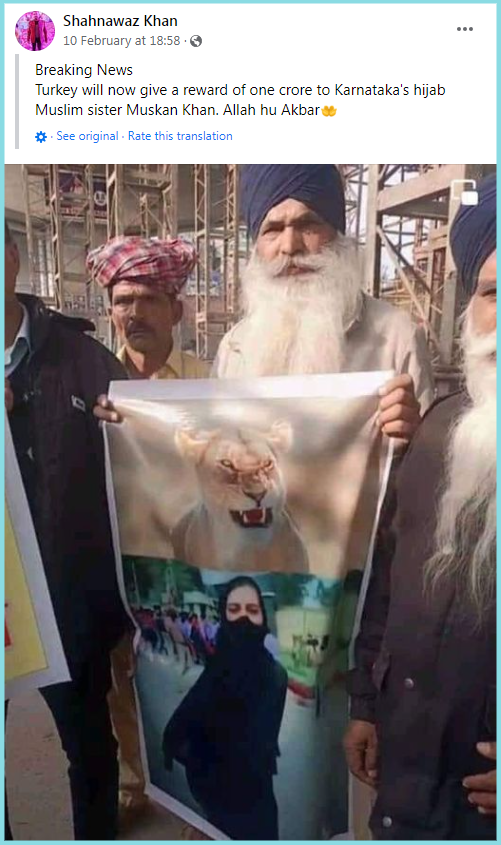 Fact Check-
We started our investigation by running a keyword search on Google to find relevant news reports on the same. However, we could not find any news report that corroborated the same.
Next, we searched the website of Turkish Government to find any relevant notice that stated the announcement of any such cash reward granted to Muskan Khan. However, we were unable to find any official press release on the Ministry of Foreign Affairs website of the Republic of Turkey. We could not find any notice, announcement or press release on the website of the Turkish Embassy in New Delhi as well.
Next, Fact Crescendo contacted Muskan Khan and her father, speaking with us they confirmed that Muskan Khan has not been informed about any cash reward from the Turkish government and dismissed the claim as fake news.
Conclusion-
Fact Crescendo found the viral image on social media to be False. The Turkish government has not granted any reward to Muskan Khan, the girl from Karnataka who became the face of Pro-Hijab protests in the state.
(If you also have any suspicious messages, posts, photos, videos or news, send them to our WhatsApp Fact line Number (9049053770) for Fact Check. Follow Fact Crescendo on Facebook, Instagram and Twitter to read the latest Fact Check.)

Title:Turkey has not announced reward for Muskan Khan, the Hijab girl from Karnataka
Fact Check By: Aavya Ray
Result: False