Muskan Khan clarified to Fact Crescendo that this is not her image. The woman seen in the image with Rahul Gandhi is Amba Prasad who is an MLA from Jharkhand.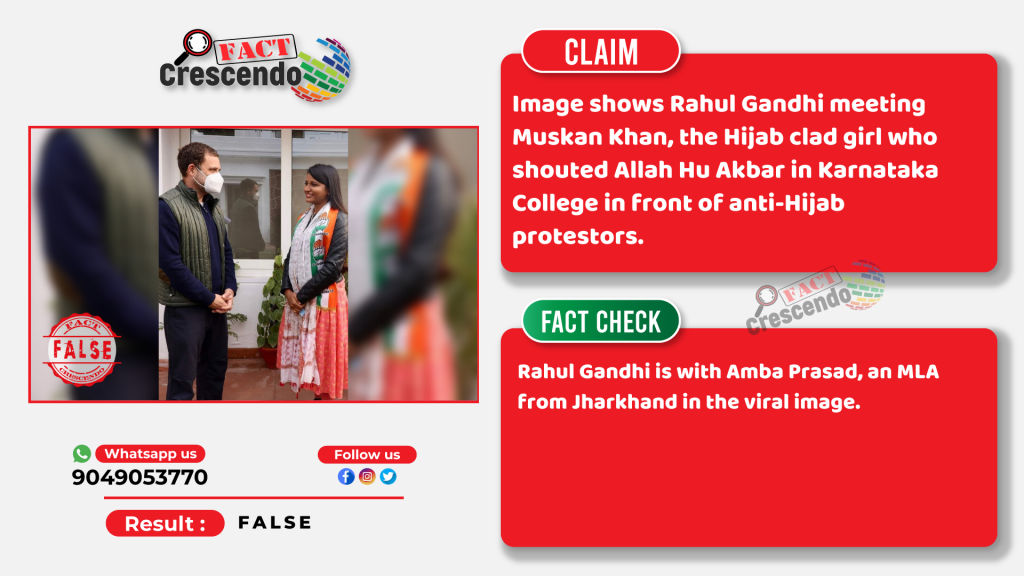 As the Hijab row in Karnataka intensifies, an image is being widely circulated on social media that shows Congress leader Rahul Gandhi and a woman wearing a Congress party scarf. Social media users claim that the image shows Rahul Gandhi meeting Muskan Khan the burqa-clad girl from college in Mandya who confronted anti-Hijab protestors in a video that went viral recently. Muskan gained National and International attention after she chanted 'Allah Hu Akbar' slogans in front of a group of students protesting against Hijab.
Video of a burqa cladded student named Muskan Khan shouted slogans of 'Allah-hu-Akbar' in response to the chanting of ''Jai Shri Ram' by a group of boys wearing saffron shawls grabbed a lot of attention. This video can be viewed here.
The caption of the post mentions, "Rahul Gandhi with that Karnataka's hijab girl."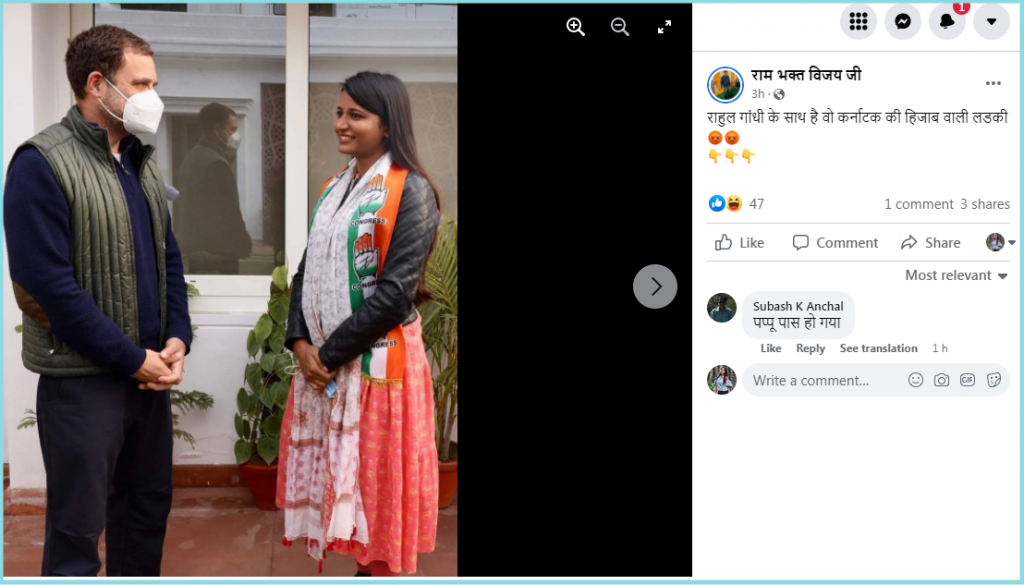 Fact Check-
We started our investigation by running a Google Reverse Image whose results led us to the same image posted by Amba Prasad on her Facebook account on 8 February 2022. Amba Prasad is a member of INC and a MLA from Barkagaon in Jharkhand.
The caption of the video states "Today, Congress Jharkhand MPs, MLAs and senior Congressmen along with Mr. Rahul Gandhi, got an opportunity to discuss important topics. Organization in charge Mr. K in the meeting. C. Venugopal ji, state in-charge Shri Avinash Pandey ji, state president Shri Rajesh Thakur ji, co-charge Mr. Umang Singhar ji were present. Amba Prasad Ankit Raj."
She has also posted the same image on her Instagram profile.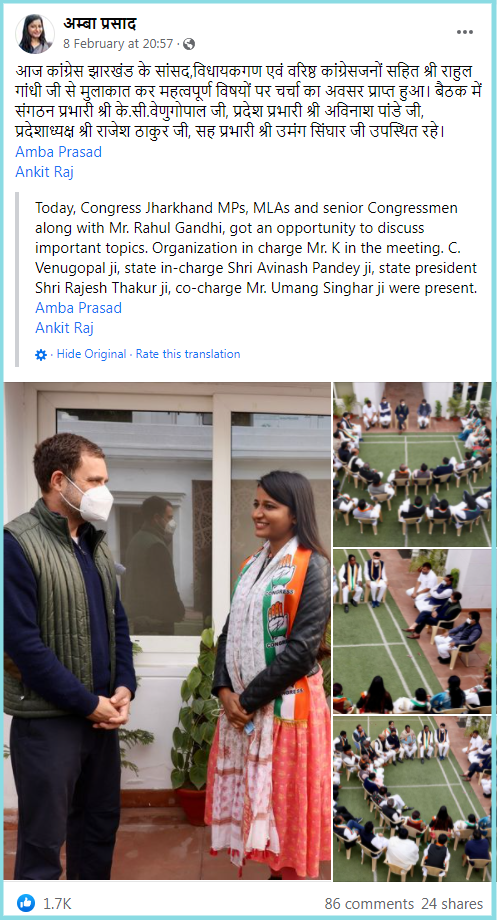 Amba Prasad has also issued a clarification on Twitter tagging the Jharkhand Police. She mentioned that her image is being falsely shared as the Karnataka hijab girl. She has also asked Jharkhand Police to take action against the ones who are spreading misinformation.
Fact Crescendo contacted Muskan Khan, who clarified to us that the girl in the image is not her. She has not met Rahul Gandhi nor have joined Congress.
Conclusion-
Fact Crescendo found the claim made along with viral image on social media to be False. The image does not show Rahul Gandhi with Muskan Khan, girl in viral Hijab video from Karnataka. The image shows Rahul Gandhi with Amba Prasad who is an MLA from Jharkhand.
(If you also have any suspicious messages, posts, photos, videos or news, send them to our WhatsApp Fact line Number (9049053770) for Fact Check. Follow Fact Crescendo on Facebook, Instagram and Twitter to read the latest Fact Check.)

Title:Rahul Gandhi did not meet Muskan Khan, the burqa clad girl from the viral video from Karnataka.
Fact Check By: Aavya Ray
Result: False