The last time Burj Khalifa lit up of any occasion was during the Chinese New Year. The video is edited.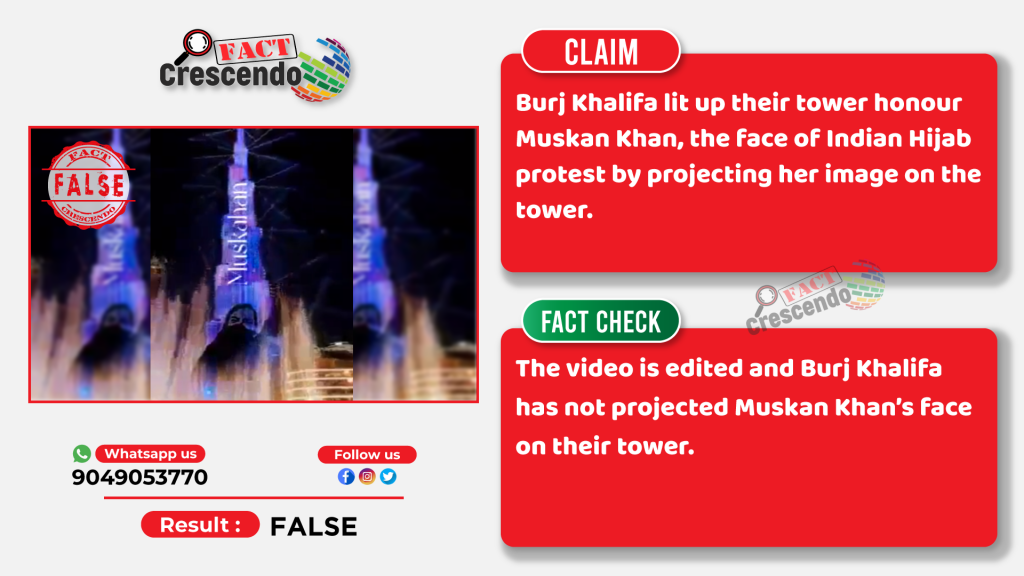 Recently a video of a burqa-clad student named Muskan Khan shouting slogans of 'Allah-hu-Akbar' in a college in Mandya, Karnataka went viral on the internet amidst the hijab controversy. According to Muskan she shouted slogans of 'Allah-hu-Akbar' in response to the chanting of ''Jai Shri Ram' directed at her by a group of boys wearing saffron shawls who asked her to remove her burqa. This video can be viewed here. Her video was shared widely and thus she gained a lot of praise from many across the world. Many hailed her as the 'face of the Pro-Hijab protests in Karnataka'.
Amidst this, a video showing circulating on social media claims that the Burj Khalifa lit up their tower to salute Muskan Khan's bravery.
The caption of the post, "salute to Dubai Who gave that honor to Indian daughter muskahan for which every Indian is proud… thanks Dubai'
Fact Check-
We started our investigation by visiting Burj Khalifa's social media account and found that the last time Burj Khalifa was lit up for any occasion was during the Chinese New Year last month. The tweet mentioned, "#BurjKhalifa welcomes the #ChineseNewYear! Catch the special LED and laser show dedicated to the Lunar New Year every evening till February 4th at 7:45 & 9:45 pm."
Edited video:
Upon carefully observing the video, we found several discrepancies that hinted that the video is an edited one. A TikTok user named md.mahinkhan60 posted the same video that has a better resolution.
Firstly, we noticed the spelling of 'Muskan Khan' was misspelled as 'Muskahan'. It is unlikely for the organizing and maintenance team of Burj Khalifa to make such a huge error.
Secondly, when the flash lighting stops, we can still see the name 'Muskahan' on the video. It shows the word has been edited into the video.
Thirdly, we can also see that the image of Muskan Khan is out of the building proportion, which is not possible.
Lastly, it seems that the name 'Muskahan' seems to be flying on the building instead of being on it.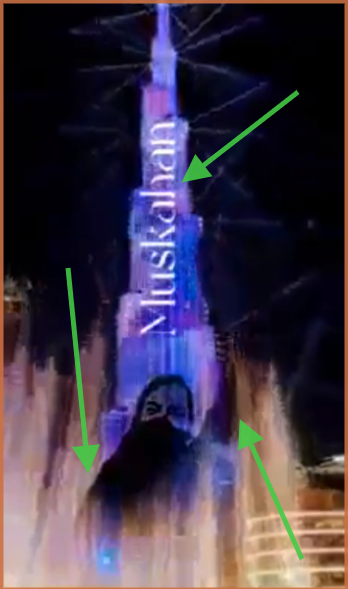 Conclusion-
Fact Crescendo found the viral image on social media to be False. The viral video on social media is digitally altered. Burj Khalifa did not light up their tower paying tribute to Muskan Khan's bravery amidst the hijab controversy in India.
(If you also have any suspicious messages, posts, photos, videos or news, send them to our WhatsApp Fact line Number (9049053770) for Fact Check. Follow Fact Crescendo on Facebook, Instagram and Twitter to read the latest Fact Check.)

Title:EDITED: Doctored video goes viral as Burj Khalifa honouring Muskan Khan, the pro-Hijab crusader from Karnataka
Fact Check By: Aavya Ray
Result: False