Telugu actress Hamsa Nandini confirmed to Fact Crescendo that the video is scripted and has been shared to spread awareness in the society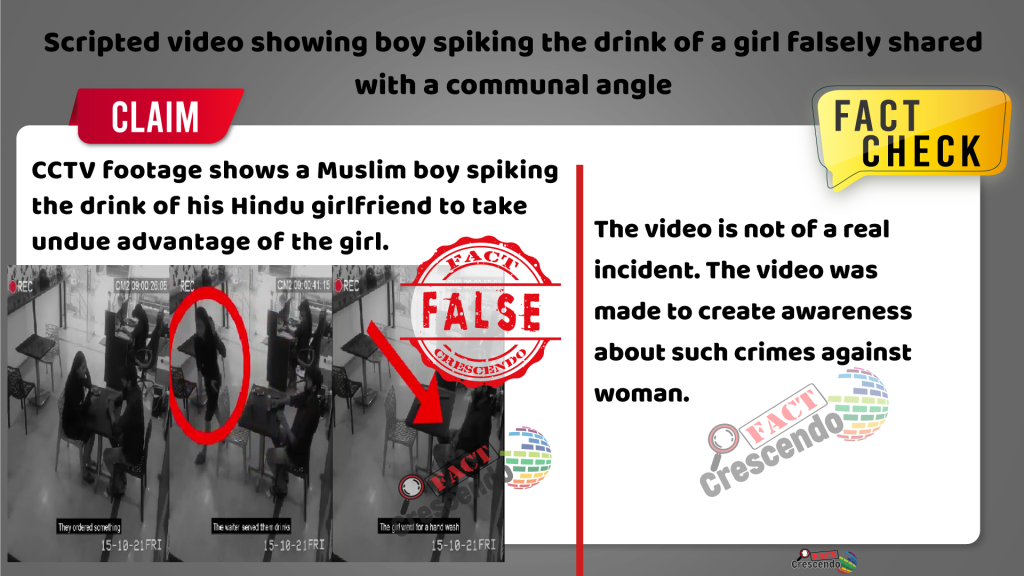 Some videos published on social media with the intent of creating general awareness about crime get viral with different context. A similar video has gone viral on several social media platforms. The video shows a man spiking the drink of the girl while the cashier observes this act. Soon after, the cashier informs the waiter and calls the police inspector complaining about the man who has spiked the girl's drink. The social media users claim that the man is a Muslim boy spiking the drink of a Hindu girl because he wanted to take undue advantage of the Hindu girl.
The caption of the post reads as follows, "See this the handiwork of a Muslim boy who was planning to rob his Hindu girlfriend by mixing intoxicants in water but was caught by the cleverness of the restaurant staff. Stay safe and stay away from such people."
Fact Check-
We used In-Vid We Verify tool to analyse the video into convert its key frames into images. A reverse image search of these key frames us to the same video posted by the verified Facebook handle of Hamsa Nandini. The description of the video states that this incident can happen to anyone. The description also states that this is a scripted video and made for the purpose of educating people.
Upon searching for more information on Hamsa Nandini's Facebook account and found that she is an artist by profession. During investigation, we also found that she is an actor in Telugu cinema.
Next Fact Crescendo contacted Hamsa Nandini via e-mail who told us that, "This video is not related to any particular community. There is no Hindu-Muslim angle to this video. The video is not a real incident. We have clearly mentioned on the video that it is only for educational purposes to give awareness. I am not the girl seen in this video. It has nothing to do with any community."
Conclusion-
Fact Crescendo found the claim made along with the video to be False. The viral video is scripted and has no relation with any particular community. Some social media users took this staged video, created for awareness, out of context and shared it by giving a communal spin to it.
Title:Scripted video showing boy spiking the drink of a girl falsely shared with a communal angle
Fact Check By: Aavya Ray
Result: False