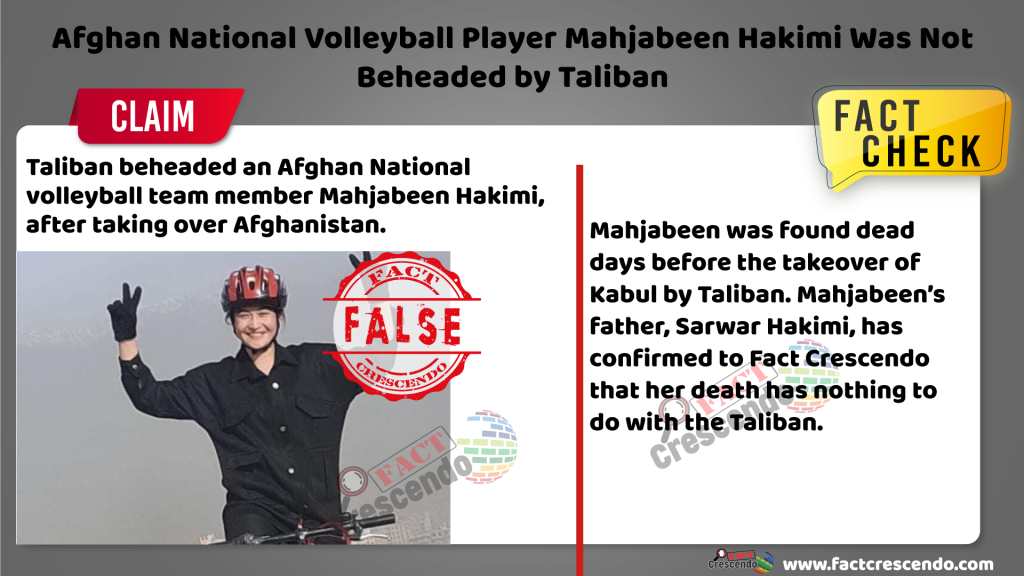 Mainstream media and social media users across the world claimed that an Afghan National Volleyball Player Mahjabeen Hakimi was beheaded by the Taliban. However, Fact Crescendo found that these reports were false and Mahjabeen's was not beheaded by Taliban. In fact, she was found dead under mysterious circumstances even before the fall of Ashraf Ghani government and takeover of Afghanistan by Taliban in mid-August.
Let's find out how these rumors started and what is the reality of these claims.
Narrative
Here are some social media posts claiming Mahjabeen was beheaded by the Taliban. Also, the screenshot of the Facebook search shows how the post is being shared widely across the world.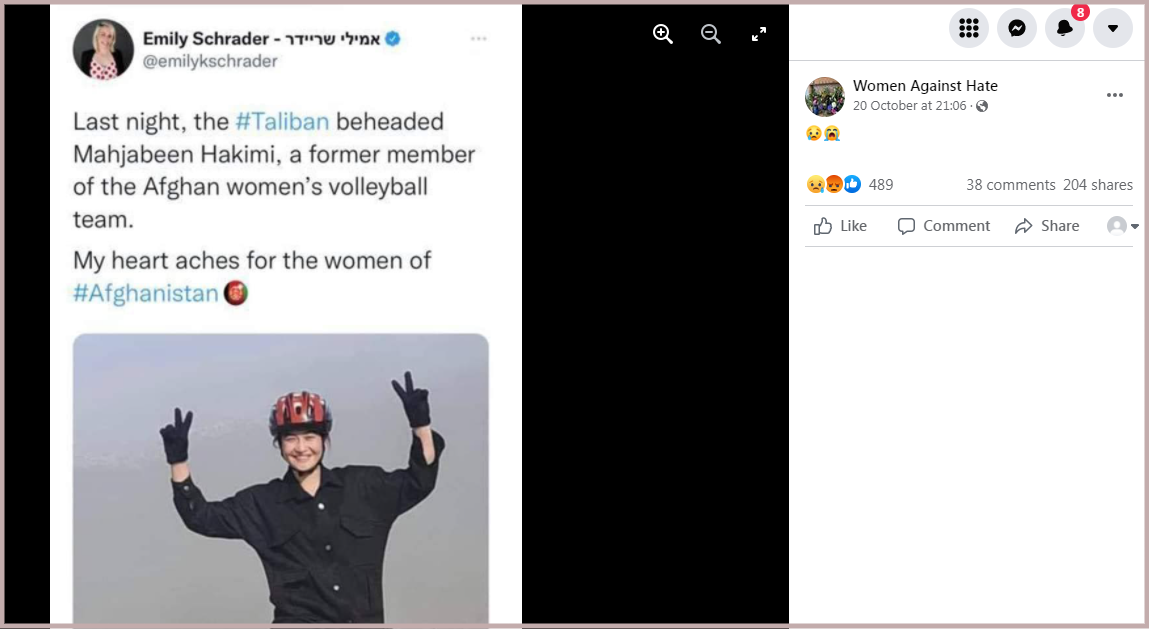 View the original post here:- Facebook | Archived Link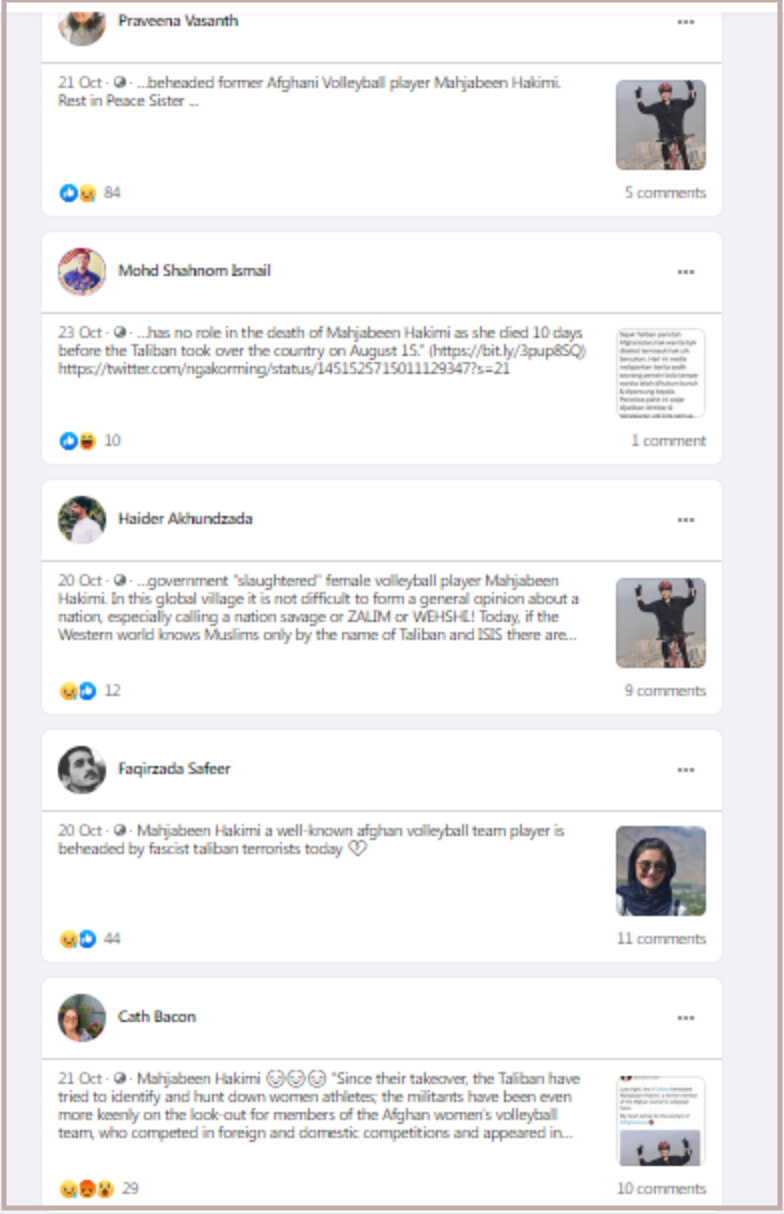 There have also been news reports claiming the same. The information has been attributed to the coach from Afghanistan. The report doesn't mention the name of the coach but claims that she said in an interview. The report doesn't provide any relevant details apart from this.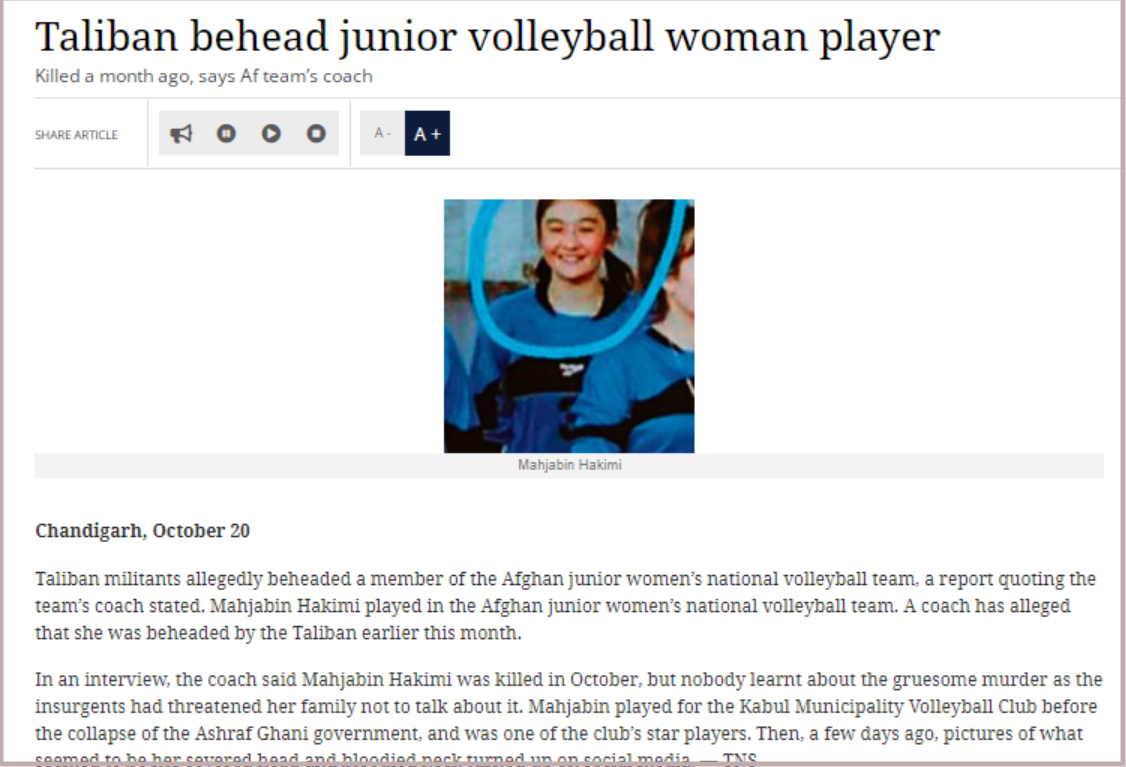 The Tribune Link | Archived Link
Let's check the veracity of these claims.
Fact Check Methodology
First, we started finding the source of this misinformation. As indicated in the Telegraph report, Suraiya Afzali, a coach of Afghan woman volleyball team had indeed made this claim in an interview given to Independent Persian. You can find the video below:
Independent Persian | Archived Link
Fact Crescendo Afghanistan got in touch with Mahjabeen Hakimi's father, Sikandar Hakimi, who told us that his daughter was allegedly killed on August 8, 2021,i.e., before the Taliban took over Kabul. He confirmed that the rumors on social media are false and his daughter's death has nothing to do with the Taliban.
He said: "Mahjabin was killed before the Taliban came into power. She had recently received a scholarship from the United States but her husband had opposed it."
Fact Crescendo Afghanistan also asked him if he had been threatened by the Taliban about sharing information with the media. He replied that that he had not been threatened by the Taliban. But he said he felt intimidated by the Taliban, as Mahjabeen Hakimi had served with special security forces in the previous government.
Mahjabeen's father and their relatives accuse Mahjabeen's in laws for her death and don't believe that Mahjabeen could commit suicide.
One of Mahjabeen's relatives posted an update on Facebook on August 8 about her death. The Taliban had not come into power in Afghanistan till then.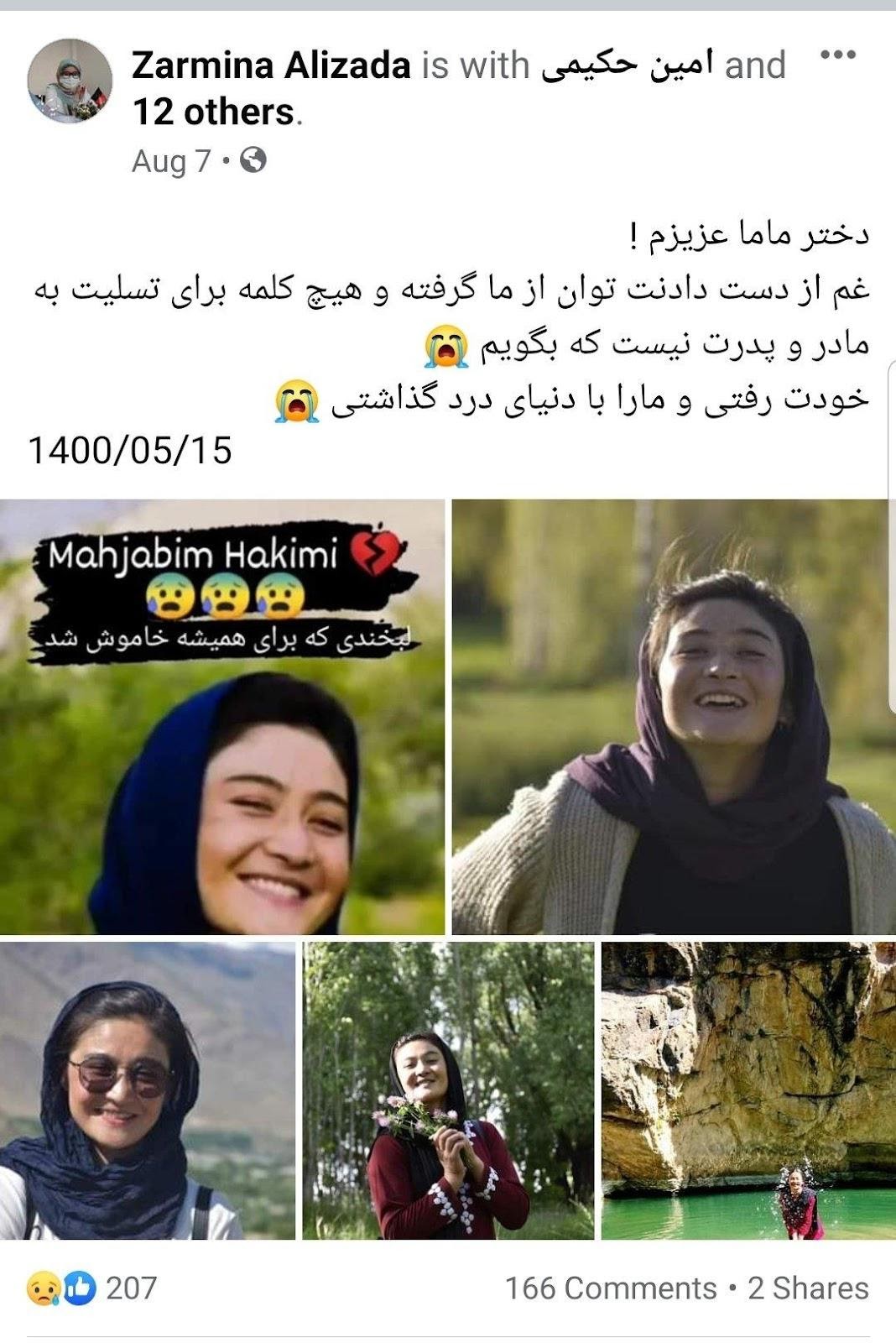 We also found a tweet by the former head of TOLO news that the news of Mahjabeen's killing by the Taliban is false.
Also, journalist Daryabi, publisher of the Etilatroz and Kabul Now newspapers tweeted that Mahjabeen Hakimi had committed suicide seven days before the fall of Kabul.
Taliban spokesman Dr. Mohammad Naeem also wrote in a tweet in Arabic that Mahjabin's death took place during the previous regime, before the Taliban came to power.
Deepa Parent, an Indian journalist also said in a tweet that she contacted Mahjabeen's family. The family told her that the news published about Mahjabeen on social media and also by some media outlets are false.
The card of Mahjabeen's funeral ceremony was also posted on social media. This card shows that her funeral ceremony was conducted on the 5th of August.
Mahjabeen's father also shared with our team in Afghanistan, a picture of her dead body. In the picture it is seen that her head is not separated from the body. Due to the graphic nature of the image, we have blurred out the injury marks on her neck.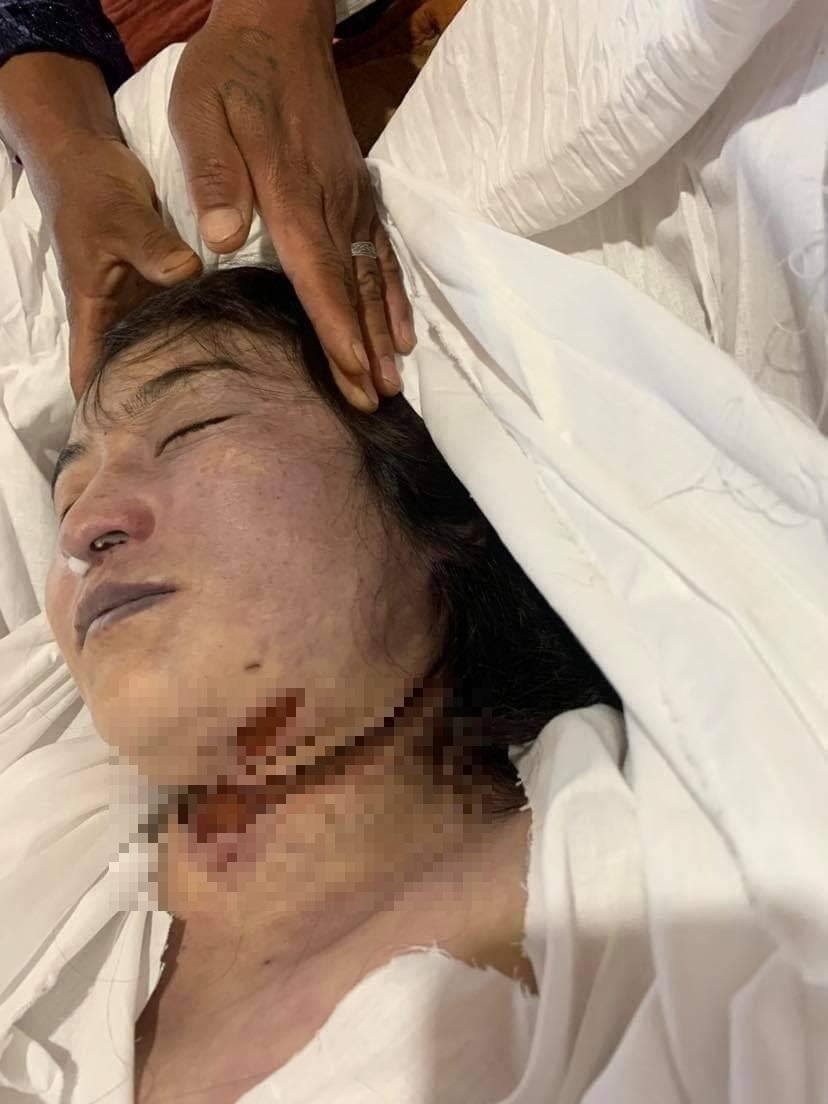 This investigation was conducted by our Afghan team and you can read the fact check in Afghan languages by clicking on the links given below:
ماه‌جبین حکیمی چندین روز قبل از سقوط کابل کشته شده است: Dari
Pashto: ماه جبین حکیمي د طالبانو له واکمنۍ وړاندې وژل شوې
Read more fact checks related to Afghanistan on our website
Fact Crescendo Afghanistan Link
To get our latest fact checks follow us on Facebook
Conclusion
Rumors claiming Afghan female volleyball player, Mahjbeen Hakimi, has been killed by the Taliban are false. Mahjabeen's father, in an interview with Fact Crescendo has confirmed that she was not killed by Taliban. 
Title:Afghan National Volleyball Player Mahjabeen Hakimi Was Not Beheaded by Taliban
Fact Check By: Manjori Borkotoky
Result: False