Mainpuri Police confirmed to us that the woman caught for illegal possession of a pistol did not belong to the Muslim community nor is she a teacher.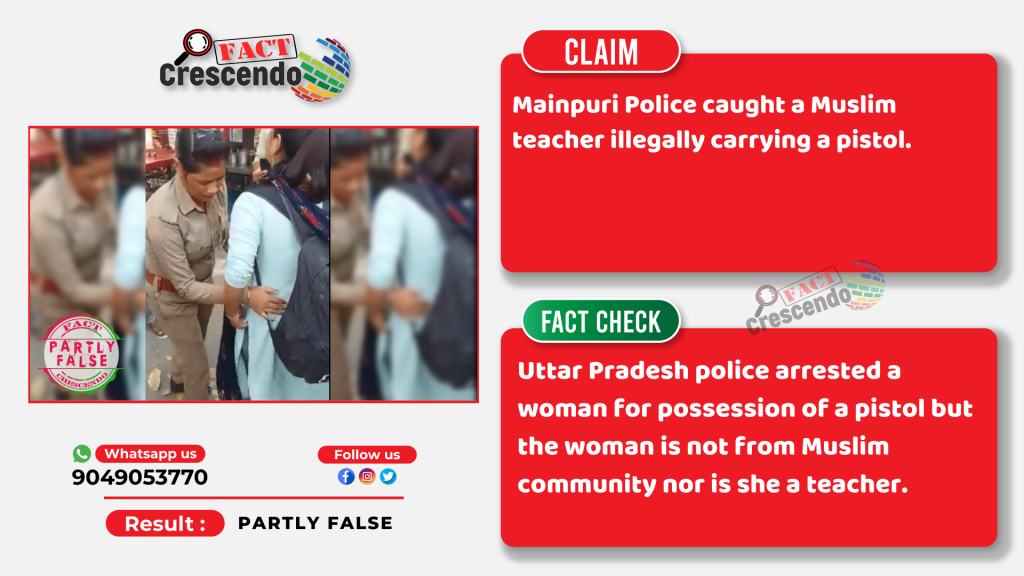 A video showing a female police officer frisking another woman and confiscating a pistol from her jeans pocket is widely circulating on social media claiming that the video shows an incident from Mainpuri in Uttar Pradesh where a Muslim teacher was caught for the illegal possession of a pistol.
The caption of the video states, "UP: In Mainpuri, a Muslim teacher who was roaming around with a pistol in jeans was caught by the police.)
(Hindi: UP : मैनपुरी में जींस में तमंचा लगाकर घूम रही एक मुस्लिम शिक्षिका को पुलिस ने दबोचा है।)
Fact Check-
We started our investigation by running a keyword search in Google whose results led us to several news reports published on this incident. According to Timesnow News published on 13 April 2022, Uttar Pradesh police have arrested a woman with a country-made pistol in her jeans pocket in Mainpuri. Police have now booked the accused under the arms act and sections of Indian Penal Code (IPC).
According to NDTV, the name of the woman is Karishma Singh Yadav who is teacher in a school in Firozabad.
Next, we found a tweet by Mainpuri Police that stated that after investigation they have found that the woman is not a schoolteacher and a case has been registered against her in the Kotwali police station.
Mainpuri Police also posted a news report on the incident that stated acting on a tip-off, the Kotwali police of Mainpuri district arrested a woman for possession of a pistol. The woman came from Firozabad to Mainpuri for some work.
Fact Crescendo contacted Mainpuri Kotwali police station in-charge Anil Singh who told us that the viral claim is false. The girl caught with the pistol does not belong to the Muslim community nor is she a teacher. Her name is Karishma Yadav who is 12th pass. She told the police that her mother killed her father and shot herself. After the death of her parents, she inherited a lot of property and she kept the pistol with her as she suspects that her life is in danger. She mentioned that the pistol was with her for her own safety. She lives in South Firozabad and came to Mainpuri to visit her relatives.
Conclusion-
Fact Crescendo found the claim made along with the viral video to be Partly False. Uttar Pradesh police arrested a woman for possession of a pistol but the woman is not from Muslim community neither is a teacher.

Title:Woman arrested for the possession of pistol in Mainpuri is not a Muslim
Fact Check By: Drabanti Ghosh
Result: Partly False