Amidst the recent Ram Navami celebrations in several states in India, a video showing a massive crowd gathered under an overbridge is widely circulating on social media. Users claim that the video shows massive Ram Navami celebrations held in Mumbai.
The caption of the post reads, "Video from Mumbai Maharashtra on the occasion of Ram Navami. My country is changing."
(Hindi: रामनवमी के अवसर पर मुंबई महाराष्ट्र से. मेरा देश बदल रहा है. #एकजूट_हिंदू  #मजबूत_हिंदू #जय_श्रीराम #भगवा_लहर)
Fact Check-
We ran a reverse image search on Google on one of the key frames of the video; the results led us to the same video posted on Facebook. The Facebook page of "Chinchpoklicha Chintamani" posted this video on 2 April 2020 with the caption that stated that it shows Chinchpokli Sarvjanik Utsav Mandal in Mumbai. 
The caption of the video reads, "रामजीकी निकली सवारी Chinchpokli Sarvjanik Utsav Mandal, Mumbai (Estd.: 1920) Ramajiki Nikali Savari Chinchpoklicha Chintamani Visarjan Sohala Miravanuk."
Chinchpokli Sarvajanik Utsav Mandal organizes religious programmes in Mumbai since 1920.
This video was also posted by Chinchpoklicha Chintamani's Instagram page on 4 August 2020 stating Ganesh Visarjan.
Upon carefully observing the video, we found a man holding a cap in his hands that looks similar to Chinchpokli Chintamani's official logo. Below you can see the similarity between the viral image and the logo.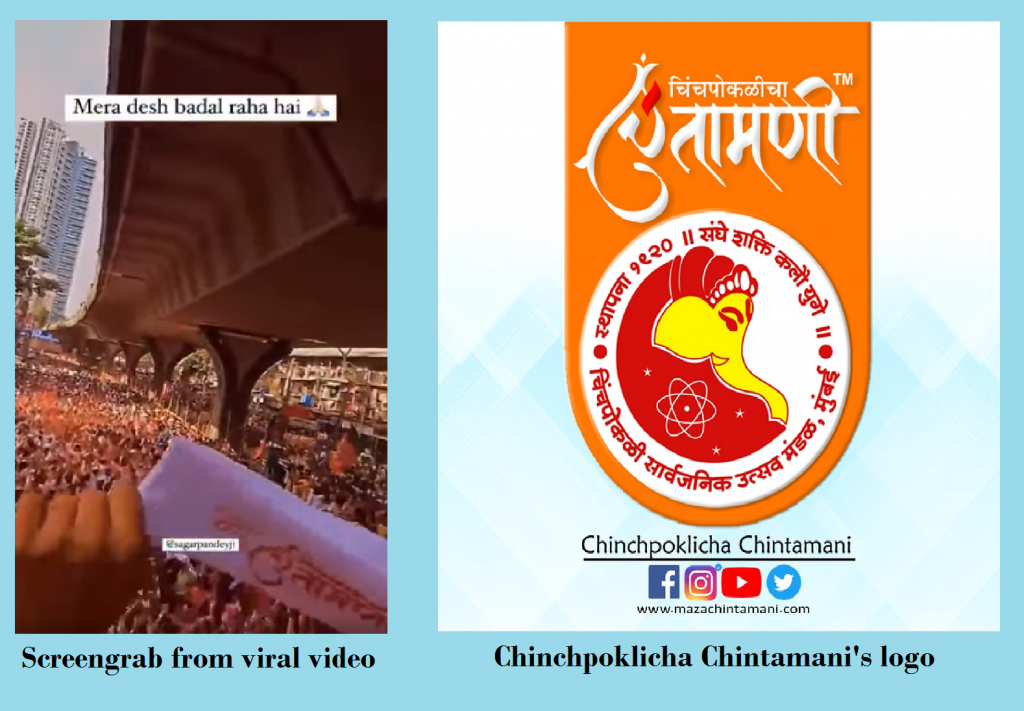 Since this video is available on the internet from 2020, it is clear that the video does not show recent Ram Navami celebrations in Mumbai.
We also reached out to Chinchpokli Chintamani's committee who confirmed to us that the video is old and shows Ganpati Visarjan in 2019.
Conclusion-
Fact Crescendo found the claim made along with the video shared out of context. The video dates back to 2019 showing Ganpati visarjan celebrations. The video does not show recent Ram Navami celebrations in Mumbai.
Title:Old video of a procession of Ganpati visarjan shared as recent Ram Navami celebrations in Mumbai.
Fact Check By: Drabanti Ghosh
Result: Missing Context