The video has no relation with the upcoming Uttar Pradesh election. The video is of Congress workers protesting against the Hathras case blocked Smriti Irani's car in 2020.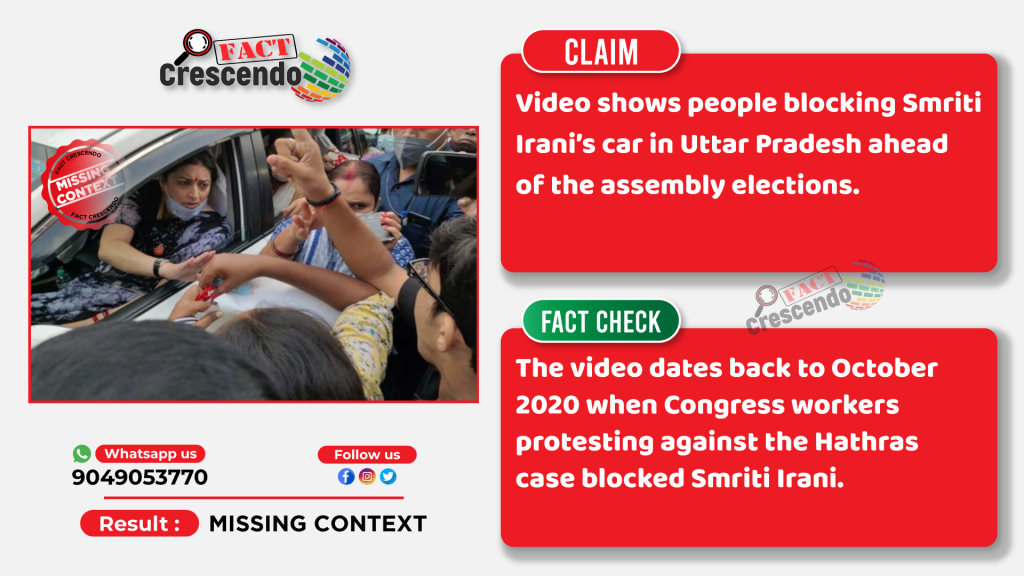 Social media has witnessed several videos and images of political nature ahead of the Uttar Pradesh Elections scheduled next month. In the past few days, we have seen many a posts targeting the ruling BJP by sharing purported videos/images of public outrage.
On similar lines, a video showing a group of people stopping the car of Union Minister for Women and Child Development Smriti Irani is being circulated on social media as a recent incident in Uttar Pradesh. Users have also sarcastically commented that the video shows a 'wonderful welcome' extended to Smriti Irani in Uttar Pradesh as she campaigns in UP. This video is widely being shared in the context of the upcoming elections in Uttar Pradesh
The caption of the post mentions, "Smriti Irani received a wonderful welcome in Uttar Pradesh. No media would show this," Or
"UP – Smriti Irani ran away Slogans of #Murdabad, Irani Go Away,"
---
ALSO READ: Video From Bengal Shared As BJP Leaders Chased Away In Uttar Pradesh
---
Fact Check-
We started our investigation by running a keyword search on YouTube to find relevant news reports. The results led us to the video published by a verified channel named Nyoooz TV on 3 October 2020. According to the description of the video Union minister, Smriti Irani was stopped by protesting Congress workers in Varanasi as they were protesting against brutal gangrape of a Dalit girl in Hathras. The Congress workers sad that Irani had not uttered a word in Hathras gang rape case even after the entire nation condemn and demanded justice for the victim and her family. Video shows people stopping Irani's convoy in protest against the Hathras case.
This incident was widely reported by several media houses here, here and here. These reports state that a group of Congress workers blocked the cavalcade of Union minister Smriti Irani in Varanasi in protest against the gang rape and murder of a 19-year-old woman in Hathras district in Uttar Pradesh. The protesters raised anti-government slogans and demanded justice for the woman's family.
Thus, the above video is clearly unrelated with the upcoming Uttar Pradesh elections. The incident has happened in Uttar Pradesh in 2020 and the video is being shared with a false context linking it with the upcoming UP elections.
---
---
Conclusion-
Fact Crescendo found the claim made along with the video to be shared out of context. The video is being shared ahead of the Uttar Pradesh Assembly Elections in February but in reality, the video is from October 2020 when several Congress party workers had stopped Smriti Irani's car in Varanasi.
(If you also have any suspicious messages, posts, photos, videos or news, send them to our WhatsApp Fact line Number (9049053770) for Fact Check. Follow Fact Crescendo on Facebook, Instagram and Twitter to read the latest Fact Check.)
Title:Old video of people stopping Smriti Irani's car in UP shared in context of recent campaign for UP elections…
Fact Check By: Aavya Ray
Result: Missing Context