Delhi police and Swati Maliwal, Chairperson, Delhi Commission for Women
confirmed to us that the victim has not committed suicide and is recovering from the trauma.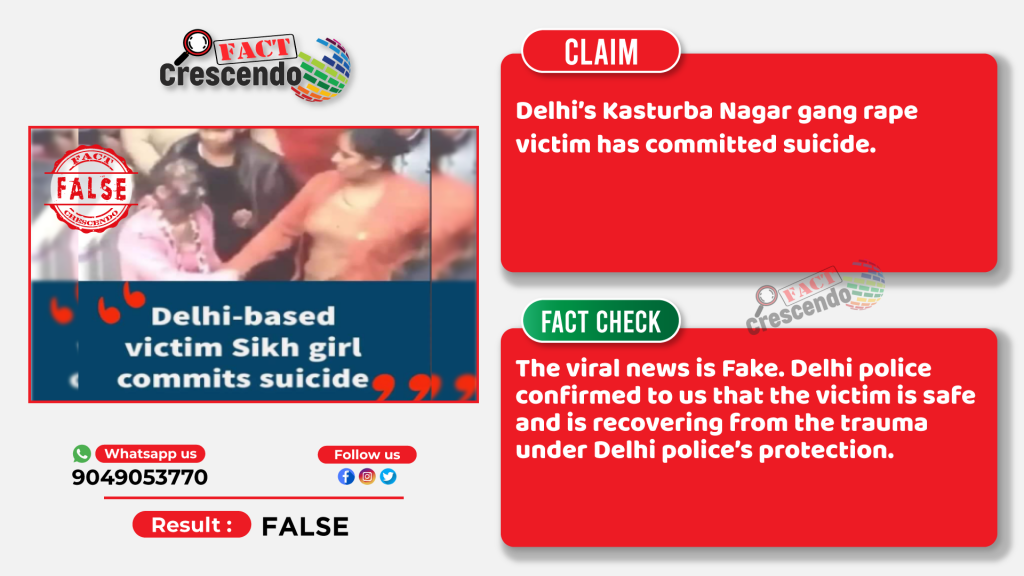 On 26th January a woman was allegedly abducted, gang-raped and paraded by her attackers (who were present when she was gang raped) on the streets of east Delhi's Kasturba Nagar with her hair chopped, face blackened and a shoe garland around her neck.
Delhi police have arrested nine out of the eleven who were accused which included seven women and two men who were juveniles and charged them with sexual assault, gang rape, abduction and several other charges.
Amidst this, an image of this incident is circulating on social media claiming that the victim has committed suicide.
The caption of the post "The rape victim young girl who was tortured, humiliated and paraded with through the streets of India has sadly taken her life! RIP Sister! This the largest democracy India by the way."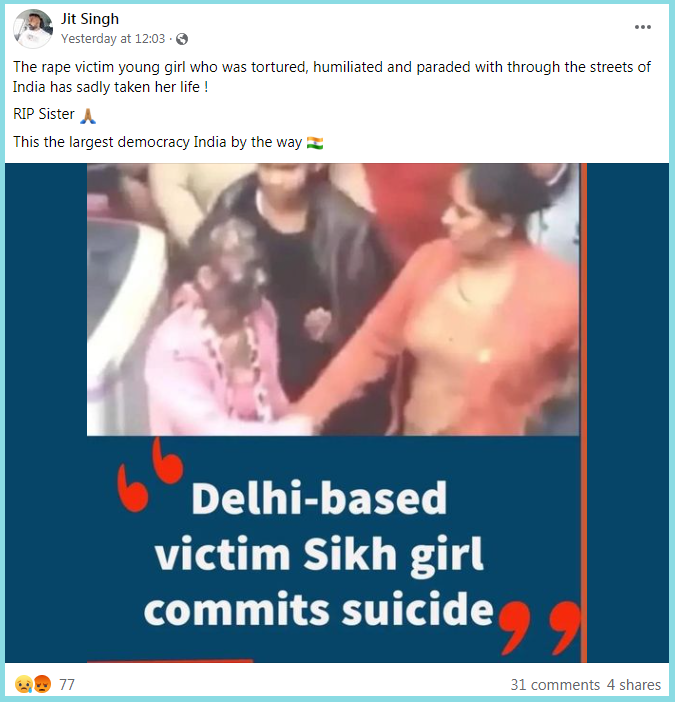 This image is being widely circulated on Facebook.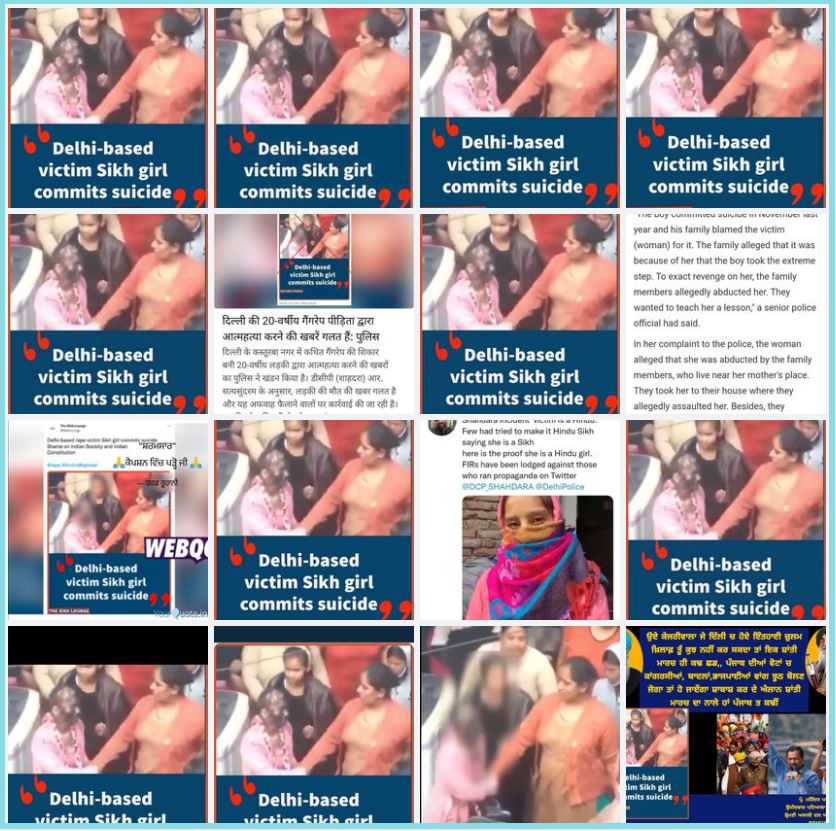 Fact Check-
We started our investigation by contacting a local journalist in Delhi who confirmed to us that the victim is alive and the viral post is fake.
Moving on, Fact Crescendo spoke with R Sathiyasundaram, Deputy Commissioner of Police, Shahdara who confirmed to us that the news is fake and the victim is safe and alive. She is recovering under police protection. He also added that strict action would be taken against those who spread misinformation and rumors related to this incident.
We found that the Delhi Police has also issued a video statement on their Twitter handle that clearly mentioned that the victim is safe.
They have also mentioned that several users on social media have tried to communalise the incident, which is false as well. Issuing a tweet for this they have mentioned that both the victim and accused are from the same community.
The tweet mentions, "In the Shahdara kidnapping and sexual violence case, there is an appeal to the people not to reveal the identity of the victim, not to spread misleading facts. Necessary action is being taken by identifying those who have spread rumors in this matter."
We have also found a tweet by Delhi Police that mentioned that they have filed 2 FIRs at Vasant Vihar Police Station against those who were spreading misinformation.
UPDATE (2 February 2022)-
Speaking with Fact Crescendo Satyavart Nehra,
Personal Secretary to Swati Maliwal, Chairperson, Delhi Commission for Women told us that she visited the victim on 1st February 2022 along with Shri Kailash Gehlawat, Revenue Minister Govt of Delhi. Nehra confirmed to us that the victim is safe and alive. She is currently under the protection of Delhi police. The Delhi government has announced to pay a compensation of Rs. 10 lakh to the victim.
Conclusion-
Fact Crescendo found claim made along with the viral image on social media to be False. The Kasturba Nagar gang rape victim has not committed suicide. Users spreading misinformation related to the incident will be punished.
(The quote from Swati Maliwal's PA has been updated to the story)
(If you also have any suspicious messages, posts, photos, videos or news, send them to our WhatsApp Fact line Number (9049053770) for Fact Check. Follow Fact Crescendo on Facebook, Instagram and Twitter to read the latest Fact Check.)

Title:Kasturba Nagar gang rape victim has not committed suicide
Fact Check By: Aavya Ray
Result: False