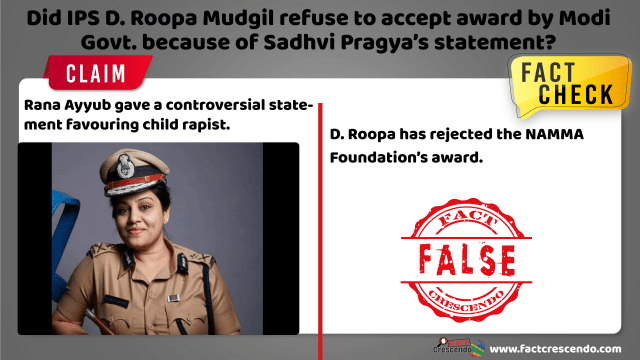 A Facebook page named 'Andhabhakt Dhulai Centre' shared a post on 2 June 2019. The post has a photograph of a Lady Police Inspector.
The post as translated from Hindi quoted, "IPS # Roopa_Yadav has refused to take the award from the Modi government. She quoted that – it does not permit my conscience that our country's martyr #Hemant_Karkare, received the highest honour of gallantry; is being insulted and abused by the BJP's newly elected MP, who is accused of terrorism. In addition, his party is pretending to give me awards here. She deserves salutes, my brothers" As per this post's claim, IPS Roopa Yadav has denied any award given by Modi Government because, the newly elected BJP MP from Bhopal, Sadhvi Pradhan, had called Hemant Karkare anti-national. Let us see what the facts are!  
NARRATIVE ON SOCIAL MEDIA:
FACT CHECK:
We first searched the shared photo in the above post using reverse image search. What we got in the search is below: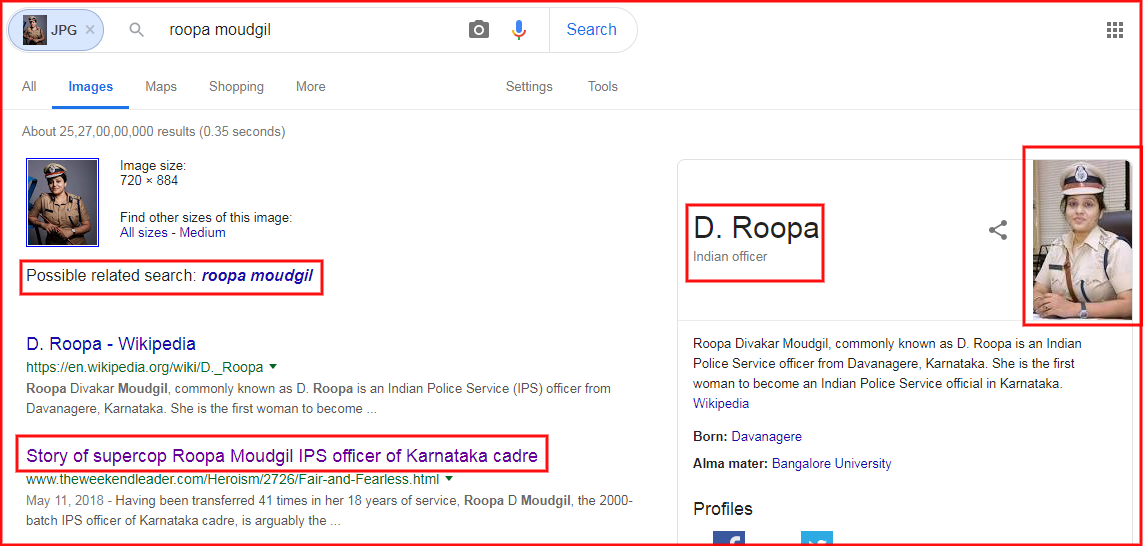 From this search, we found that the photograph in the post is of IPS Roopa Diwakar Mudgil. However, in the post, the name mentioned is Roopa Yadav, which is wrong. IPS officer D. Roopa's name came in the headlines back in 2017, when she exposed the facilities provided in the Bangalore Central Jail of the former Chief Minister of Tamil Nadu and the late AIADMK leader Jayalalitha's friend Shashikala and accused a senior police for taking a bribe of Rupees two crore. In the subsequent inquiry, there were facts found in her accusation.
After this, we searched with the words 'IPS D Roopa declines award from Modi Govt' on Google. What we got in the search is below: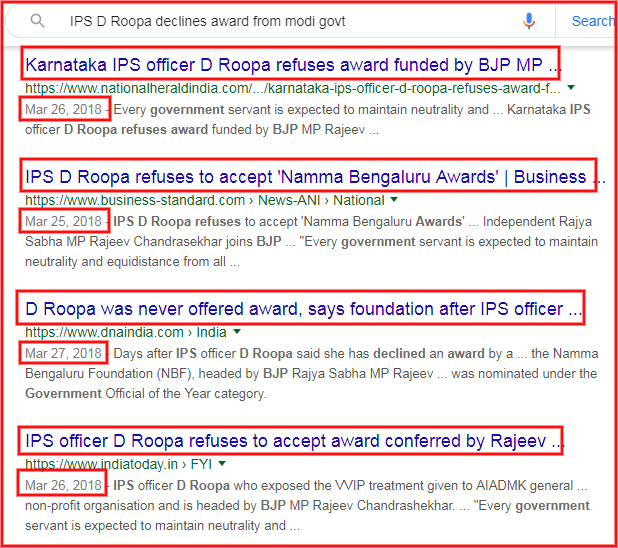 This search result gave us a news broadcast by 'Business Standard' dated 25 March 2018, in which it has been said that D. Roopa, the award given by NAMMA Foundation, a renowned social worker of Bengaluru, is therefore denied, because her conscience does not allow her to accept this award. As a reward, there was an amount of Rs 2 lakh given. Rajeev Chandrasekhar, a MP from the ruling party, was also associated with this organization.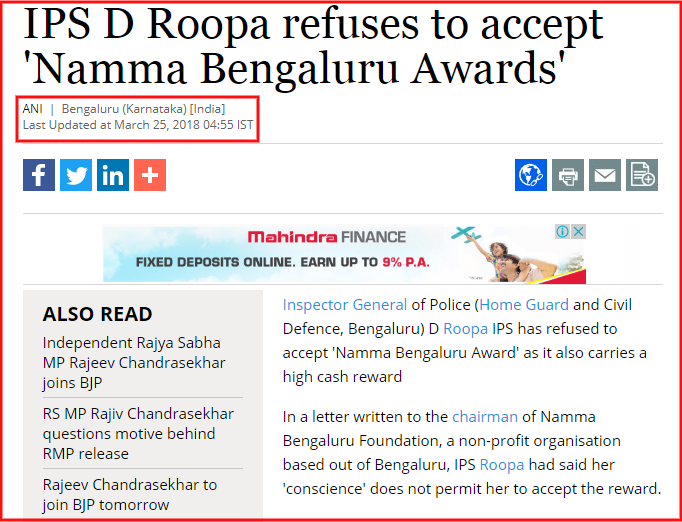 BusinessStandardPost | ArchivedPost
Apart from this, we received another news broadcast by Financial Express on 27 March 2018, which states that D. Roopa has refused to accept the NAMMA Bangalore award, while the NAMMA Foundation says that D. Roopa has not been nominated for this award at all.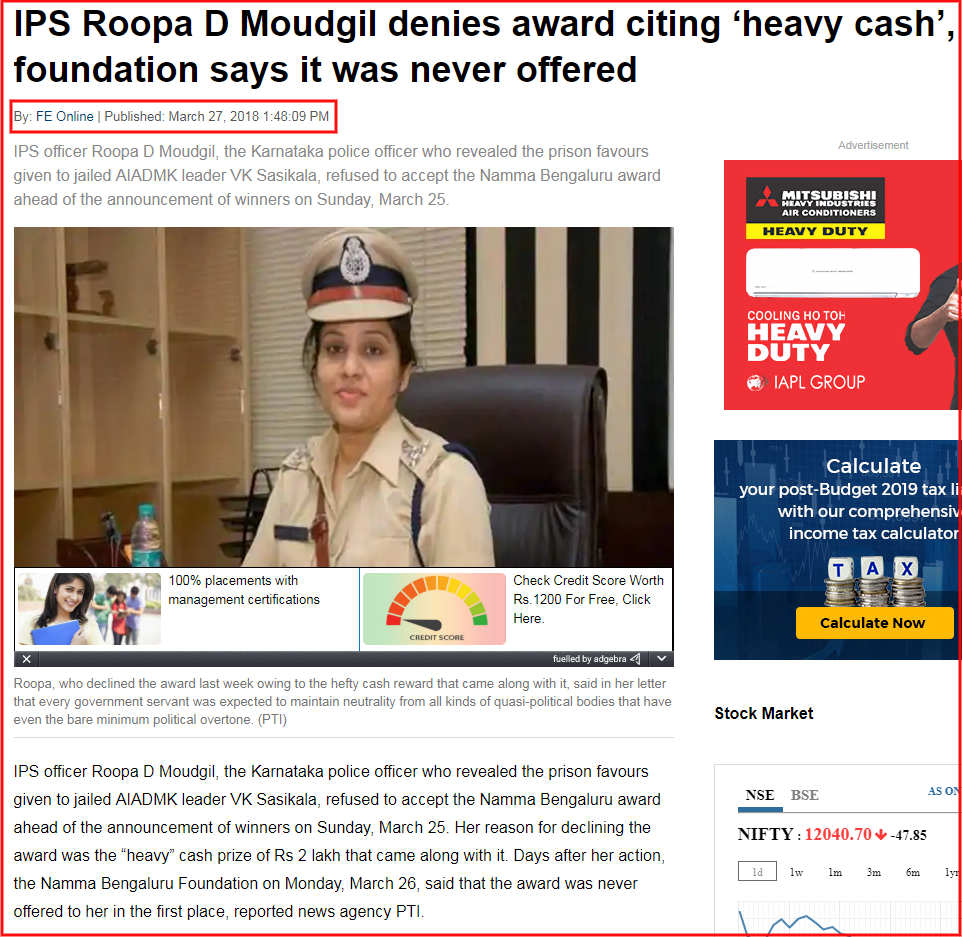 FinancialExpressPost | ArchivedLink
In the news given on this topic by 'INDIA TODAY', we also received the statement issued by NAMMA Foundation, which states that D. Roopa was never nominated for this award. You can see this statement by clicking on this link.
It states that in the news that, BJP MP Rajiv Chandrasekhar runs NAMMA Foundation.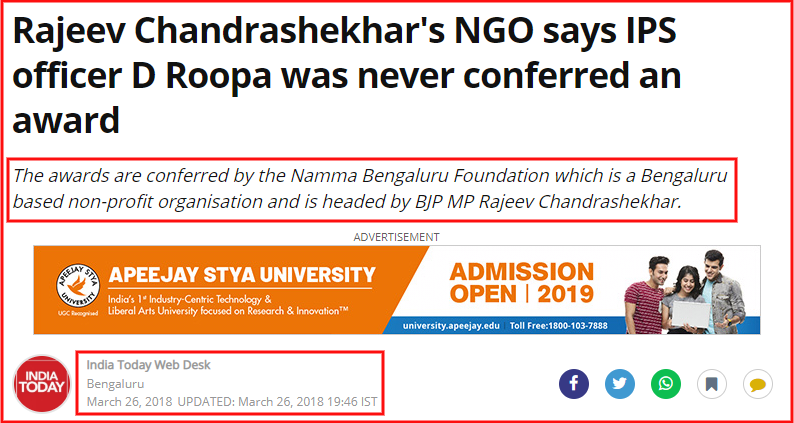 We received a tweet on 16 September 2017 by 'The Tribune', in which a picture of D. Roopa being awarded with the Presidential Medal is shared.
This amendment clearly indicates that the claim – IPS officer D. Roopa did not accept the award given by the Modi government is wrong. In 2017, she was awarded the President's Medal. The award discussed in the above post is actually about the award of Bangalore's NAMMA Foundation. D. Roopa refused to accept this award because; BJP MP Rajeev Chandrasekhar was associated with this institution and offered a huge amount of Rs two lakh as a reward to her. Therefore, it is wrong to say that the newly elected BJP MP from Bhopal, Sadhvi Pragya had called Hemant Karkare anti-national and hence D. Roopa did not accept this award. This shared post is misleading by linking the episode of this event in 2018 with the current context.
IN CONCLUSION:
Fact Crescendo has fact checked and confirms that the photograph is being share in the post with a wrong narrative. We categorise the story as FALSE.
FactCrescendo advises its readers to refrain from sharing such misleading and communally biased photographs and do a self-check on the true narrative of such incidents before believing them.

Title:Did IPS D. Roopa Mudgil refuse to accept award by Modi Govt. because of Sadhvi Pragya's statement? Fact Check!
Fact Check By: Nita Rao
Result: False