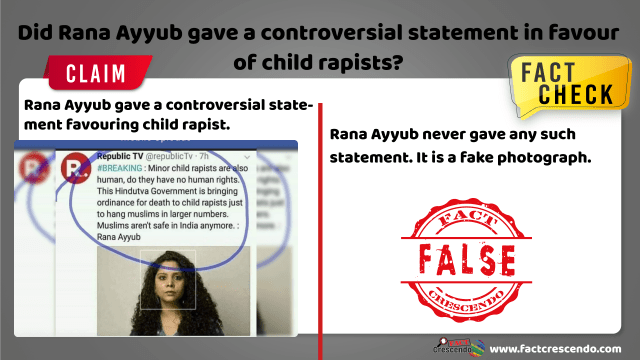 A Facebook user named 'Odia Hub' shared a post on 13 June 2019. The post had a photograph of a woman and a tweet screen shot with a quote. The post as translated from Hindi quoted "Child rapists are also human, don't they have any human rights? This pro-Hindutva government is bringing an ordinance to punish the child rapists with the death of a Muslim in a large numbers. Muslims are no longer safe in India: Rana Ayyub" This post claims that Rana Ayyub gave a controversial statement favouring child rapist. Let us see what the facts are!  
FACT CHECK:
We first did a Google reverse image search for the shared photo in the above post. The found results are below.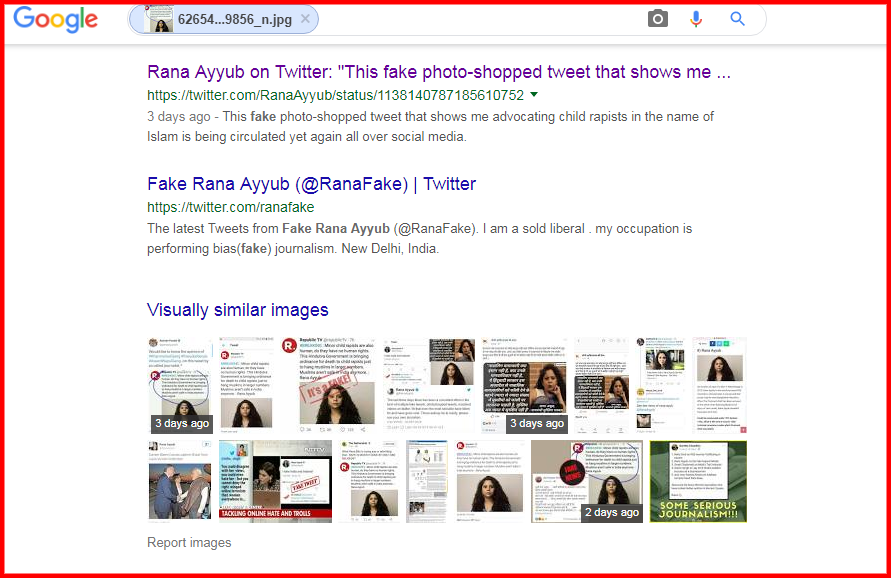 We found a Tweet sent from Rana Ayyub's verified Twitter Account in which she has falsified the claims and said these are rumors and have surfaced again.
We could see the twitter account name from which the above post had been shared. It shown '@republicTv. Therefore, we searched this on Twitter.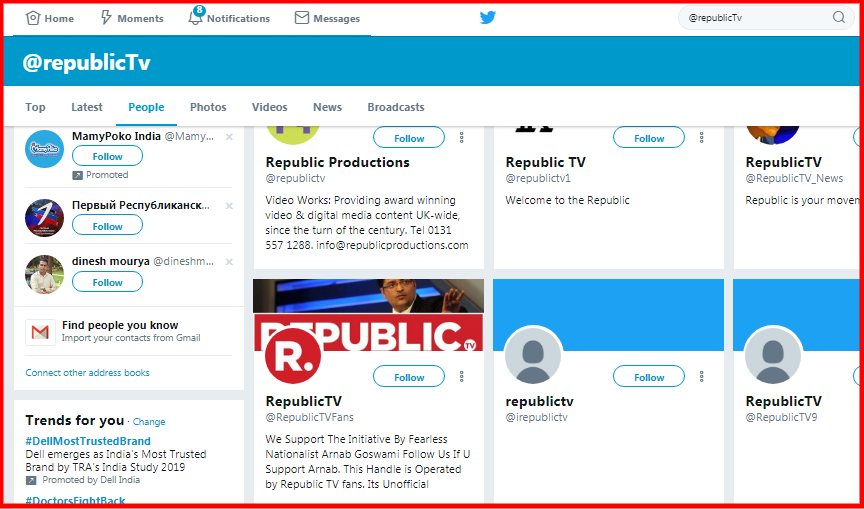 We did get a Twitter account with the same profile picture; however, the name of the account mismatched. It said '@RepublicTVFans' instead of '@republicTv'.

This confirms that the person who shared this photograph took the picture of the Twitter profile picture from here and fabricated the statement and attached it to the picture and spread it to mislead people.
After this when we searched for '#BREAKING: minor child rapists' on Twitter, we found nothing.

After this, when we searched for the word 'rana ayyub statement on child rapists' in Google, we got a news broadcast by dailyo.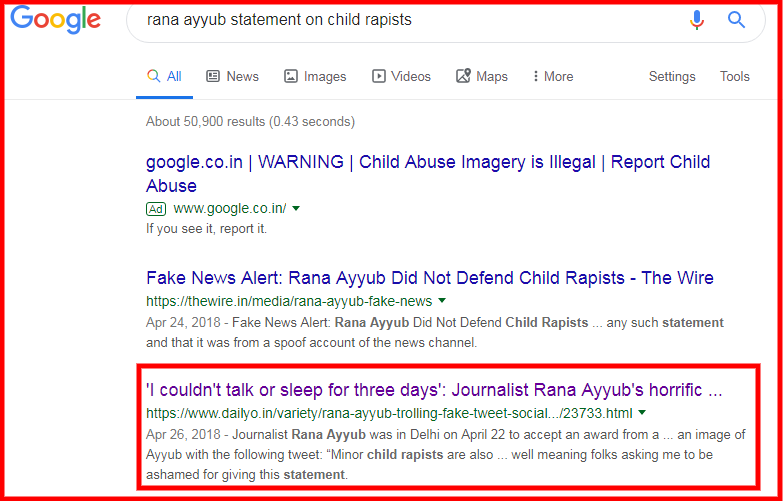 'Dailyo' news was published on 26 April 2018 and stated that this tweet was shared in 2018 at the time of Rana Ayyub's nomination of an Award.
This news, broadcasted on April 26, 2018 by 'Dailyo', has been written about the misleading news of the above post, according to which the tweet was shared in 2018; When Rana Ayub was selected for a prize from Media House.
Even back then, she had rejected this rumor. It has also been written in this news that the Twitter account shown in the picture is not in existence. To read the full news, click the link below.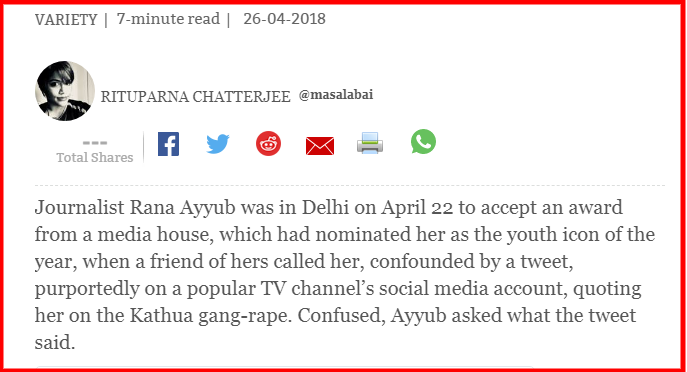 This news proves that the picture shared in the above post has been morphed using Photoshop and Rana Ayyub's false statement is being shared since 2018 to create confusion.
IN CONCLUSION:
Fact Crescendo has fact checked and confirms that the photograph is being share in the post with a wrong narrative. We categorise the story as FALSE.
FactCrescendo advises its readers to refrain from sharing such misleading and communally biased photographs and do a self-check on the true narrative of such incidents before believing them.

Title:Did Rana Ayyub gave a controversial statement in favour of child rapists? Fact Check!
Fact Check By: Nita Rao
Result: False