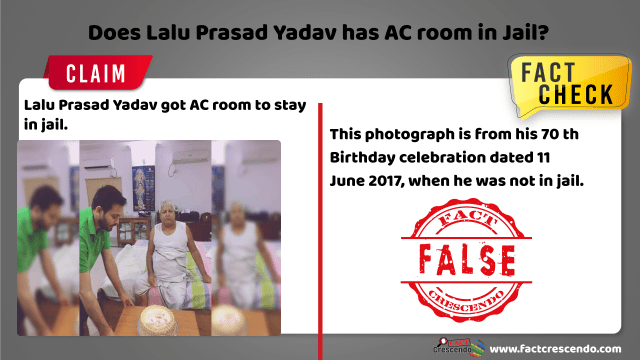 A Facebook user named 'Vishal Sharma' shared a post on 13 June 2019. The post as translated from Hindi quoted "Who can say by looking at this picture, scandalous is in prison .. ?? One room- 2 AC … the difference between the common person's prison and this lord's jail yourself." This post claims that Lalu Prasad Yadav got AC room to stay in jail. Let us see what the facts are!
NARRATIVE ON SOCIAL MEDIA:
FACT CHECK:
First, we searched the picture given in the above post using Google Reverse Image, and the results is below.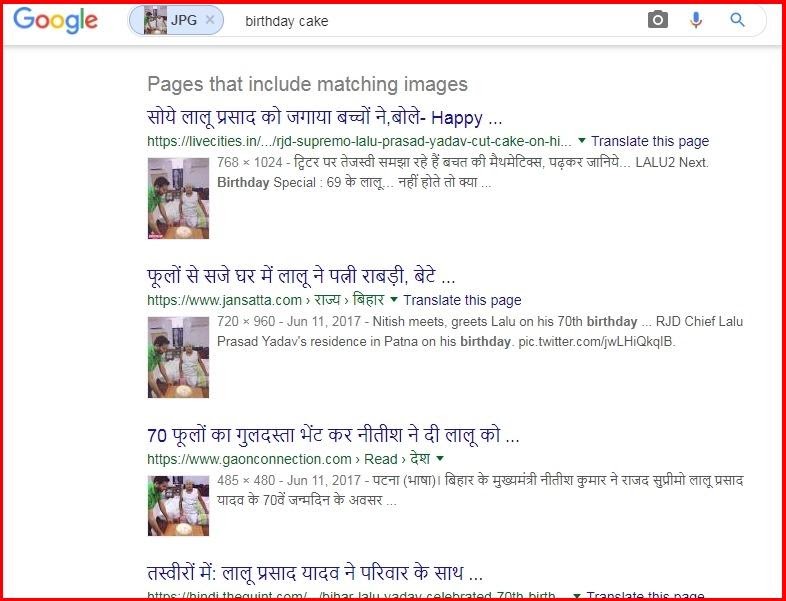 In this search, we received a report from 11 June 2017, published by 'Jansatta', which states that on June 11, 2017, Lalu Prasad Yadav celebrated his 70th birthday with his whole family. In this news, we got the same picture shared in the above post. Click on the link below to read the full story.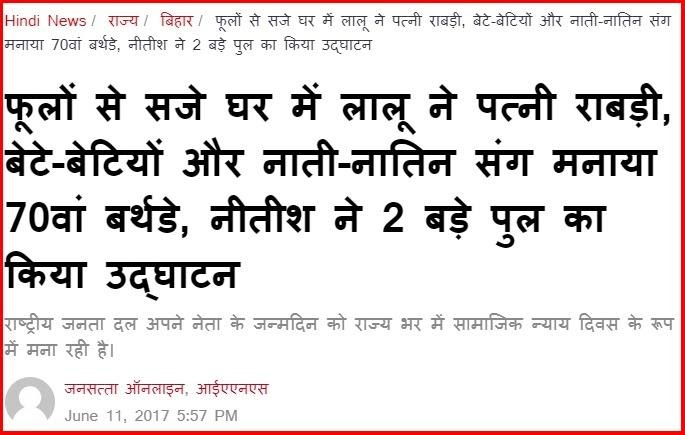 'Goanconnection' also published this news dated 11 June 2017. This news also has the same image with the caption – Lalu Prasad Yadav with Tejaswi Yadav. Click on the link below to read the full story.

It is confirmed that this photo has been taken from the celebration of Lalu Prasad Yadav's 70th birth anniversary dated 11 June 2017. However, the question rises that at that time was Laloo Prasad Yadav in jail or not? We then checked this matter.
We searched Google with 'lalu prasad yadav arrested date' key words and our results are shown below.
In this search, we received 'EconomicTimes' news dated 24 March 2018, according to which a CBI attorney said that in the fourth fodder scam case, Rs 3.13 crore was embezzled from the Dumri treasury in 1990. A special CBI court sentenced RJD Supremo Lalu Prasad to 14 years jail on 24 March 2018 and imposed a fine of Rs 60 lakh. Click on the link below to read the full story.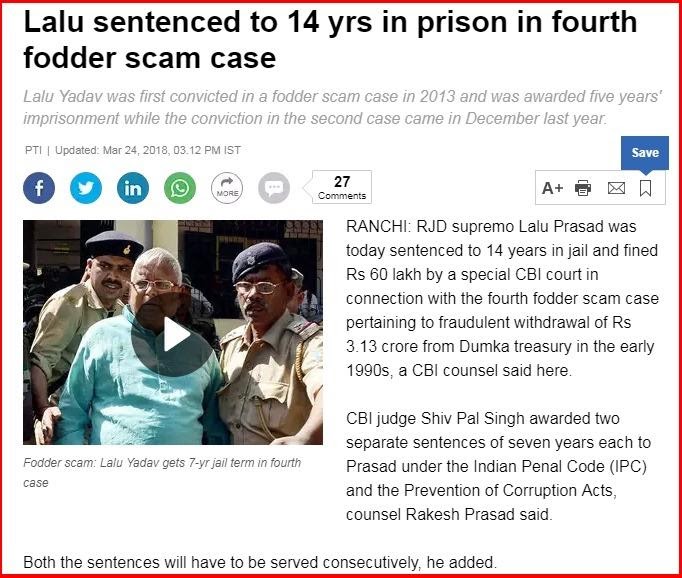 EconomicTimesPost | ArchivedLink
It is also written in the news that in 2013, he was sentenced to five years of jail for the first time in the fourth fodder scam case. If the prison sentence of 5 years was passed in 2013, it means that Laloo Prasad Yadav should be in jail until 2018. Since our facts clashed with the facts found, we searched the news of his arrest in 2013 with 'Lalu Prasad Yadav arrested 2013' key words in Google and the results are below.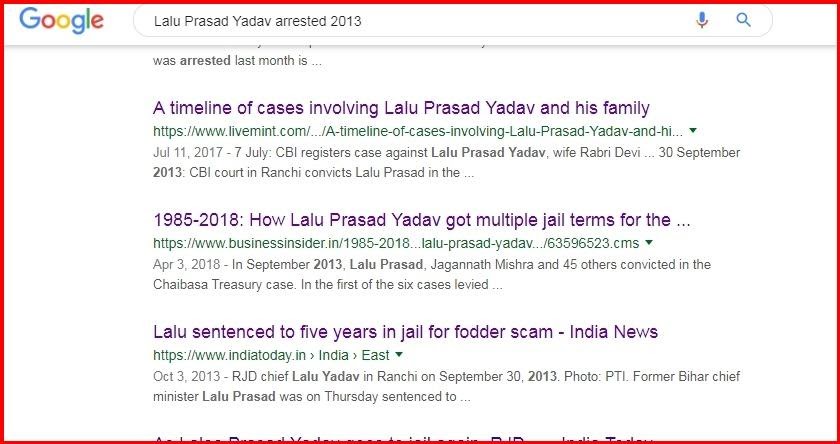 In this search, we received 'Indiatoday' article dated 3 October 2013, according to which the former Bihar Chief Minister Lalu Prasad was sentenced to five years in jail on October 3, 2013, because of the forth fodder scam that was found 17 years ago. A penalty of Rs 25 lakh imposed. Click on the link below to read the full story.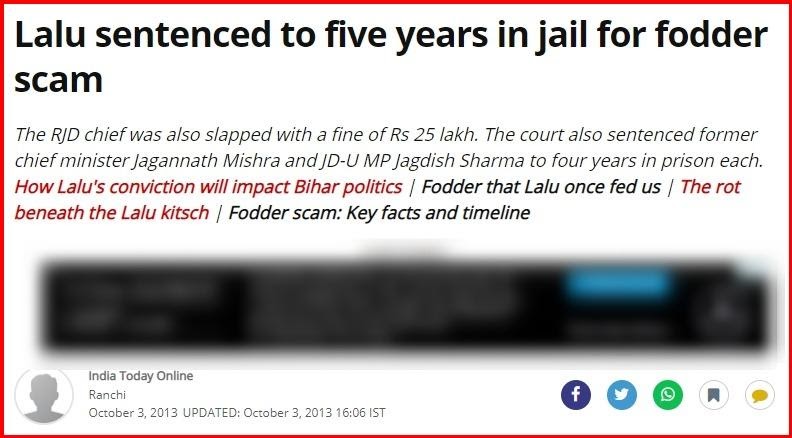 This amendment proves that Laloo Prasad Yadav sentenced to 5 years of jail in 2013. Then we found out about his release dates from prison using Google, with the key words 'Lalu Prasad released release dates from prison'. What we found is below.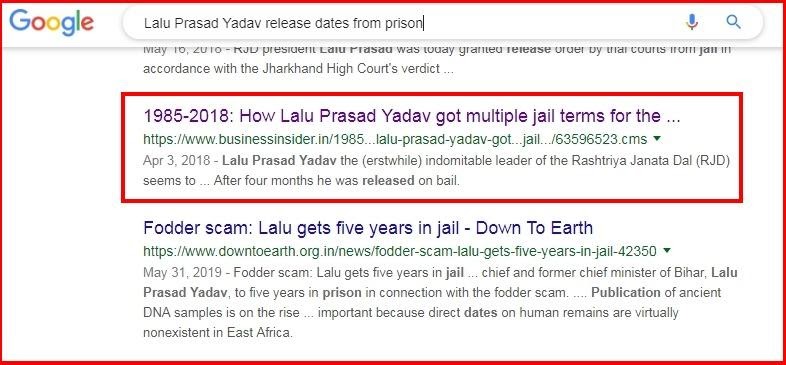 'BusinessInsider' also published an article dated 3 April 2018, which had all the case associated with Lalu Prasad Yadav from 1985 – 2018.
According to this news, in September 2013, Lalu Prasad, Jagannath Mishra and 45 others were convicted in the Chaibasa Treasury case, including a $ 377 million embezzlement from Chaibasa Treasury. In the first of six cases against him, Lalu was sentenced to five years in jail, but in three months, he came out on bail. He was disqualified as a Lok Sabha member and was denied the election. Click on the link below to read the full story.

BusinessInsiderPost | ArchivedLink
This news proves that Laloo Prasad Yadav was sentenced to jail for 5 years in 2013 but, he was released within three months. This followed by his next arrest in 2018. Therefore, in the year 2017 Lalu Prasad was not in jail, which confirms that the above-posted photograph was clicked at home.
IN CONCLUSION:
Fact Crescendo has fact checked and confirms that the photograph is being share in the post with a wrong narrative. We categorise the story as FALSE.
FactCrescendo advises its readers to refrain from sharing such misleading and communally biased photographs and do a self-check on the true narrative of such incidents before believing them.

Title:Does Lalu Prasad Yadav has AC room in Jail? Fact Check!
Fact Check By: Nita Rao
Result: False