A message going viral on social media claims that the Tata Group has announced an event where the participants will be able to win cars as a prize. It is being claimed that the Tata Group on their 150th anniversary has organized this event. A link is also being circulated along with the message, which claims to be the participation link to the event. The winners of this event are said to have a chance at winning Tata cars.
This message is being widely circulated on Facebook and WhatsApp. Several users were spotted sharing the link on their stories as well.
Fact Crescendo has received this video on our WhatsApp Factline (9049053770) for a fact-check.

The message mentions "Tata Groups. 150th Anniversary Celebration!! Click on the link to participate in the event to win a car!!
https://tata.v0s.com/?1633065181965" (sic)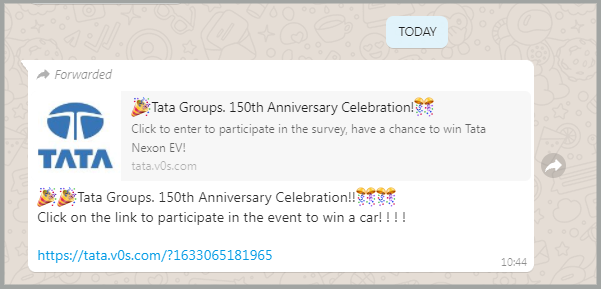 Fact Check-
We started our investigation by running a keyword search on Google to find relevant news reports but we were unable to find any credible news report. Another keyword search led us to a tweet published by the official Twitter handle of the Tata Groups calling out the viral message to be Fake. They mentioned that Tata group is not responsible for this promotional activity and asked readers to not forward this link.
We request our readers to not share any personal information on such clickbait links. This link will ask the readers to forward the viral message on WhatsApp in order to win a car and then asks for personal information. However, sharing personal information on such unverified website can be misused for wrong purposes.
Conclusion-
Fact Crescendo found that the viral message circulating on social media to be Fake. Tata groups have clarified that the viral message on social media is Fake. They did not announce any event on their 150th Anniversary.
Title:Tata Group is not giving away cars on their anniversary celebration
Fact Check By: Aavya Ray
Result: False