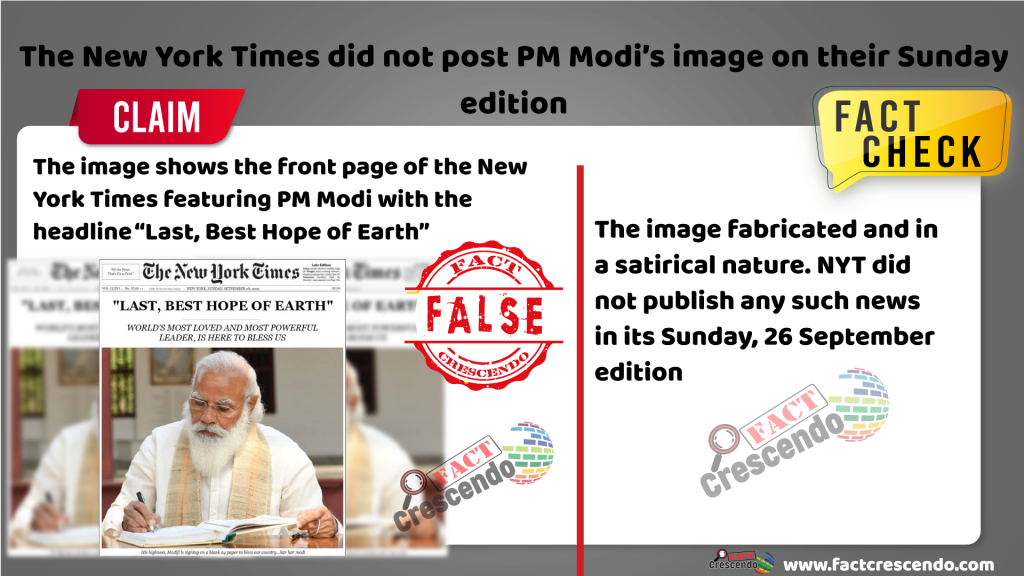 PM Modi concluded an official visit to the Unites States of America on 25 September. He addressed the 76th session of the United Nations General Assembly in New York and attended the QUAD leaders' summit as well. During his visit, he met the US President Joe Biden and the Vice President Kamala Harris.
Amidst this, an image has been circulating on social media claiming to be the front of the New York Times featuring PM Modi with the headline "Last, Best Hope of Earth" and the by line "World's most loved and most powerful leader".
This image was sent to our WhatsApp No- 9049053770 to verify the authencity of this post. Fact Crescendo found that the image in circulation is digitally edited. NYT did not publish any such news in its Sunday, 26 September edition.
The caption of the viral post mentions "The ONLY edition of New York Times which was released in the month of SETPEMBER" (sic)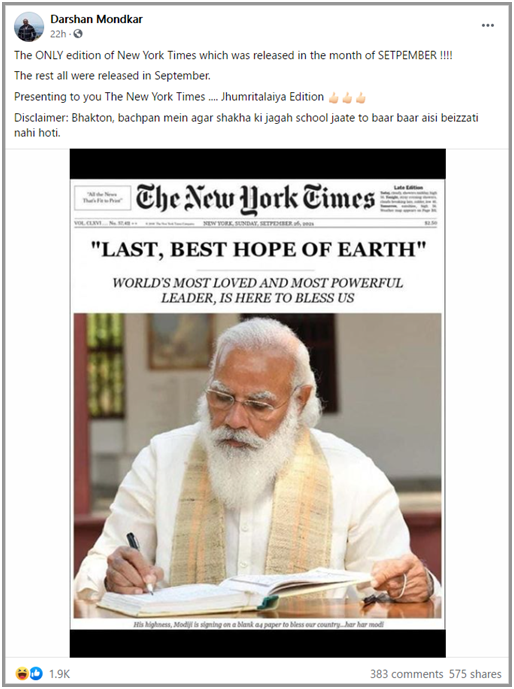 The image is widely circulating on Facebook and Twitter with the same claim.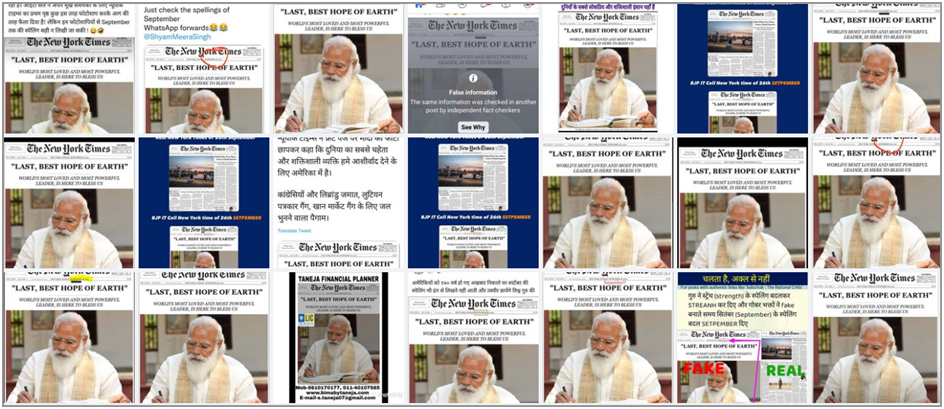 Fact Check-
We started our investigation by running a keyword search on Google to find the front page of the New York Times edition published on 26 September. We found that the authentic front page of the New York Times on 26 September was completely different than the viral image. It did not carry any image or news regarding PM Modi. Thus, it is clear that the viral image is digitally created to mislead people. It has not been published by the New York Times.
The viral image on social media was created as a Satire and one can see several spelling inaccuracies which is very unlike the English written by the New York Times.
Below we have listed few inaccuracies that can be spotted in the viral image:
1. The spelling of the month in the masthead is spelled wrongly. September has been spelled as "Setpember"
2. The headline "LAST, BEST HOPE OF EARTH" has been written in capital letters and is written as a sarcasm. The NYT uses the title case style which can be seen in the image above.
3.The caption of the image states "His highness, Modiji is signing on a blank a4 paper to bless our country…har har modi"(sic) which is written as a satire.
Further, with a reverse image search we found that the image of PM Modi's image was actually posted on his own website.
Conclusion-
Fact Crescendo found the claim made along with the image to be digitally altered and falsely shared on social media. The viral image of a New York Times front page featuring a photo of Narendra Modi titled "Last, Best Hope of Earth" is fabricated and satirical in nature. NYT did not publish any such news in its Sunday, 26 September edition.
Title:SATIRE: The New York Times did not post PM Modi's image on their Sunday edition
Fact Check By: Aavya Ray
Result: False