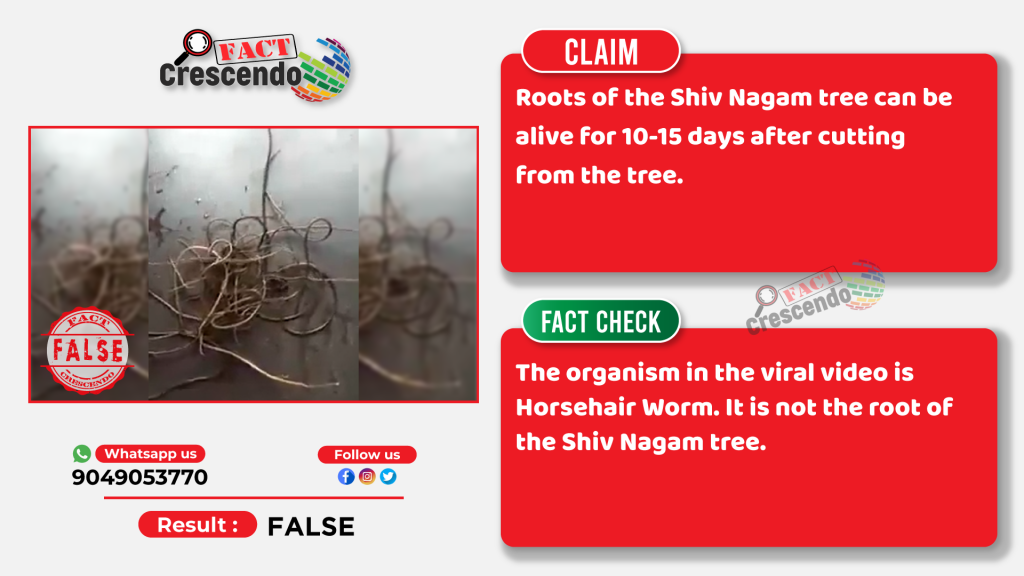 An old video of root-like wiggling objects resurfaced on social media. In this 20-second video, it was claimed that these are the roots of the Shiva Nagam tree.
However, Fact Crescendo found that these are worms and not the actual roots of a tree.
What's The Claim?
It was claimed in the post that this is a video of a root of the Shiv Nagam Tree which can survive for 10 to 15 days even after cutting from the tree. These roots can move like snakes which is a rare thing.
Fact Check-
Fact Crescendo contacted Dr. Annecy Joseph, Scientist at Aromatic Medical Plants Research Station. She told us, "I have never heard of any plant named Shiva Nagam. But I can say that the roots of trees or plants don't move like this. Roots sometimes take 10 to 15 days to dry after cutting away from the tree. There are plants like Shivalingam and Naga linga prove but their roots are not special."
We contacted Dr. A Bijukumar, Head of the Department of Aquatic Biology and Fisheries of Kerala University. He said, "This is not a root of any plant. It is a kind of worm which is found in the stomach of animals. It looks like roundworm."
We came across the same video on YouTube in September 2020. Checking the comment on the video, we found that few people claimed it to be a worm called Horsehair worm.
Upon searching more about Horsehair Worm we cam across an article published by the Missouri Department of Conservation. According to the website, Horsehair worm lives in water and can be up to 2 feet long. They are featureless, smooth, long, thin aquatic worms. They have cylindrical bodies.
We came across a YouTube video that described the features of the Horse hairworm. These are parasite worms that take control of host bodies and eat them from inside but don't kill them. These are harmless to humans.
Conclusion:
Fact Crescendo found that the organism in the video is a Horsehair Worm and not the root of the Shiv Nagam tree. Experts confirmed that there are no roots that move in this manner after cutting from the plants or trees.

Title:This Is Not Roots of Shiva Nagam Tree; It Is A Video of Horsehair Worms
Fact Check By: Siddharth Sahu
Result: False