Rajasthan Police clarified that the viral video is not from Karauli, Rajasthan. The video is old and the incident happened in Nizamabad, Telangana.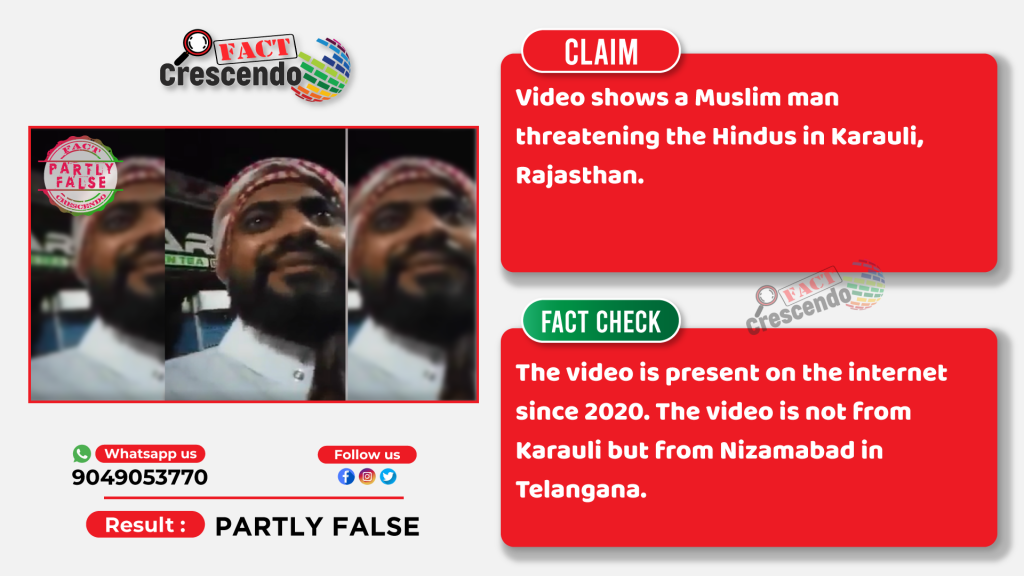 Curfew was imposed in Karauli city of Rajasthan after communal tension broke out following stone pelting at a motorcycle rally passing through a Muslim-dominated area on Nav Samvatsar, the first day of the New Year under the Hindu calendar recently.
Amidst this, a video circulating on social media claims to show a Muslim man threatening Hindus in Karauli.
The caption of the post reads, "Terrorists roaming freely after burning Karauli They are telling Hindus, 'We have burnt 4 vehicles in our area, you people created so much chaos after this small incident. This fear is enough for your people"
(Hindi: करौली जला कर आराम से घूम रहे आतंकी | हिंदुओ को बोल रहे हैं '4 गाड़िया जलाई हैं हमने हमारे इलाके में, इतने में ही इतना तहलका मचा दिए तुम लोग। इतना डर काफी हैं तुम्हारे लोगों के लिए|)
Fact Check-
We started our investigation by running a reverse image search on Google that led us to the same video posted on Facebook on 1 May 2020. The caption of the video mentions that the video is from Hyderabad.
We observed a name of a hotel behind the man that reads "Star Hotel". Upon searching with a relevant keyword search on Google, we found a similar signboard with the name "Star Hotel" in Bodhan road, Nizamabad in Telangana. Below you can see the similarity between the signboard of the hotel seen in the video and the original signboard.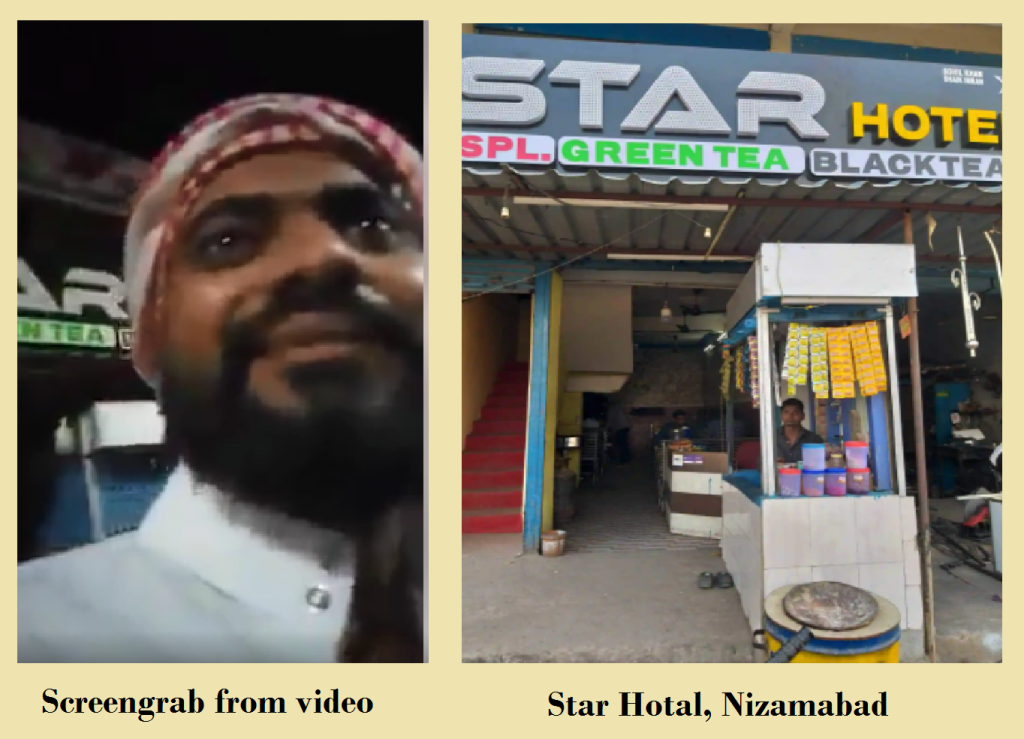 Fact Crescendo contacted the owner of the Star Hotel in Nizamabad, Sohail who confirmed to us that the video was taken in front of his hotel in Telangana. He also told us that the video is old and went viral in 2019.
We also came across a clarification tweet by Rajasthan Police, which mentioned that a viral video is circulation is not from Karauli, Rajasthan and it intends to disrupt the communal harmony in the area. The viral video is from Nizamabad.
Conclusion-
Fact Crescendo found the claim made along with the video to be Partly False. The video is not from Karauli amidst the ongoing communal tensions in the area. The video is old and was taken in Nizamabad from Telangana. The video went viral in 2019 as well.

Title:Old Video from Telangana Shared Falsely As Threats Issued to Hindus in Karauli
Fact Check By: Drabanti Ghosh
Result: Partly False