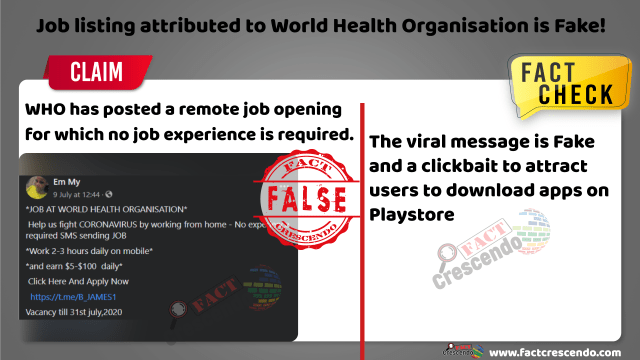 The World Health Organization is playing a major role during the ongoing COVID-19 Pandemic. As a result, social media is flooded with misinformation related to WHO such as misleading WHO guidelines on COVID-19. Amidst this, a viral message claim's that the World Health Organization (WHO) is offering a remote working opportunity. The posts also claims that this job doesn't require any work experience. One only needs to work for 2-3 hours and can earn 5$ to 100$. The post also has a URL Link attached to it so that people can apply for the job through it.
The message states that "JOB AT WORLD HEALTH ORGANISATION, Help us fight CORONAVIRUS by working from home – No experience required SMS sending JOB, *Work 2-3 hours daily on mobile*, *and earn $5-$100 daily* Click Here And Apply Now. Vacancy till 31st July, 2020,"

Fact Check-
We started our investigation by visiting WHO's website to see if there is any job listing as claimed in the post. However, we did not find any such job listing on the WHO website or on their social media handles.
Next we ran a keyword search on Google to find relevant news articles which led us to the WHO's Uganda wing's Facebook account who has issued a clarification on the advertisement which clearly mentions that "We've noticed a fake job advert making rounds on social media. We request the general public to disregard it because it's FAKE. All job opportunities at WHO are posted on who.int."
Further, we researched about cyber security on WHO's website where we found that WHO has advised people to "beware of criminals" pretending to represent the organisation. According to the website "Hackers and cyber scammers are taking advantage of the coronavirus disease (Covid-19) pandemic by sending fraudulent email and WhatsApp messages that attempt to trick you into clicking on malicious links or opening attachments. These actions can reveal your user name and password, which can be used to steal money or sensitive information."
The WHO has clearly mentioned that it will:
(1) never ask for your username or password to access safety information
(2) never email attachments you didn't ask for
(3) never charge money to apply for a job, register for a conference, or reserve a hotel
(4) never conduct lotteries or offer prizes, grants, certificates or funding through email.
When we clicked on the link provided on the viral post we found that the list asks for personal information which when filled it leads us to the message which says that, "Share this news with your friends so they can also get this job offer. You need to share this with at least 14 WhatsApp friends or groups to get this job offer."
This makes it very clear that the link attached to the post is actually a clickbait which is shared to get users to download Apps on Playstore once the above message is shared on WhatsApp.
Conclusion- Fact Crescendo has found the above message to be False. The World Health Organization (WHO) is not offering a remote working opportunity to people. The viral message is Fake and is actually a clickbait to attract users.

Title:Job listing attributed to World Health Organisation is Fake!
Fact Check By: Aavya Ray
Result: False