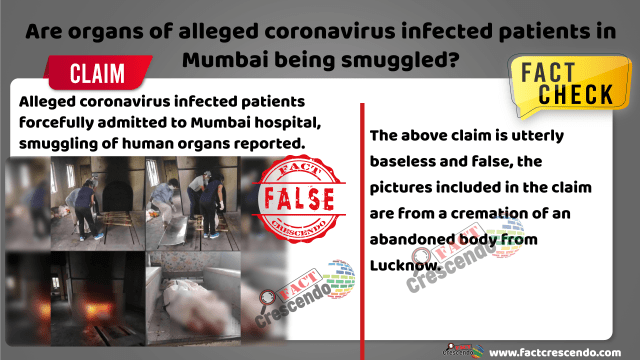 It is being claimed through a viral post on social media that a person was declared Corona positive and forcefully admitted to a hospital in Gorai, Mumbai. A few days later, he passed away. The hastiness shown by the hospital to cremate the deceased caused suspicion amongst his relatives and they registered their objections with the hospital authorities. Further to which they came to know that many parts of the body of the deceased were missing. Through this post, it has also being claimed that trafficking of organs of dead coronavirus patients is taking place across Mumbai.
The title of the post states that-
"New scam in the name of Corona, There was no case in Bhayander's Gorai in previous days, a person had mild fever, cold cough, he went for a check-up and was forcefully admitted, his report was positive. Suddenly, he died today and the hospital arranged to perform the last rites but the family members insist to see the body and realize that all the body parts are missing. This has caused a stir in the hospital. The "dead body Corona scam" has been exposed in Maharashtra, how many people would have become a victim of this scam. * A complete CBI investigation should be done and it should be ascertained that such a heinous criminal is severely punished for killing of people and smuggling their body parts."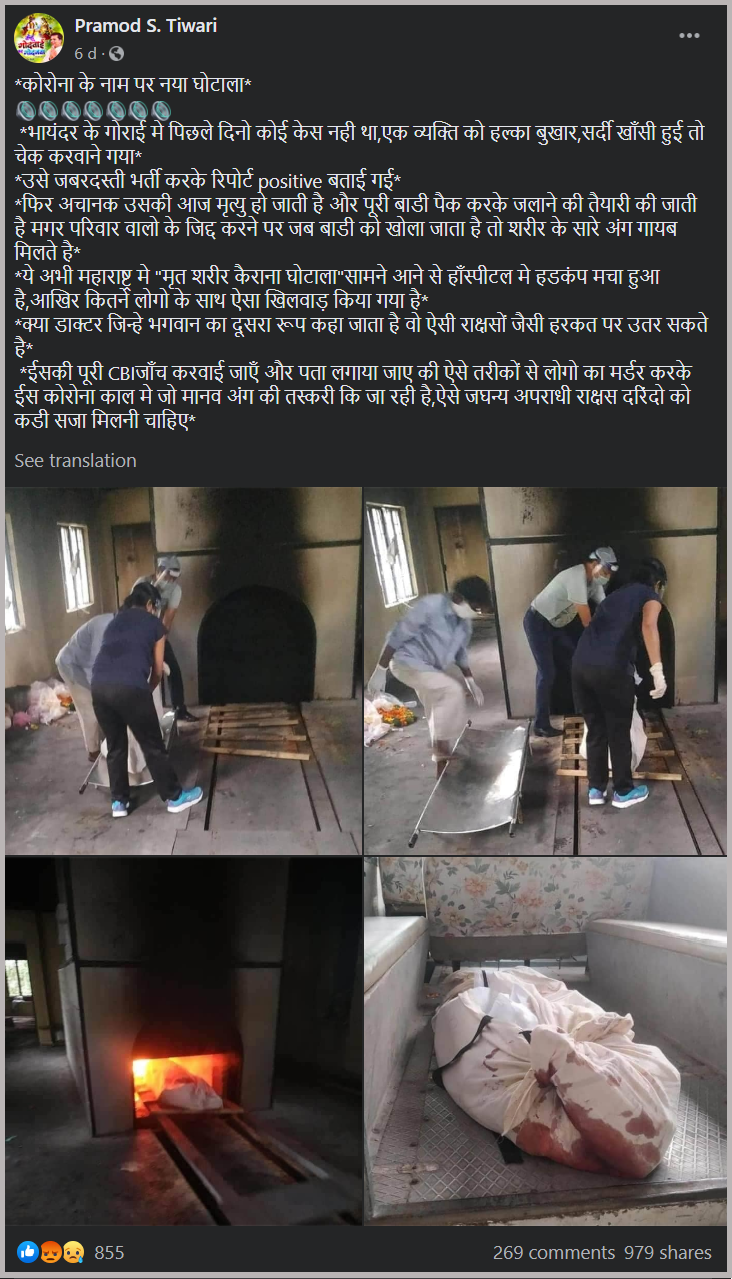 We started the investigation by searching for this news through keywords, as a result, we found that this news was published on the website of "Delhi Crime Press". In this news
1 – Neither is the name of any hospital is mentioned
2- Nor the name of the patient is mentioned
The person who wrote this news has been named Om Shukla. Fact Crescendo contacted Om Shukla who told us that "this news was forwarded to him on WhatsApp which he has published as news on his website." No concrete information was given by him on the veracity of this news. This news was not published in any newspaper or website in Mumbai but was available in a Delhi website 'Delhi Crime Press' which was quite doubtful in itself.
Thereafter, Fact Crescendo contacted senior PI Sanjeev Narkar of Gorai Police Station who told us that "There is no trafficking of organs going on in Gorai area. Such rumours have been spreading on social media where these incidents are said to have occurred in Gorai, Bhayandar and Manori areas over several weeks which is not true at all. We have sent the posts running on social forums with false claims to our cybercrime department, which will investigate and take necessary action against those who are spreading fake news.
After doing a reverse image search on Google of the aforementioned picture, we found the pictures uploaded by Facebook user "Varsha Verma" on 18th July 2020. The title of the photo reads that –
"Today, 18th July 2020, on Saturday, a divine effort, we received the service of the cremation of an unidentified and unclaimed woman aged 43 years. This woman was brought to a civil hospital where she died during treatment. After the post-mortem, her dead body was brought from KGMU postmortem house and cremated in the electric machine at Bhaisa Kund. "
Fact Crescendo then contacted Varsha Verma who told us that she was from Lucknow and that her photographs were misused on social media and linked to the story of trafficking of organs. She is a Social Worker in Lucknow who runs an NGO. Her organization cremates unclaimed dead bodies. According to her, "The corpse seen in the photographs was of a woman who died in a government hospital in Lucknow due to an illness, as the woman was destitute; I and my colleagues of the institution cremated her. I have filed a lawsuit against the 'Delhi Crime Press' website because they have used the pictures without my permission and linked them to a fictional story. "
Varsha Verma ji shared a copy of the FIR, according to which, a complaint has been lodged against the alleged journalist Om Shukla of Delhi Crime Press at Gomti Nagar police station.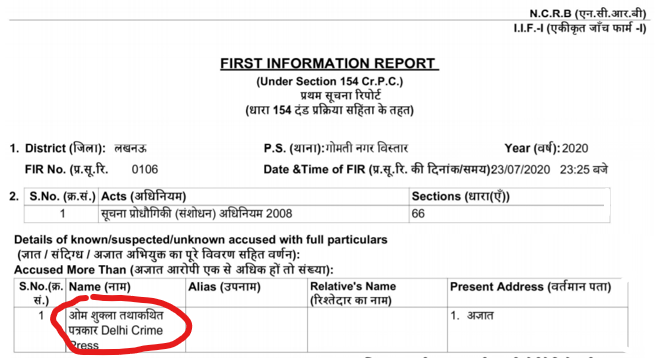 In this context, a video explanation was also sent by her in which she told us how the photographs uploaded on her profile have been misused and spread with the wrong claim.
CONCLUSION: After fact-checking, we confirm that the aforementioned viral post is absolutely incorrect. There has been no incident of trafficking of human organs in Gorai, Maharashtra on the pretext of Corona. Photos used on social media have been taken from the website of a social worker whose organization performs the last rites of unclaimed dead bodies in Lucknow.

Title:Are organs of alleged coronavirus infected patients in Mumbai being smuggled?
Fact Check By: Aavya Ray
Result: False