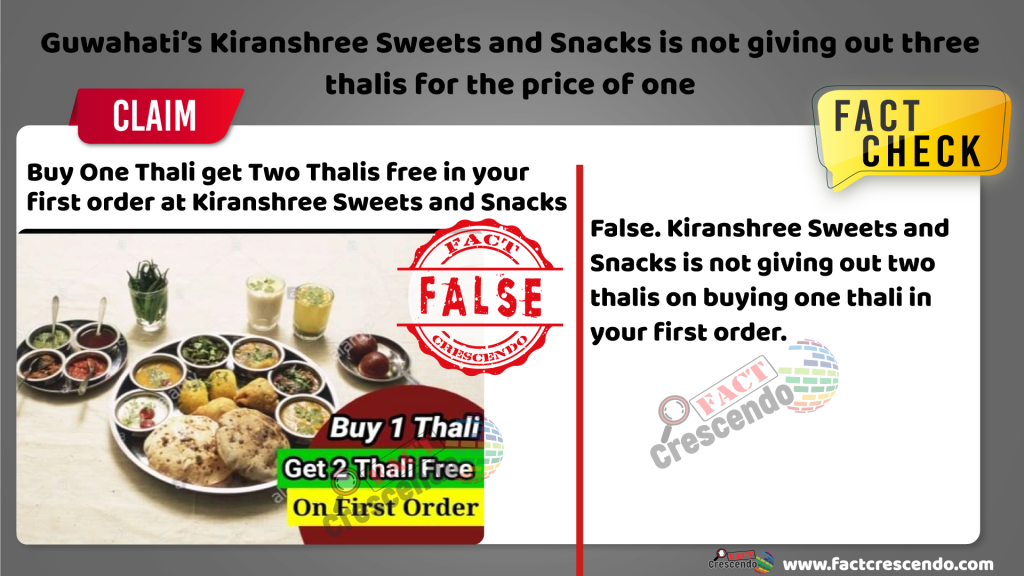 A Facebook page with the name Kiranshree Sweets and Snacks has shared a promotional poster claiming customers will get two thalis free if they order one thali at a number listed there.
A post was shared on the page about the same offer, having pictures of their thali and a phone number was also shared along with the advertisement. The post read "BUY 1 THALI GET 2 THALI FREE IN YOUR FIRST ORDER CALL NOW-9933445320."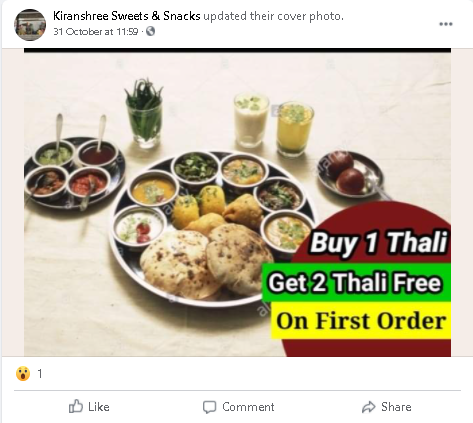 Original Link- Facebook | Archived Link
The post was made when the page updated their cover photo with the promotional poster. The post was made on October 31, 2020 at 12.16pm.
The same poster is also being shared in WhatsApp groups in Assam.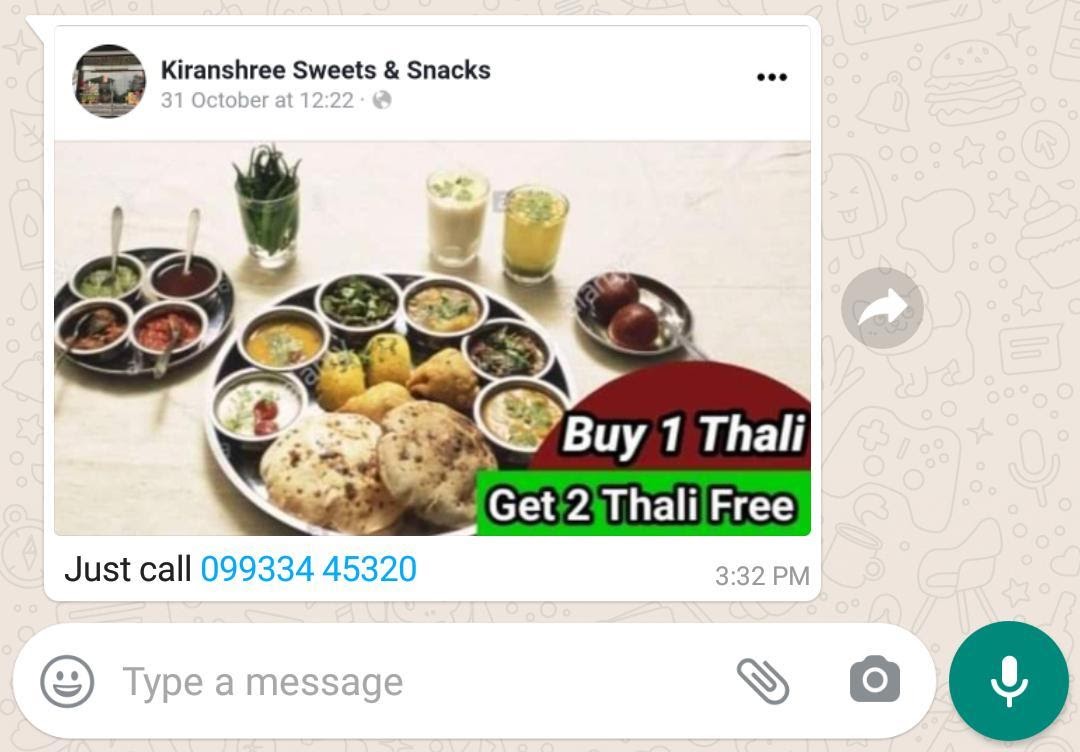 Fact Crescendo found that the promotional poster is false. Here's the Factcheck:
Fact Check Methodology:
At first we examined the poster closely and saw that the photo of the thali has a watermark across it. This looks suspicious as no well-known organization will use somebody else's watermarked photo to promote their own products. We ran a Yandex Image search to find out where the photo has been taken from and were led to a page on the website having stock photos named Alamy.com.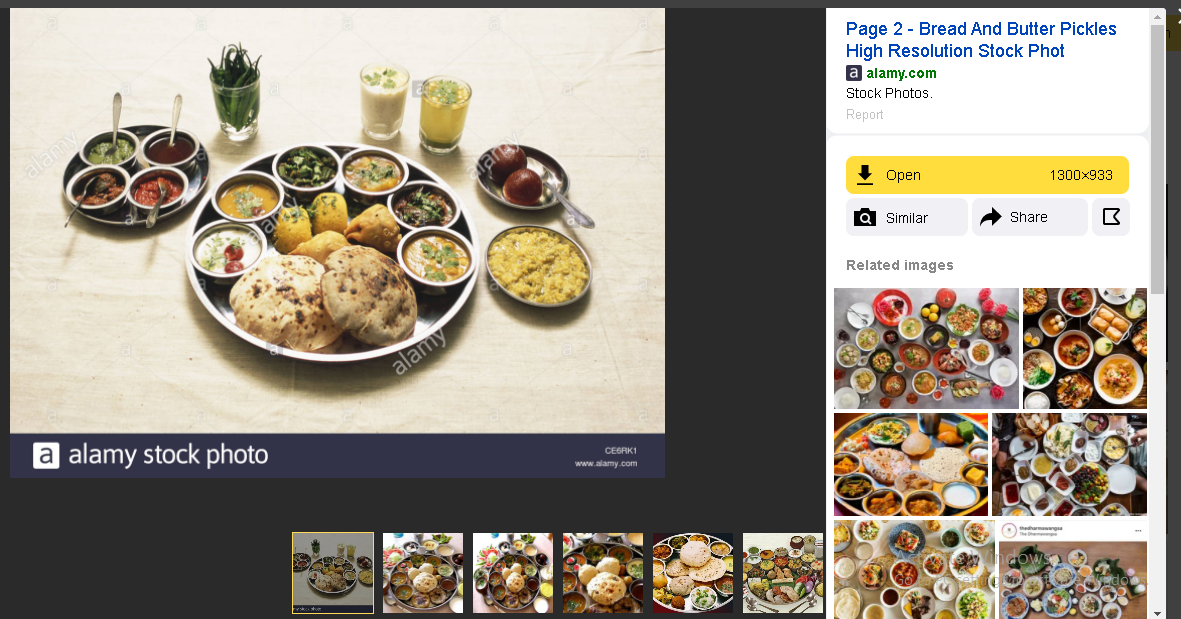 Screenshot Alamy Photo
Original Link- Alamy | Archived Link
Following this, we ran a Google search with relevant keywords to see if the offer from Kiranshree Sweets and Snacks is listed anywhere else. We came across a news report by Guwahati based media organization News Live on their official website with the headline: "FAKE OFFER: KIRANSHREE SWEETS IS NOT GIVING TWO THALIS FOR THE PRICE OF ONE, BEWARE!"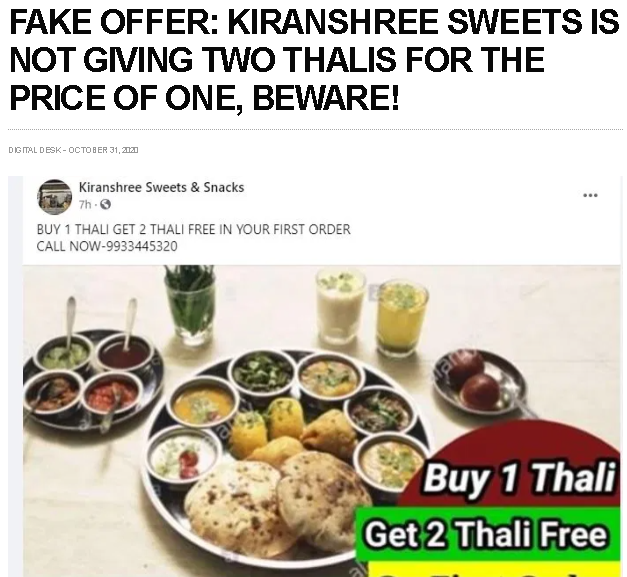 Screenshot News Live Article
Original Link- News Live | Archived Link
It is written in the article, published on October 31, 2020, that after the post went viral, Kiranshree Sweets and Snacks outlets in Guwahati started to receive endless phone calls from customers. The report also mentions that they've filed an FIR at Bharalumukh Police Station.
The news report quotes a customer, who, after calling the number mentioned in the said post, was asked to make the payment online and was sent a link to do the same.
Fact Crescendo got in touch with the management of Guwahati Based Kiranshree Sweets and Snacks who declared that no such offer has been introduced and the page as well as the promotional posts are Fake. They said Kiranshree Sweets and Snacks does not even have an official Facebook Page.
Conclusion:
False. Kiranshree Sweets and Snacks has denied announcing any offer for first-time customers. They are not giving out three thalis at the price of one.

Title:Guwahati's Kiranshree Sweets and Snacks is not giving out three thalis for the price of one
Fact Check By: Manjori Borkotoky
Result: False