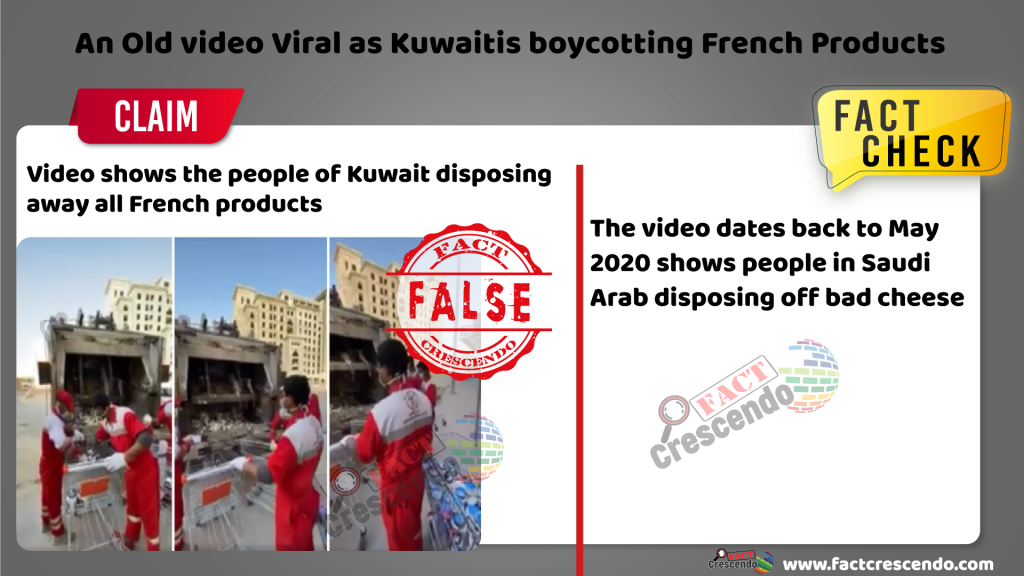 Protests are being held by the Muslim community in France as well as many other countries following the killing of a teacher in France and a subsequent "Free Speech" remark by the French President over a sketch of the Prophet Mohammed. Many misleading pictures and videos related to France are circulating on social media. Amidst this, a campaign is being run to boycott French products in some Muslim majority countries. This campaign is trending on social media with the hashtag "Boycott French Product". Fact Crescendo has earlier debunked many such fake videos and images related to the ongoing chaos in France.
Now a video related to the trend of boycotting French products is being widely circulated on social media claiming that it shows the people of Kuwait throwing all French products into the garbage.

The caption of the post says "Kuwait Put All France Products in Garbage."
Facebook Post | Archive Link

This video is widely circulating on Facebook with a similar claim.

Fact Check-

We started our investigation by running a reverse image search on one of the key frames by InVid We Verify which led us to a report published in an Arabic language website Al Marsd that had a screenshot from the viral video. According to the report, the video was recorded in Al Ahsa governorate of eastern Saudi Arabia. The report further mentions that the video shows government officials destroying cheese that had been 'spoiled' because it contains carcinogenic substances. The process of destroying the products was attended by a representative of the Ministry of Trade and the Food and Drug General Authority, and was carried out under the full supervision of the Al-Ahsa Municipality.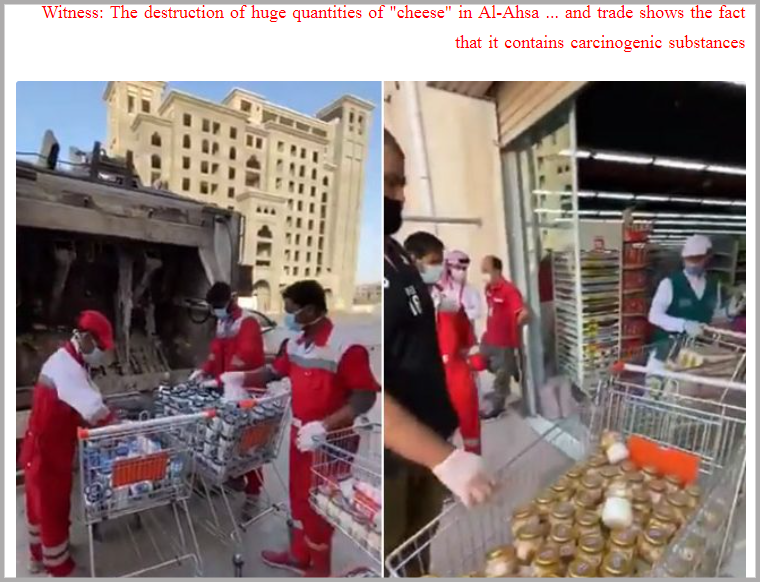 Archive Link

Another keyword search led to another news report by Gulf News published on 14th May 2020 that mentions about the same incident but does not share an image or a video. The headline of the report mentions that, "Saudi Arabia says rotten cheese in video not cancerous".
Archive Link

We also came across the screenshot of the viral video which has been shared on Twitter on 14th May 2020 by the verified handle of @NoRumors (Anti Rumours Authority)- an independent Saudi media platform checking and containing rumours – which mentions that the incident is from Saudi Arabia.

The tweet translates from Arabic as- "What is being circulated about the confiscation of Emirati products from cheese in Saudi Arabia that do not meet the specifications and carcinogens is incorrect, and the real video of the confiscation and destruction of cheese products due to the appearance of signs of spoilage due to poor storage, as confirmed by the Ministry of Commerce."
Conclusion- Fact Crescendo found the viral video to be False. A video showing uniformed men disposing of cheese is going viral on social media claiming the video shows the people of Kuwait boycotting French products. This video is not related to the current protests related to France dates and dates back to May 2020.

Title:An Old video Viral as Kuwaitis boycotting French Products
Fact Check By: Aavya Ray
Result: False