Social media is flooded with old and unrelated videos claiming to be footage of the ongoing protests in France after the French President Macron's comments on Islam. Amidst this, a viral video showing rioters pelting stones at a vehicle is circulating on social media claiming that the video is from France. Users claim that the video shows protestors in France rioting on the streets.
The caption of the post says "Protest in France".
Fact Check-
We started our investigation by running a reverse image search on one of the key frames using InVid-We Verify which led us to a similar video published by the official account of VOA News on 24th October 2020. The headline of the video says "Police Cars Attacked During Protest in Italy". The description of the video says "Protesters angered by new coronavirus restrictions clashed with police in the southern Italian city of Naples late on Friday. Furious over a recently-imposed 11pm to 5am regional curfew, the demonstrators threw rocks and smoke bombs at the police as authorities responded with tear gas. Protesters numbered several hundred, according to local media. The curfew was imposed in a move to try to contain a surge in virus infections." Naples is a metropolitan city in Italy.
We ran a keyword search on the same and found the video on an article by Daily Mail UK published on 23rd October 2020 which also reported that the video shows protestors in Naples rioting against the newly imposed COVID-19 restriction. According to the article, the video is of a protest demonstration in Naples, Italy against the imposition of a curfew to curb the spread of coronavirus. The article also shares several other videos and images of the protest.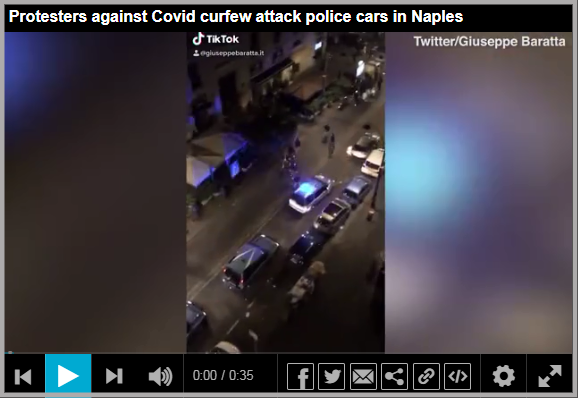 Next we also compared the police car seen in the video with Italy's police vehicle. We found that both the images were same. Italy's police force uses blue cars with white stripes on the top and side. Whereas, France's police force uses white cars with blue stripes and the French National flag on it.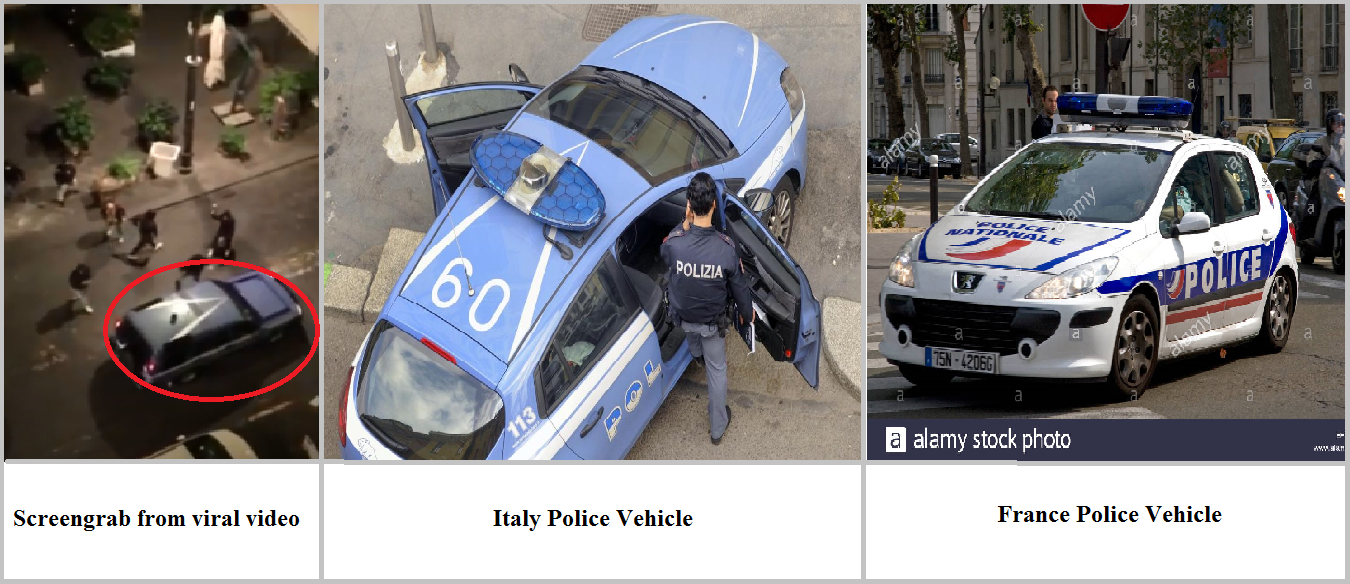 Fact Crescendo has previously debunked misinformation after the killing of the French teacher in Paris as unrelated videos and images have been shared with false claims.
Conclusion- Fact Crescendo found that the viral video is False. The viral video on social media does not show ongoing protests in France. The video is from Naples, Italy, which shows protestors attacking police cars against the newly implemented COVID-19 regulations.

Title:A video from Italy viral as an ongoing protest in France
Fact Check By: Aavya Ray
Result: False