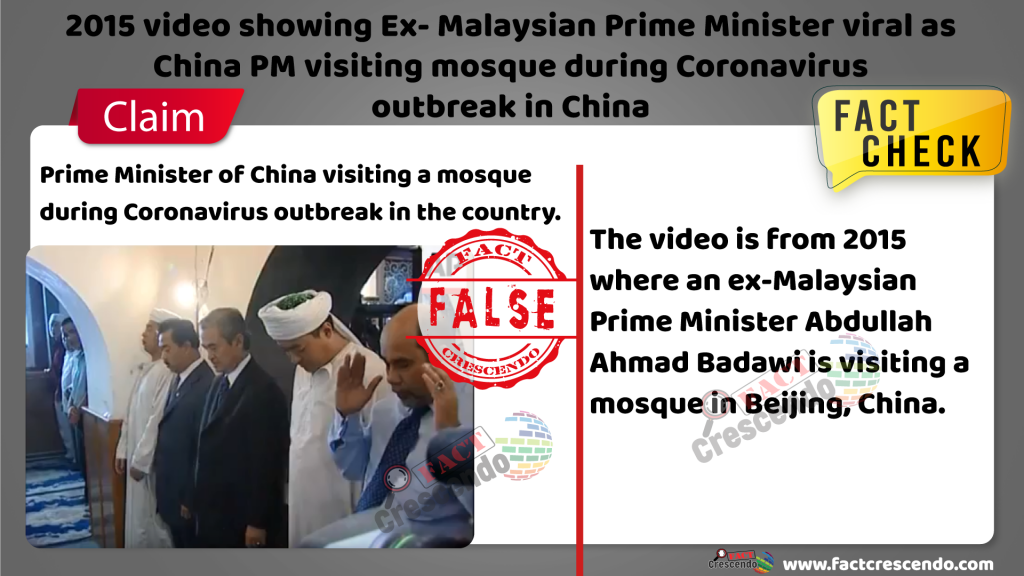 The World Health Organisation (WHO) has declared Novel Coronavirus as a Public Health Emergency of International Concern. Scientists have mapped the genomic sequence of the virus but are still researching the source of the virus.
In light of the health emergency, several false narratives are going viral on social media, which are creating panic among the citizens of different countries.
Now a video has gone viral on various social media platforms claiming that the Prime Minister of China visited a mosque and realised that the only way to protect oneself from Coronavirus is to "bow before Allah." It is also claimed that the Chinese government had declared that they would translate the Holy book of Islam, the Quran, "as their own which is why Chinese is suffering today.

The viral post reads "China president in the mosque pleading with Allah to forgive him for the mistakes committed by him and his govt. (corona virus death China PM who told we'll translate the Quran as our own realised that the only one way to protect from the Corona virus is doing 'sajtha' to Allah and went to the mosque to pray, Mashallah."
This video is very viral on Facebook.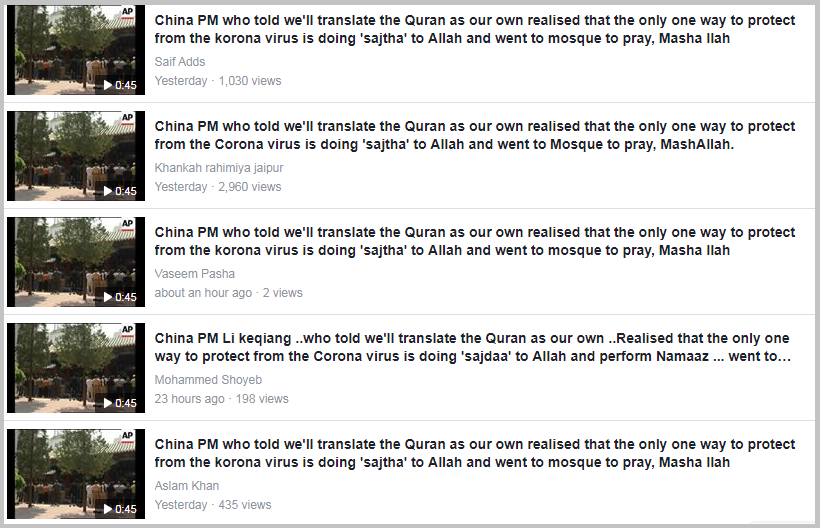 Fact Check-
We started our investigation by breaking the video into key frames with the help of InVid Tool and then using Yandex Reverse image search on the same. It led us to a YouTube video uploaded by AP Archive on 21 July 2015. The headline read, "PM visits a mosque in capital." The description of the video said that on the second day of his five-day trip to China, Malaysian Prime Minister Abdullah Ahmad Badawi visited Beijing's Nan Xia Po Mosque and took part in Friday prayers.
Apart from this the description mentioned, "The mosque is one of China's oldest, built around three hundred years ago during the Qing dynasty. Badawi met the mosque's Imam Zhang Wan Chun, and spent ten minutes talking with him before they exchanged gifts.
When we googled for more information regarding this incident we came across a news by The Star published on 29 May 2004. The Headline mentioned "PM: Put MoUs to effect". According to the news, "Earlier, Abdullah performed his Friday prayers at the Nan Xia Po Mosque, one of the oldest in China, at the Chaoyang district." 

Conclusion- 
This Video is from an AP archive repository that was uploaded in 2015 showing ex-Malaysian Prime Minister Abdullah Ahmad Badawi visiting a mosque in China which is falsely being shared as Prime Minister of China visiting a mosque during Coronavirus outbreak in the country. Also as per the AP repository this event took place in the year 2004

Title:2015 video showing Ex- Malaysian Prime Minister viral as China PM visiting mosque during Coronavirus outbreak in China
Fact Check By: Aavya Ray
Result: False