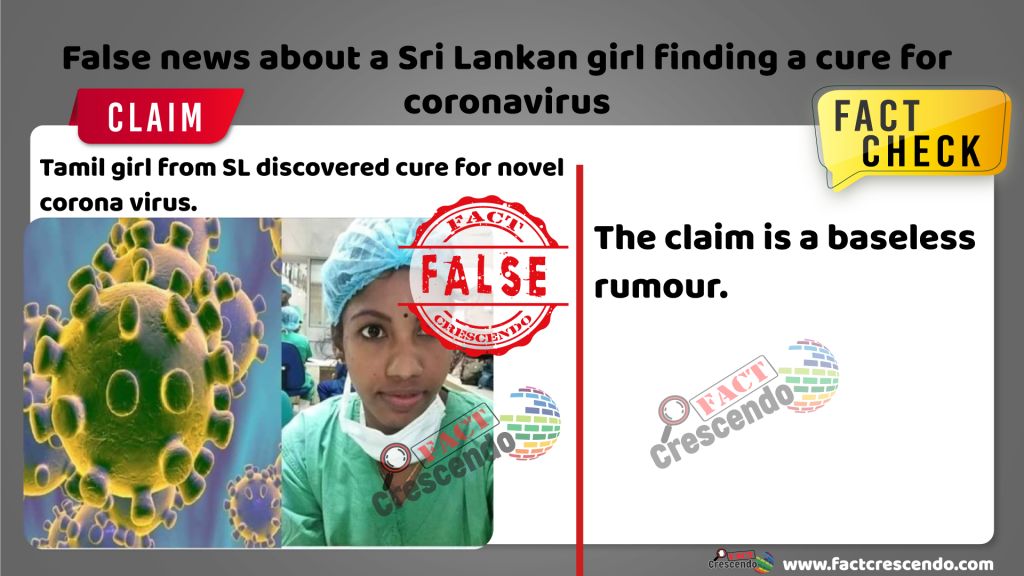 Novel Corona Virus, originated in Wuhan, China and has now been declared a global epidemic by the World Health Organization (WHO). With the latest reports showing over 20,000 confirmed cases from 24 countries and over 400 deaths.
Social media is flooded with multiple posts containing home remedies for treatment of novel Corona Virus. However, a definitive treatment is yet to be accepted and leading pharma companies, scientists and medical experts around the world are working closely to develop a drug for the treatment and control of the virus.
In this context, a Facebook page "Sunita Hamuduruwo" has posted an image of a Sri Lankan Tamil girl with the claim in Sinhala reads as follows, "Congratulations on finding a cure for the deadly coronavirus."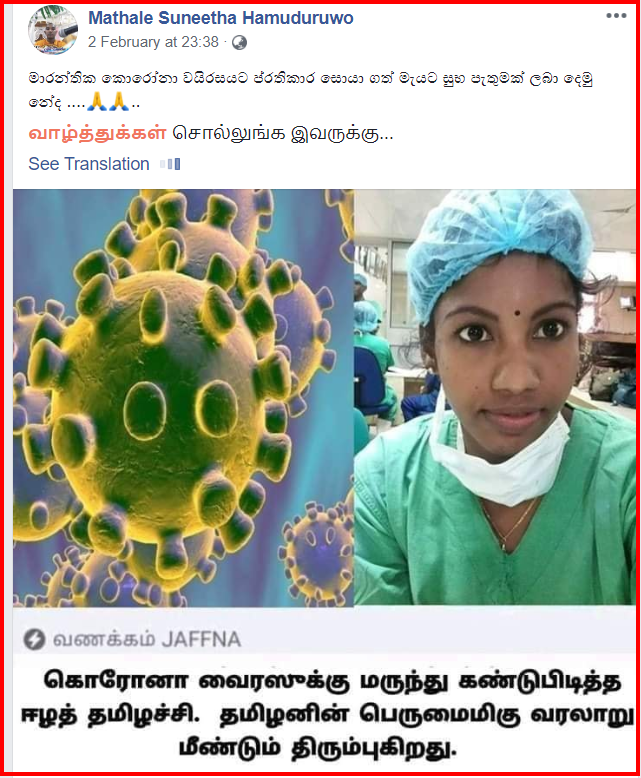 Fact Check
In order to find out whether any cure for Wuhan Virus has been discovered or not. However, we could not find any news reports suggesting any breakthrough in the field of medical science that can possibly cure Wuhan virus infection completely. Many Pharma companies and scientists have recommended various treatment procedures to treat patients infected by Wuhan virus but these are symptomatic treatments and far away from a cure.
One report mentioned that Gilead Sciences, a biopharmaceutical company, had carried out tests on animals using an experimental drug called Remdesivir, used to treat the deadly Ebola virus. The report claims that this drug had shown some success in treating symptoms of two viruses MERS and SARS, which are similar to the Novel Coronavirus, in animals. The drug will be now tested on humans.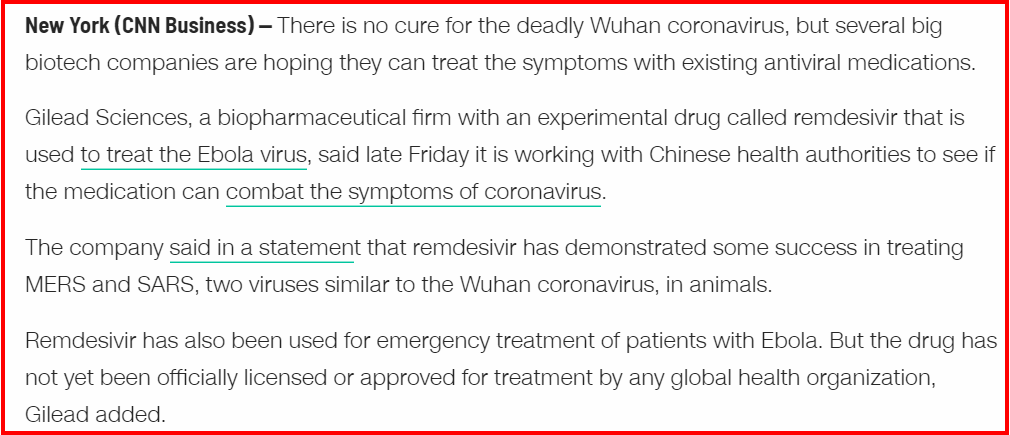 Dr. Sudath Samaraweera, one of the leading epidemiologists in the Sri Lanka, made the following comments at a press conference held on 3rd February on the status of coronavirus in Sri Lanka.
"Viral infections are often cured by the body's natural immune system. For this, a person needs to be fed nutritious food to build up his body. Pharmaceutical companies across the world are conducting research to find an antibiotic to treat the Novel Coronavirus but they are yet to discover it. "
With the exception of China, only a handful of Australian experts have been able to replicate the corona virus. The World Health Organization believes that this replication will go a long way in finding an antibiotic for novel coronavirus.
Another news report mentioned a team of Thai doctors had managed to treat, successfully, the symptoms of Novel coronavirus with a cocktail of anti-viral drugs used to treat flu & HIV. Chinese doctors are trying to replicate this method but the results are yet to be revealed.
Claims of a Sri Lankan girl finding a cure for Coronavirus ,actually originated in India and Factcresendo Tamil team had carried out an investigation contacting a medical expert. The medical expert told Fact Crescendo, "Finding a drug for such a virus is a time consuming research activity. The process is an elaborate one, which includes animal and human trials after the discovery of the potential cure. It is a very time consuming research and sometimes takes years to develop an anti-viral drug. Finding a cure for a virus in a week seems highly unlikely."
We reviewed the latest report published by the World Health Organization, but did not find any mention of finding a cure for novel coronavirus. WHO's operational support and logistics has developed a "2019-nCoV kit", similar to treatment kits used for outbreaks of other high threat pathogens.
We contacted Clinical Trials Registry of Sri Lanka which approves any new drug in Sri Lanka. The officials at the clinical trials registry told Fact Crescendo that no trial has been conducted by anyone with respect to Wuhan virus. Clinical trials are mandatory for any new drug that is submitted to them.
Conclusion
From our investigation it is evident that any definitive cure or antibiotic for 2019-nCoV has not been discovered as yet. Therefore, the claims of the discovery of a drug that can cure Wuhan Virus are totally baseless.

Title:False news about a Sri Lankan girl finding a cure for coronavirus
Fact Check By: Harish Nair
Result: False