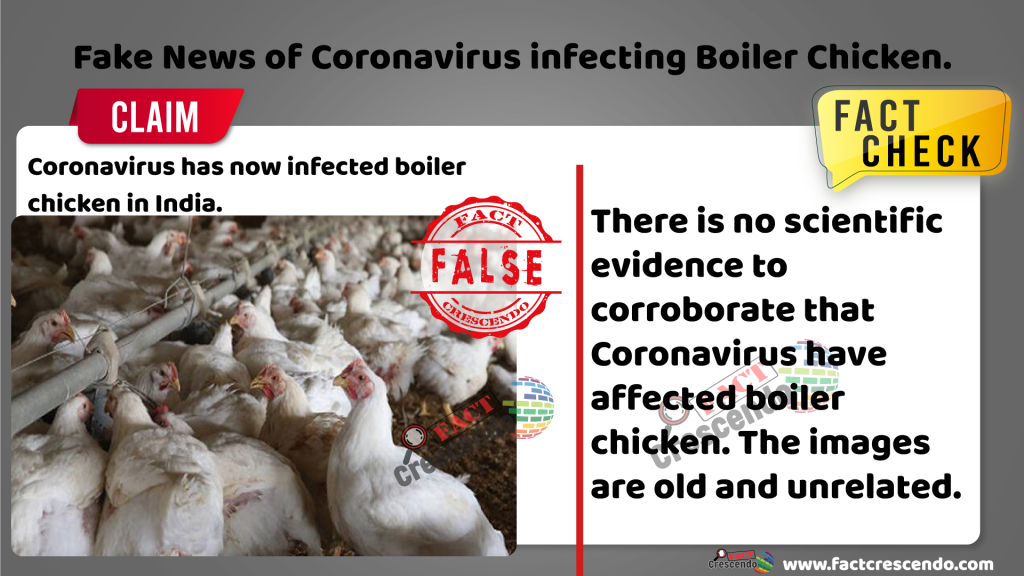 The World Health Organisation (WHO) has declared Novel Coronavirus as a Public Health Emergency of International Concern. Scientists have mapped the genomic sequence of the virus but are still researching the source of the virus.In light of the health emergency, several false narratives are going viral on social media, which are creating panic among the citizens of different countries.
We received a viral message on our WhatsApp Number- 9049053770 claiming that Coronavirus has now infected boiler chicken in India. It also appeals to the citizens not to consume boiler chicken meat. It says that the message is a public service appeal by the Muslim community in Khar, a suburb in Mumbai. Broiler chickens are chickens that are bred specifically for meat production.
The message reads- "Boiler chicken mein Coronavirus, tamam logon se appeal ki jati ahi ki boiler chicken ka gosht ka istemal na kare. Muslim community Mumbai, Khar, dua ki appeal." 
English translation- "Coronavirus has infected boiler chicken as well. We appeal to all the citizens not to consume boiler chicken meat. This appeal is from the Muslim community, Khar, Mumbai."
The message comes with four images of infected chicken.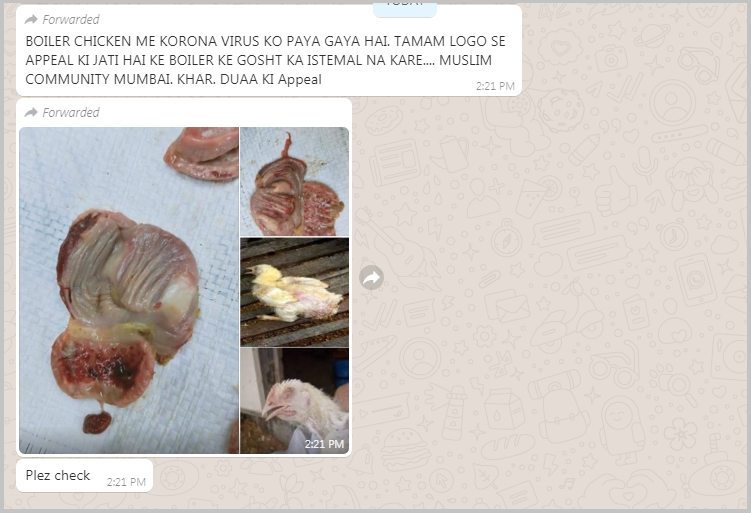 This viral message and images are quite viral on Facebook well.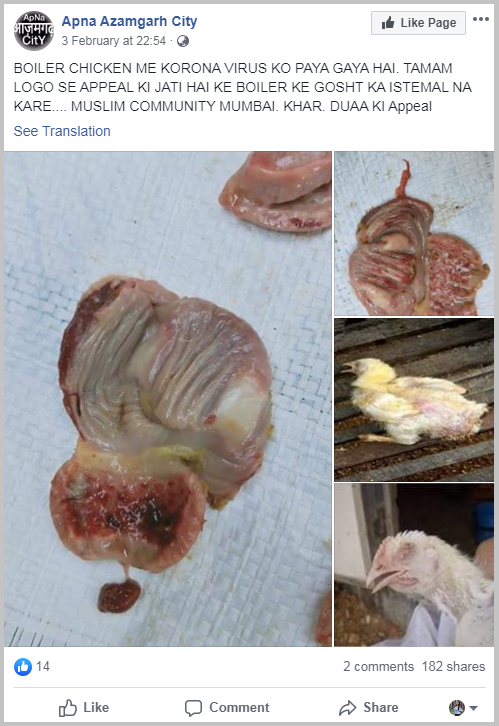 Fact Check-
We started our investigation by looking for information about the source of Coronavirus outbreak in China. According to CDC's website Public health officials and partners are working hard to identify the source of the 2019-nCoV. Coronaviruses are a large family of viruses, some causing illness in people and others that circulate among animals, including camels, cats and bats. Analysis of the genetic tree of this virus will reveal the specific source of the virus. SARS, another coronavirus that emerged to infect people, came from civet cats, while MERS, another coronavirus that emerged to infect people, came from camels.
CDC's Summary – 2019 Novel Coronavirus (2019-nCoV) Situation Summary
Fact Crescendo contacted Maharashtra Animal and Fishery Science University affiliated Mumbai Veterinary College's Assistant professor, Deepashri Desai from the Poultry Science Department. She confirmed us that 'the viral message on social media is completely false and baseless, there is no scientific evidence available right now to corroborate that Coronavirus has affected boiler chicken. The images in circulation is unrelated. It is fine to consume boiler chicken and eggs.'
Mumbai Veterinary College's Associate Dean, Dr, A.S Ranade has released a clarification in this context, which can be accessed in Marathi language here.
Unrelated images in circulation-
We conducted a Google Reverse image search for each of the images and found that these images are old and unrelated. You can view the results below- 
Image 1- This image is from a website called 'Yellow Bread Shorts' where the chicken in the picture is suffering from an ailment called Aspergillose.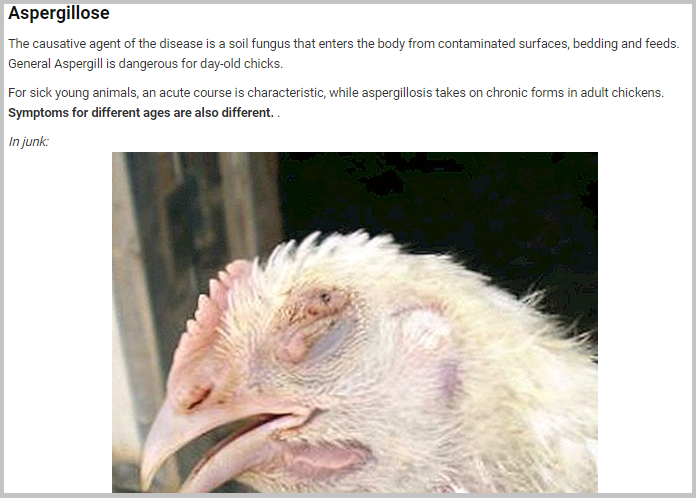 Image 2- 
Several Researchers on Research Gate website resulted this image in a 2014 research article about "An Outbreak of Colibacillosis in a Broiler Farm". The caption on the images says "a sick chick with open-mouthed breathing." This image was uploaded by Konto Mohammed from University of Maiduguri · Department of Parasitology and Entomology.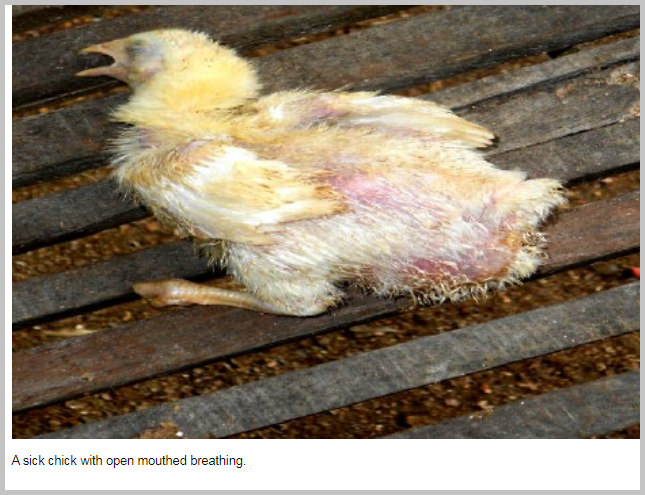 Conclusion- Upon our investigation, we found the above circulated post to be False. There is no such confirmation that boiler chicken has been infected by Coronavirus, the source of the disease is yet to found. The images in circulated are old and unrelated.

Title:Fake News of Coronavirus infecting Boiler Chicken.
Fact Check By: Aavya Ray
Result: False