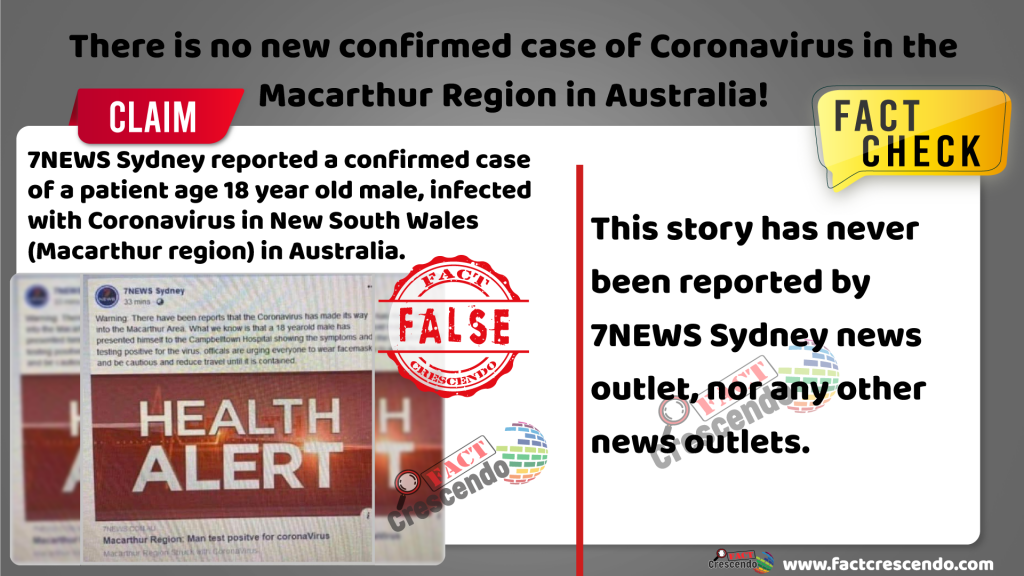 The World Health Organisation (WHO) has declared Novel Coronavirus as a Public Health Emergency of International Concern. Scientists have mapped the genomic sequence of the virus but are still researching the source of the virus.
In light of the health emergency, several false narratives are going viral on social media, which are creating panic among the citizens of different countries.
Now, a screenshot of a purported 7NEWS Sydney's Facebook Post mentions, "There have been reports that the Coronavirus has made its way into the Macarthur Area. What we know is that an 18-year-old male has presented himself to the Campbell town Hospital showing the symptoms and testing positive for the virus. Officials are urging everyone to wear facemask and be cautious and reduce travel until it is contained."
The headline of the News reads- "Macarthur Region: 'Man test positive for coronavirus.'" This post is going viral since 28 January 2020.
This viral screenshot on social media claims that 7NEWS Sydney reported a confirmed case of a patient age 18 year old male, infected with Coronavirus in (Macarthur region) New South Wales in Australia.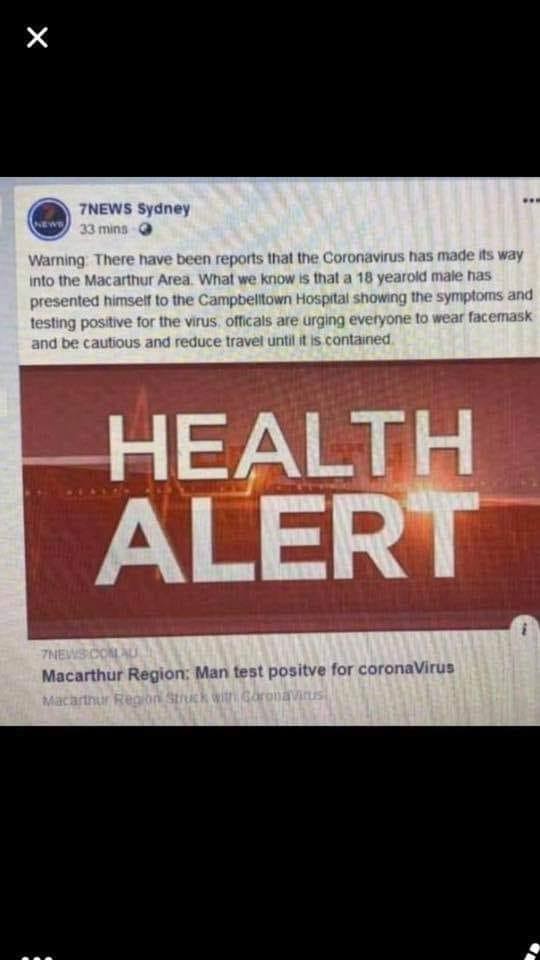 Facebook Post | Facebook Post | Facebook Post
Fact Check-
We started our investigation by visiting the Australian Government's Department of Health website, which clearly mentions that "As of this morning, 4 February 2020, 12 cases of 2019-nCoV have been confirmed in Australia: 4 in New South Wales, 4 in Victoria, 2 in South Australia, and 2 in Queensland."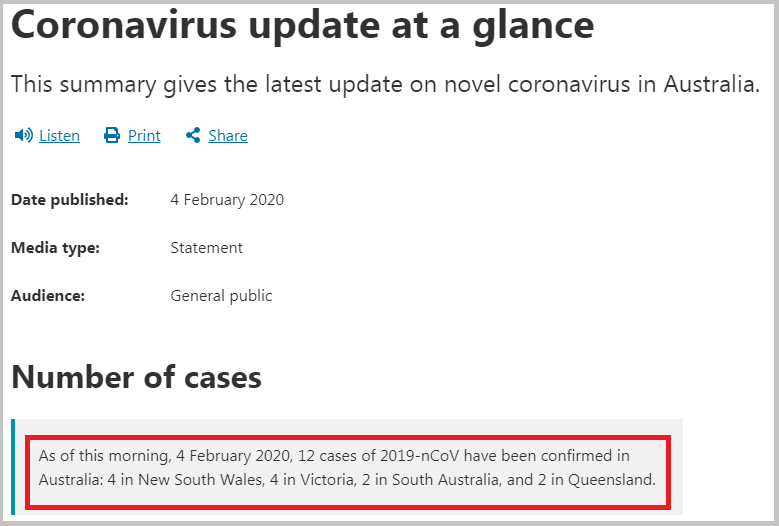 We found that Macarthur is a region in south-west of Sydney, in the state of New South Wales, Australia. We visited the Government website of New South Wales Health Department where we found a regular media release about the confirmed patients in the state. As of 4 February 2020, it mentioned that there are four confirmed cases in NSW. Of the confirmed cases the patients were:
53 year old male
35 year old male
21 year old female
43 year old male
There was no mention about any 18-year-old male being confirmed of being infected by Coronavirus.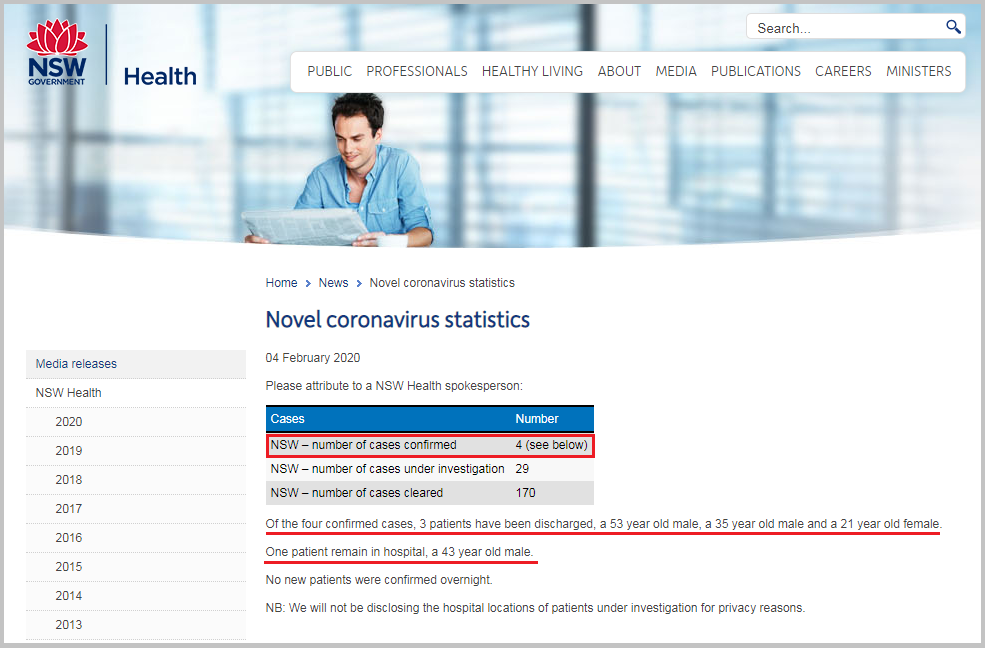 Apart from this, we also looked up to, the statistics for 27 January 2020 and 29 January 2020 that is the day before and after the screenshot went viral on social media.
A media release by New South Wales on 27 January 2020 said that there were four confirmed patients.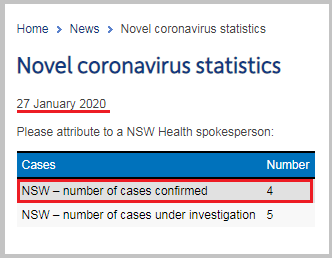 Media release by New South Wales on 29 January 2020 said that there were four confirmed patients.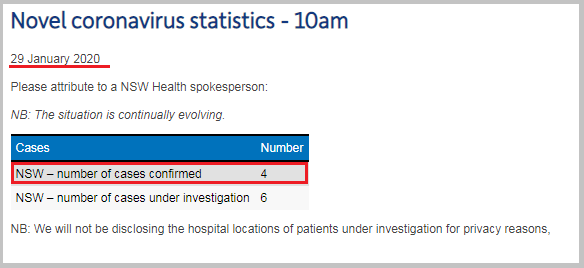 Fact Crescendo got in touch with 7NEWS Sydney on their Facebook Official Page where they confirmed to us that the Facebook post is fake. This story has never been reported by 7NEWS Sydney news, nor any other news outlets. They also provided us a link to the website Medium where their social media manager, Brenden Wood has issued a clarification regarding the viral post on social media. He has clarified that the viral screenshot on social media is a fake one. The fake story was not posted to the 7NEWS Facebook page, nor was the story published by any news outlet in Sydney or Australia.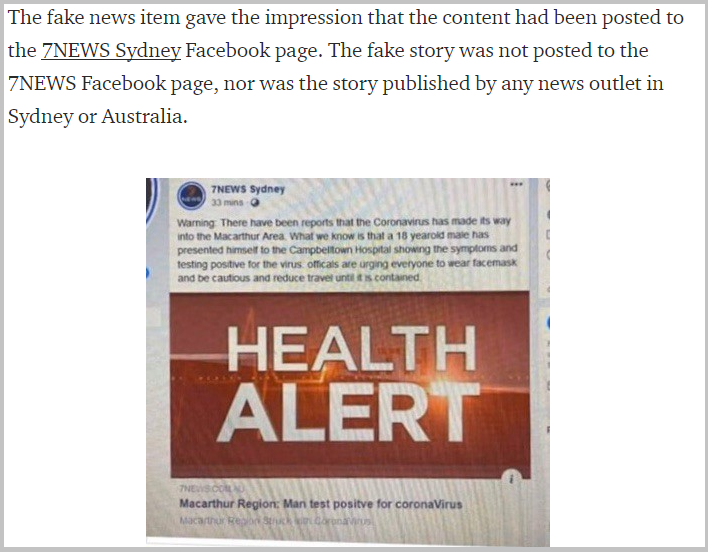 Conclusion- Thus we can conclude that the viral image claiming that there is a confirmed patient of Coronavirus in Macarthur Region is False. No such news was ever published by 7NEWS Sydney or any other media outlet in Australia. There are four confirmed cases of patients infected with Coronavirus in New South Wales in Australia.

Title:There is no new confirmed case of Coronavirus in the Macarthur Region of Australia!
Fact Check By: Aavya Ray
Result: False