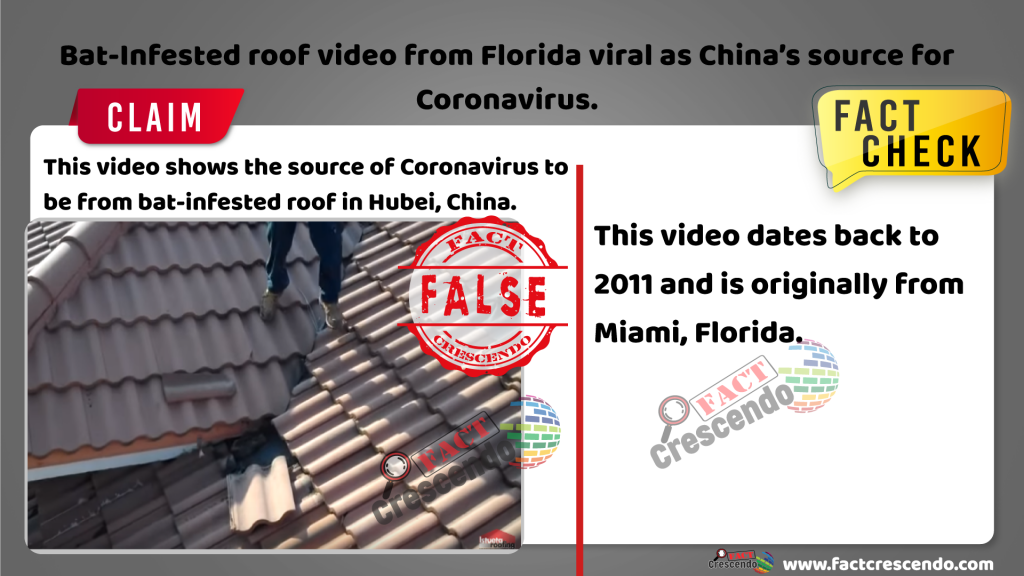 The World Health Organisation (WHO) has declared Novel Coronavirus as a Public Health Emergency of International Concern. Scientists have mapped the genomic sequence of the virus but are still researching for the source of the virus.
In the light of the health emergency concern, several false narratives are going viral on social media, which are creating panic among the citizens of different countries.
Recently we came across a video, which claims that it shows the source of Coronavirus. The video shows contractors removing the tiling of an old roof to reveal hundreds of bats flying from under every tile panel. As the contractor proceeds from panel to panel to reveal a heavy bat infestation, dramatic background sound can be heard.
The caption of the image reads- "The corona virus source is found. It turns out that many roofs in Hubei China are covered with chrysanthemum bats, a type of bat."
Fact Check-
We started our investigation by using Google Reverse image search on the key frames provided by InVid Tool. The Reverse image search resulted in a video uploaded on YouTube in 5 July 2011.
The caption of the video reads "Bat Infestation Under Tile Roof- Roofing Miami, FL" The description of the video mentions that "Our crew is in for a surprise when they begin to dismantle tiles from our clients' old roof and hundreds of bats come flying out from beneath the tiles. This was unexpected! (Bat Removal is not a service that we provide.)
A special thanks to our Production Manager, Danny Argote, for getting this on camera."
There is no dramatic background sound in this video; we can clearly hear men speaking in the background.
The YouTube Channel belongs to a Miami based roofing contractor, Istueta Roofing who has also mentioned their website in the description box of the video. 
Thus, we can say that the viral video does not belong to any Chinese Province but is originally from Miami, Florida, USA.
We also found a 12 minute longer version of the video uploaded by the same YouTube Channel. In the beginning of the video we can see a truck with company's name as Istueta Roofing.
The 2019-nCoV (2019 novel Coronavirus) has so far claimed 362 lives. The virus is suspected to have originated from the Hunan Seafood market located in Wuhan city in China's Hubei district.
Conclusion- Thus, we concluded that the above-mentioned post is False. This video dates back to 2011, which is almost 9 years ago. This video is from Miami, Florida, USA and has nothing to do with Novel Coronavirus and China.

Title:Bat-Infested roof video from Florida viral as China's source for Coronavirus.
Fact Check By: Aavya Ray
Result: False