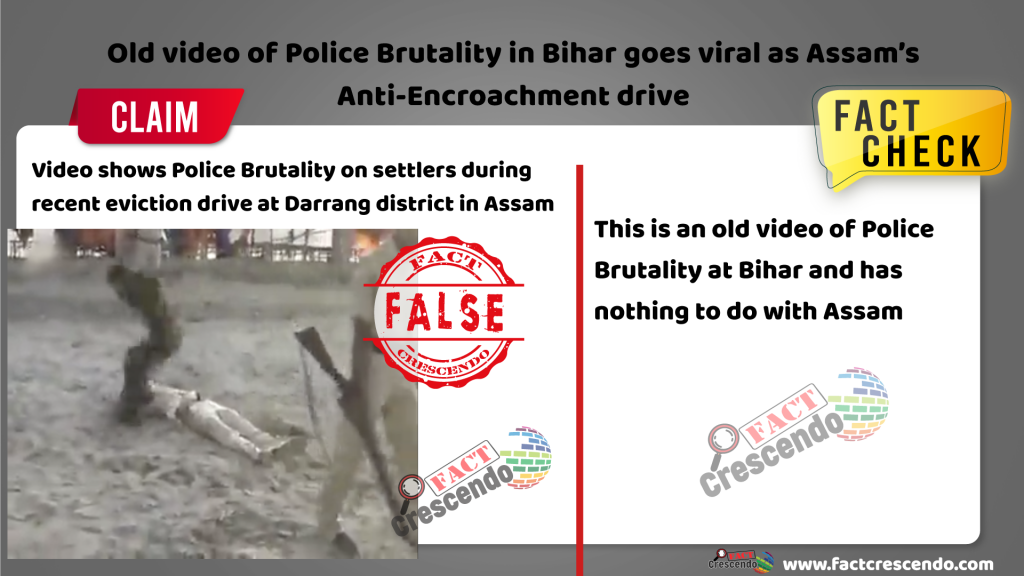 A video with disturbing visuals of a Policeman stomping on what looks like an unconscious person is going viral on social media platforms with the claim that it is a video of a recent eviction drive in Assam.
The 36 second clip shows a person lying on the ground with a few policemen gathered at a distance. One of the policeman hurls abuses and then pummels on this unconscious person and kicks him even as the others watch. This is followed by some more visuals of people lying on the ground, covered in blood while policemen move about. We can hear a few lines being spoken in the video, all of which are in Hindi.
Here is one such post:
(Violent visuals. Viewer discretion advised)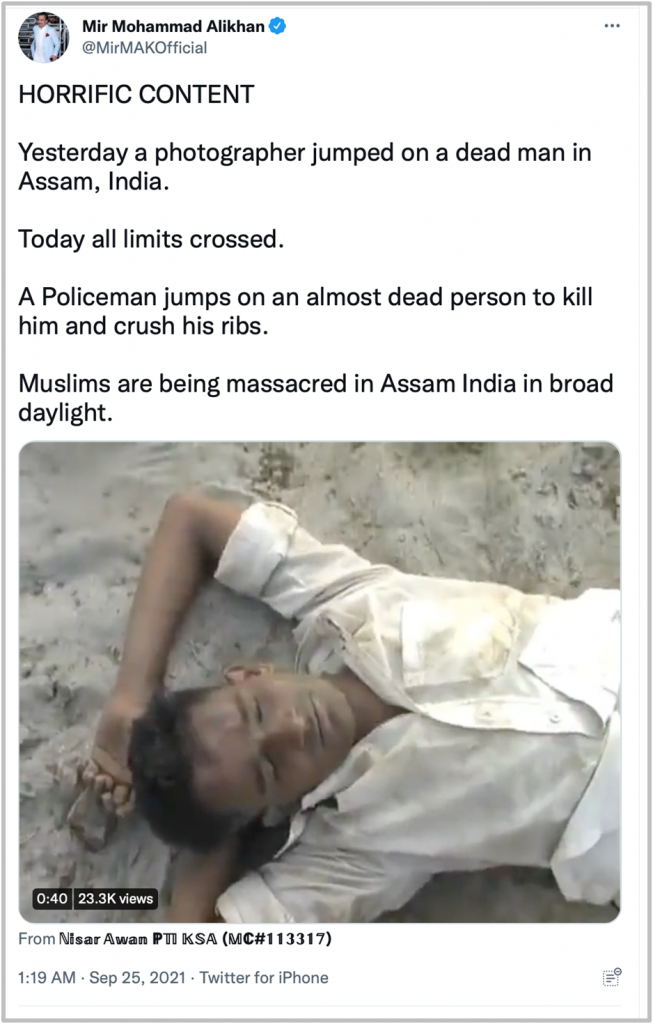 Fact Crescendo found the viral video is from Forbesganj area of Araria district in Bihar, and not from the recent eviction drive at Darrang in Assam.
Fact Check Methodology
At first we ran a Google Reverse Image Search after splitting the viral video into keyframes using the Invid-we verify tool. The search showed a YouTube link to a video uploaded on June 14, 2011 by user Anil Kumar. The video was shared with the caption "Forbesganj, Araria, Bihar, India Police Firing on June 03, 2011 Tez News.flv," and has the same visuals. The description of the video has a link to a BBC news report from June 11, 2011 which has details about the incident of protests and Police Brutality at Forbesganj block at Araria District in Bihar. The report says "On June 3, in Bhajanpur village of Forbesganj block, at least four people were killed when the police opened fire on people protesting on a road leading out of the village."
(Violent visuals. Viewer discretion advised)
We also found a news report by the erstwhile Headlines Today, published on June 24, 2011 on the Forbesganj firing incident. Link to News Report
A link to the video has been hyperlinked in this news report and we can see that the visuals are the same.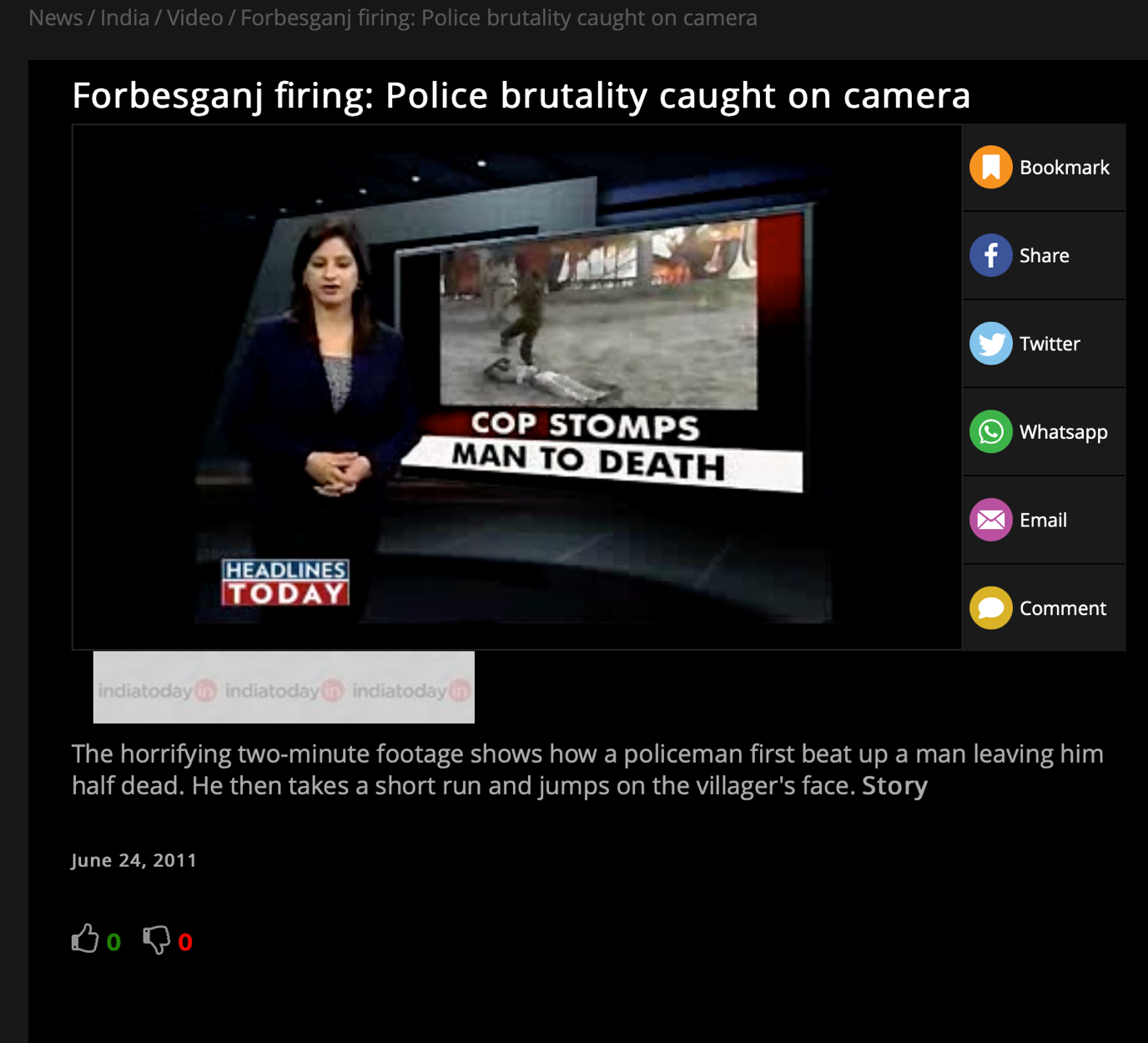 News Video Link (Violent visuals. Viewer discretion advised)
Following this, Fact Crescendo reached out to Mr Sushanta Biswa Sarma, the SP of Darrang District in Assam where the recent anti-encroachment drive had taken place. He confirmed that this video is not from the incident and is not from Darrang District.
The eviction mentioned in the claim refers to the anti-encroachment drive carried out at Darrang District in which two civilians lost their lives following clashes between the settlers and the Police. In latest updates, the Assam CM has ordered a judicial inquiry into the incident. Read More…
Conclusion
The viral video being shared with the claim that it is from the recent eviction drive at Darrang district in Assam is actually an old video of Police Brutality from Bihar. It was shot at Forbesganj area in Araria district of Bihar and has nothing to do with the anti-encroachment drive at Assam.
Title:Old video of Police Brutality in Bihar goes viral as Assam's Anti-Encroachment drive
Fact Check By: Manjori Borkotoky
Result: False