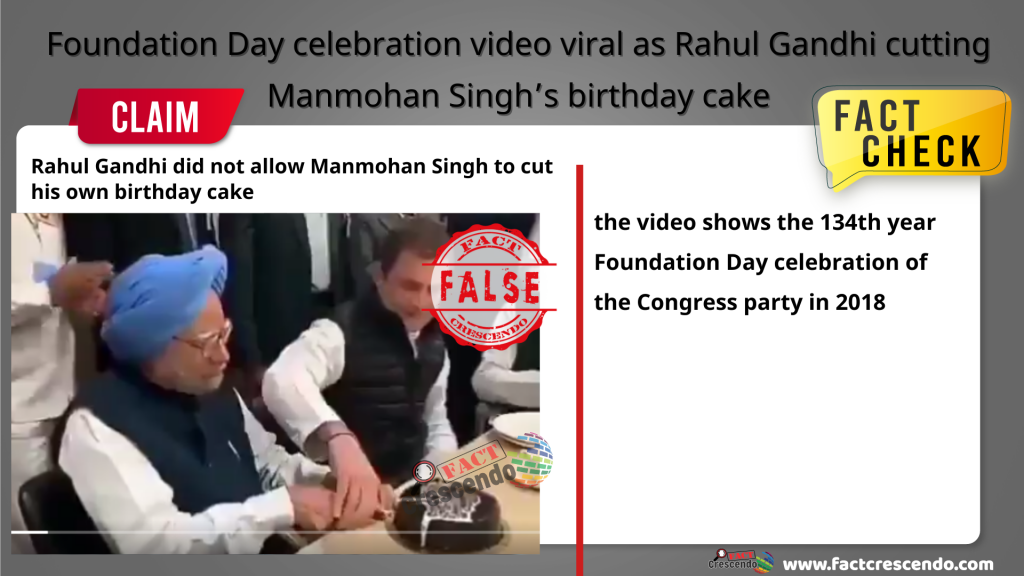 A video showing the former Prime Minister of India, Manmohan Singh and Congress leader Rahul Gandhi cutting a cake together is circulating widely on social media. The claims made along with this video are that Rahul Gandhi can be seen cutting a birthday cake on the former PM's birthday.
It is important to note that Manmohan Singh who has served as the prime minister of India for 10 years will be turning 89 years on 26th September this year.
Keeping this in mind BJP leaders have been spotted sharing this 20 second video clip with misleading claims.
BJP Leader CT Ravi shared this video claiming that Manmohan Singh was not allowed to cut his own birthday cake. According to him it would be foolish to believe that Singh was allowed to run the government on his own for 10 years.
BJP Karyakarta Priti Gandhi tweeted this video making similar claims that Rahul Gandhi did not allow Manmohan Singh to cut his own birthday cake
This video is widely circulating on Facebook and Twitter ahead of Manmohan Singh's birthday.
Fact Crescendo found that the video dates back to 2018 and show's the Congress party leaders cutting a cake to commemorate the party's Foundation Day.
Fact Check-
We started our investigation by running a keyword search on Google which led us to the same video posted on 2018.
The official YouTube channel of Indian National Congress posted this video on 28 December 2018 stating that it shows the Former PM Manmohan Singh and Congress President Rahul Gandhi cutting a cake together on Congress Foundation Day.
According to the news report published by NDTV the Congress leaders were spotted cutting a cake to commemorate the 134th year of the Foundation of the party. This cake was cut amidst the buzz over a biopic which suggested that the party workers rifted away from the party during Manmohan Singh's years. Several other party workers were also present in this event.
Fact Crescendo contacted Radhika Khera who is the National Secretary and the National head of social media for INC. she told us that "This function was held to celebrate the 134th Foundation Day of Congress party. Dr. Manmohan Singh has been a former Prime Minister and is also an important member of the Congress family. Thus, it is not an obvious gesture for Rahul Gandhi to cut the cake with him. If one sees the video properly, they can see both the leaders cutting the cake together and then Rahul Gandhi ji takes the cake towards himself to cut and distribute the rest of the cake to others. This was not a birthday party. It is a very common gesture to cut a cake together.
Conclusion-
Fact Crescendo found the claim made along with the video to be False. The viral video on social media does not show Rahul Gandhi cutting Manmohan Singh's birthday cake. The video shows the celebration of 134th years of Congress party's Foundation Day in 2018.
Title:Foundation Day celebration video viral as Rahul Gandhi cutting Manmohan Singh's birthday cake
Fact Check By: Aavya Ray
Result: False