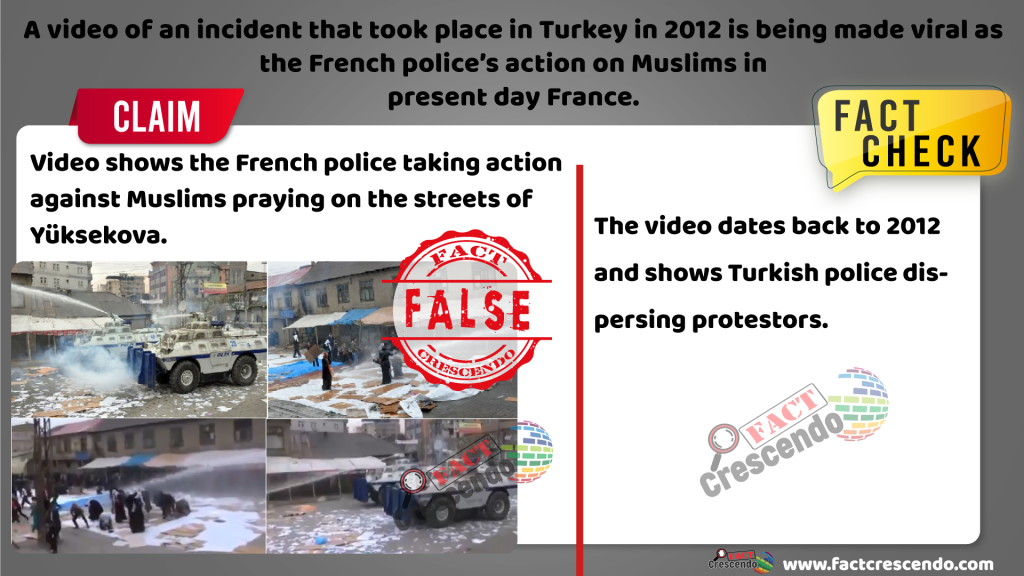 After the recent violence in France, where a teacher was beheaded in Paris over a controversial sketch of the Prophet Mohammad, social media is swamped with misinformation related to the ongoing protests in France. Amidst this a video of the police using water cannons and tear gas shells on people is doing rounds on social media with a claim that it is shows the French police taking action against Muslims praying on the streets of Yüksekova.
This video is going viral on Facebook with the caption as ""French police attacked Muslims praying on the streets of Yüksekova."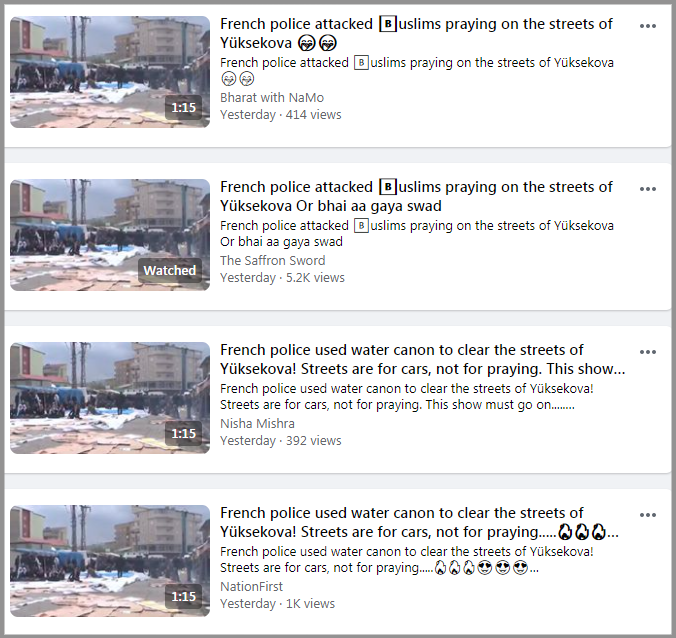 Fact Check-
We started our investigation by running a Yandex reverse image search on one of key frames by InVid-We Verify tool which led us to the exact same video on Youtube uploaded on 9th November 2012. The caption and description of the post was written in Turkish language which translates to "The events that took place during the 'civil Friday prayers' in Yüksekova district of Hakkari put those who prayed in a difficult situation."
Next we searched about Yüksekova and found that it is not situated in France. It is a city and a district of Hakkari Province of Turkey situated on the border with Iran. From this, we were clear that the video is not a recent one and has no relation with the ongoing protests in France.
Next we ran a relevant keyword search on Google to find news reports mentioning about the incident that took place in Turkey in 2012. We found news reports on the incident published by a Turkish website named Haber Turk on 9th November 2012. According to the report, a group of school students came out on Cengiz Topel Street and held a sit-in to draw attention to the ongoing hunger strikes in prisons. This clashed with Friday prayers and when the group did not disperse after repeated warnings, the cops used water cannons and tear gas shells. The new reports contain several other images of the incident.
You can see the comparison image between the screenshot from the viral video and the images published in the news report from 2012.

Fact Crescendo has previously debunked misinformation after the killing of the French teacher in Paris as unrelated videos and images have been shared with false claims.
Conclusion- Fact Crescendo found the viral video to be False. The viral video on social media is from Turkey and is from the year 2012 when cops used water cannons and tear gas shells to disperse protestors. The video is being falsely shared as French police attacking Muslim crowd praying on streets.

Title:A video of an incident that took place in Turkey in 2012 is being made viral as the French police's action on Muslims in present day France
Fact Check By: AavyaRay
Result: False