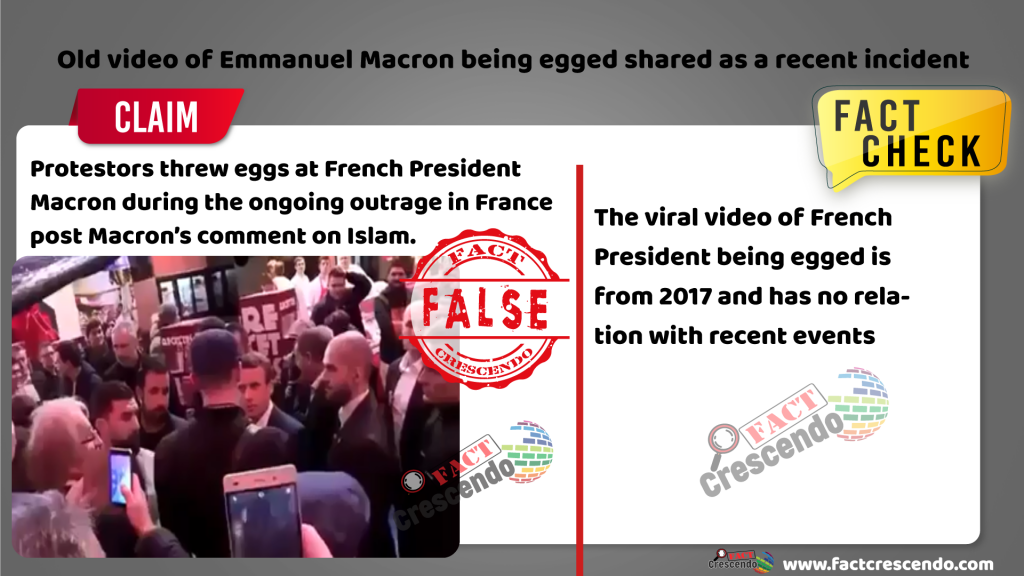 A multi-country backlash is building up in the form of protests on social media after the French President Emmanuel Macron commented on terrorism-related incidents in Paris. Amidst this a video showing hundreds of protestors taking to the streets is going viral with the claim that French President Emmanuel Macron was hit by an egg at a public event sending his security staff to hustle.
The caption of the post mentions that
"French Prz #Macron was insulted with an egg in the middle of a public market.#Boycott_French_Products."
Fact Check-
We started our investigation by conducting a keyword search on Google which led us to news reports such as Express UK which stated that the viral clip is from March 2017. According to the reports Emmanuel Macron was attacked with an egg when he was attending the Salon International de l'Agriculture 2017 in Paris as the presidential candidate before the French elections.
Next we searched for similar videos published in 2017 on Youtube which led us to a similar clip published by L'Express's official Youtube account with the title which when translated from French reads , "Emmanuel Macron receives an egg at the Agricultural Show". We can spot Macron being hit on the head with an egg. At the 23 seconds timestamp an egg can be seen spattered over Macron's face, however, this video has been shot from a distance and the mike hanging above can be seen in the viral clip.
You can also view the same incident from a different angle which was uploaded by Ruptly on their official Youtube channel on 1st March 2017 with the description as "French presidential candidate Emmanuel Macron was hit by an egg on the head as he attended the annual Paris Agricultural Fair (Salon de l'Agriculture)"
Fact Crescendo has previously debunked misinformation after the killing of the French teacher in Paris as unrelated videos and images have been shared with false claims.
Conclusion- Fact Crescendo found the viral video to be False. The incident of the French President Macron being egged as shown in the post took place in 2017 when he attended a farm fair as part of his Presidential campaign. The video has no relation with the ongoing outrage in France after Macron's comment on Islam.

Title:Old video of Emmanuel Macron being egged shared as a recent incident
Fact Check By: Aavya Ray
Result: False