After the recent violence in France, where a teacher was beheaded in Paris over a controversial sketch of the Prophet Mohammad, social media is swamped with misinformation related to the ongoing protests in France. Amidst this, a viral video showing massive crowds is going viral on social media claiming that a huge crowds gathered in Chechnya to protest against France. Chechnya is a federal subject (a republic) of the Russian Federation. This video is going viral in context to the recent remarks made by French President Macron on Islam.
The caption of the post mentions "People gathered in huge numbers in Chechnya , protesting against disrespect shown by France !! #Boycott_French_Products #Macron
This video was also shared as an ongoing protest in France.
Fact Check–
We started our investigation by running a reverse image search on few of the key frames provided by InVid-We Verify tool which led us to a few news reports published in 2019 claiming that the video was shot in Yemen during Prophet Mohammad's birth anniversary. This article was posted by an Iranian online news aggregator, AhlulBayt News Agencythe news article also included the same visuals that were seen the video. The article consisted of several other images of this event.

We found another article by Dhamar News with a similar logo as seen in the viral video. The logo read – Ansar Allah Media Centre. We conducted a keyword search on the same, which led us to the news site of the same name, associated to the Houthi movement in Yemen.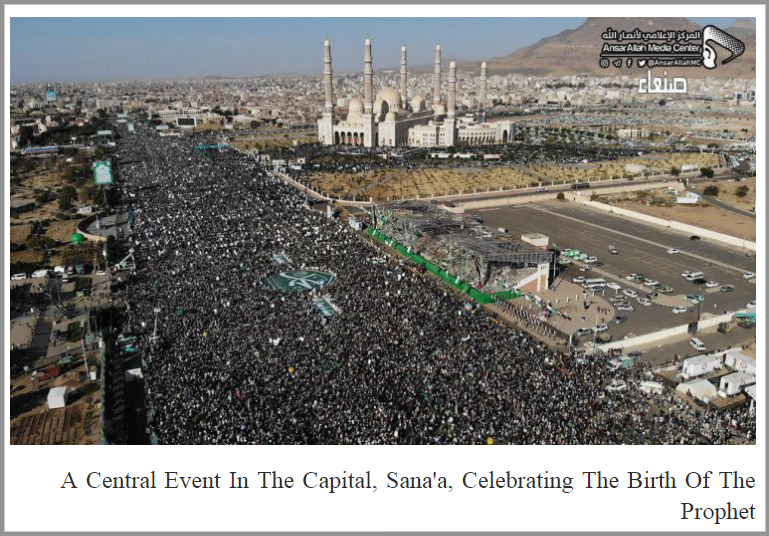 A further keyword search led us to a video uploaded on Getty Image by AFPTV stating that the video is from Sana'a, Yemen on 9th November 2019 with the title that reads Yemenis celebrating Prophet Mohammad's birthday. We can see similar visuals to the viral video, which confirms that the viral video is from Yemen.
On searching for the location of the video, we found that the mosque seen in the viral video is Al Saleh Mosque in Yemen's Sana'a city. Next, we searched for street view image of the Al Saleh Mosque. Below you can see a comparison image between the mosque seen in the viral video and Al Saleh Mosque situated in Yemen.

Fact Crescendo has previously debunked misinformation after the killing of the French teacher in Paris as unrelated videos and images have been shared with false claims.
Conclusion- Fact Crescendo found the viral video to be False. An old video of the Prophet's birthday celebrations in Yemen is being shared claiming that it is from a protest in France in Chechnya.

Title:Prophet Mohammad's birthday celebration video viral as ongoing protest in Chechnya and France
Fact Check By: Aavya Ray
Result: False