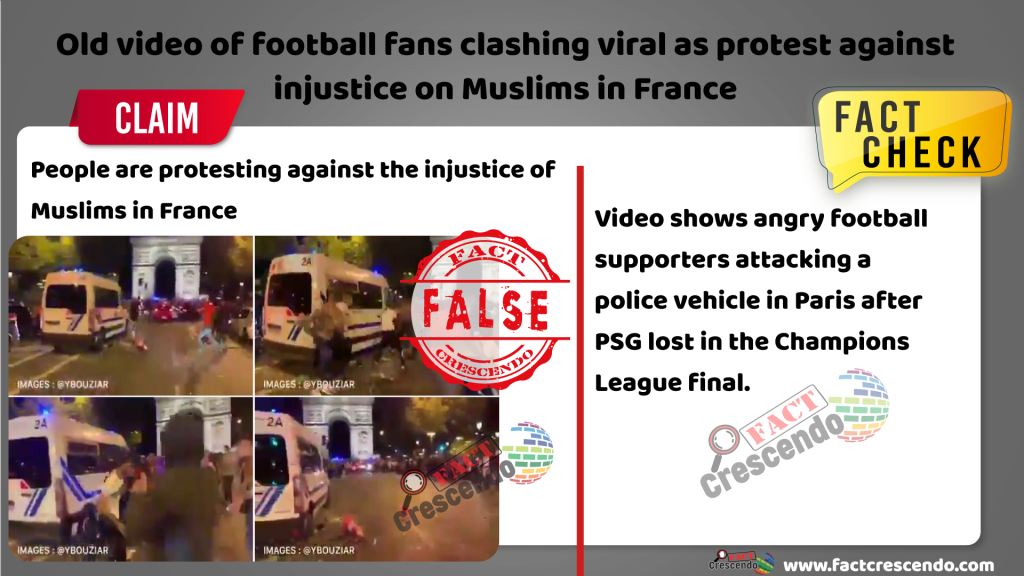 Social media is flooded with old and unrelated videos claiming to be footage of ongoing outrage in France after the French President Macron's comments on Islam. Amidst this, a viral video showing rioters pelting stones at a vehicle is circulating on social media claiming that the video is from France where people are seen protesting against the injustice on Muslims in the country.
The post was shared with the following hashtag- #Boycott_French_Products. The caption of the post mentions "Its #france after injustice for #muslims #Boycott_French_Products Don't visit #francetourisme."
Fact Check-
We started our investigation by running a reverse image search on the key frames by InVid-We Verify which led us to a news report published on 24th August 2020 where we found similar visuals as the viral video. According to the news report the clashes started in Paris after the 1-0 defeat suffered by Paris Saint-Germain at the hands of Bayern Munich in the Champions League final. The Police arrested 148 people, most of them were arrested for harm and assault. In addition, 404 people were fined for not wearing masks in areas where it was mandatory to do so.
The report carried a longer version of the viral video where the police can be seen trying to control the mob that attacked the vehicle.
News reports published on 24th August 2020 mentions that PSG fans attempted to create havoc on the streets of Paris and the images and video show the situation in Paris after PSG lost in the Champions League final.
A further keyword search led us to a similar video published by Euronews (in English) official Youtube channel on 23rd August 2020 with the title "Paris fans clash with riot police after PSG lose Champions League final". From the timestamp 6 seconds one can see the crowd attacking a vehicle while a group of policemen rush from the other end to tackle them.
Lindependent France published an article on 19th August 2020 where one can see screenshots of the viral video reporting that PSG's loss in the Champions League final led their supporters creating a situation of unrest in Paris.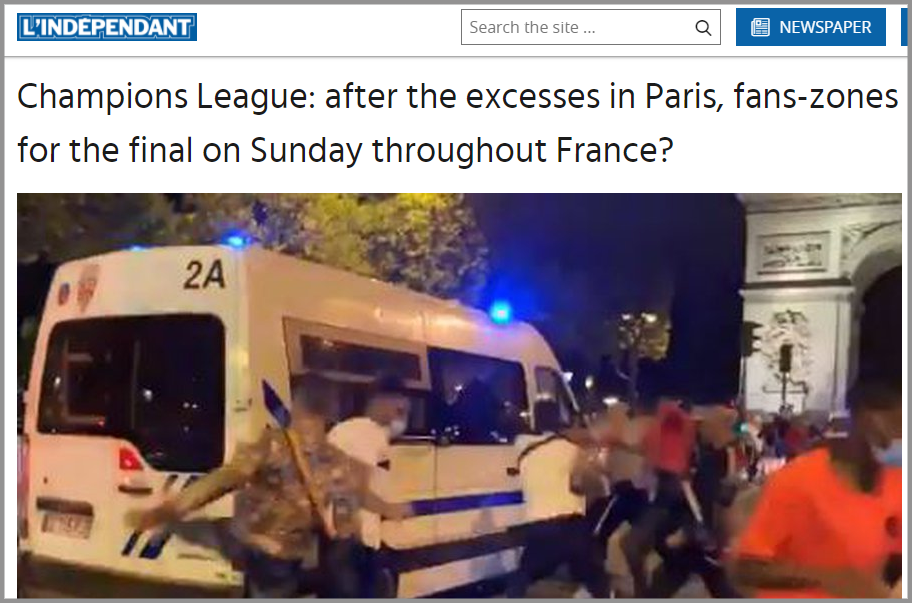 This video was also tweeted by verified accounts of Robin Reda, who is a member of the French National Assembly stating that these are visuals of peaceful supporters attacking a police van.
Fact Crescendo has previously debunked misinformation after the killing of the French teacher in Paris as unrelated videos and images have been shared with false claims.
Conclusion- Fact Crescendo found the viral video to be False. The viral video does not show protestors protesting against the injustice on Muslims in France. The video dates back to August 2020 when supporters rioted in Paris after PSG's lost in the Champions League final.

Title:Old video of football fans clashing viral as protest against injustice on Muslims in France
Fact Check By: Aavya Ray
Result: False